Adrian Binney, LRPS
---
April 2021 - You Go First
About the Image(s)
This was taken in May 2015 on a tiny island of Skomer, just off the SW corner of Wales. It is well known for puffins, but the problem of visiting is that the weather may stop the little boat going and one has to queue in the early morning and if a school teacher is ahead of you……try tomorrow is what you are told! May is too early for the sand eels here, so there is a better chance of getting tickets.

One other advantage of May is that the wild flowers offer a different result for shots on the ground. I am going to another location this May (Yorkshire), so I will end up with more Puffin shots!

So this was taken with my early Olympus gear - E-M1 mki and a cheap 100-300 Panasonic lens: settings 300mm (FF 600) hand held, 1/500 f5.6 ISO200. PP was focussed on the 2 puffins after cropping, adding texture, controlling feather highlights and local sharpening, then keeping the wild flowers 'there' but hopefully not excessively distracting. The two were right by the cliff.

For interest, Original 2 is a 2nd one taken at a similar time: this action is part of their courtship routine and has done quite well for me in Nature Exhibitions. The 'blue' eye is because he/she blinked I believe! In Nature, one can't change the image away from what was there.
---
7 comments posted
---
---
---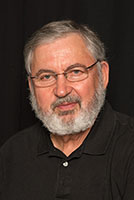 Isaac Vaisman M.D.
Adrian, what a beautiful image of the puffin's couple. Indeed there is interaction both in the main image and the one labeled original to show another aspect of their behavior. You have the added detail of the spring flowers, which add contrasting colors to the birds. The blurred background really makes the puffin's stand out. Like in my image of last month, no fish was caught. The blue eye, is the nictitating membrane that keeps the cornea lubricated (like a third eyelid) being transparent, the birds do not loose vision momentarily. &nbsp Posted: 04/02/2021 08:14:22
---
---
---
Marie Costanza
Adrian, Such a fabulous image of the puffins. I also love the additional image that you included. Your cropping and pp enhance the subject. Your title is very effective as it leads me to thinking of all sorts of possibilities in the story created by your image. I am eagerly looking forward to our planned trip to Ireland, which was supposed to be in September 2021, but was moved to September 2022. Photographing a puffin is one of my goals for the trip! &nbsp Posted: 04/03/2021 10:16:32
---
---
---
Mary Frost
I, too, am glad you shared both views. The educator in me likes to learn about animal behaviors. My only suggestion might be to crop off the very bright and out-of-focus foreground. It still would leave enough of the setting but would remove a possible distraction. It reminds me of a trip to Alaska many years ago. &nbsp Posted: 04/12/2021 14:27:39
Adrian Binney
Thank you Mary - I agree re crop! &nbsp Posted: 04/13/2021 03:04:14
---
---
---
Bruce Benson
Adrian, Nice image showing interaction of the puffins, I hope the photograph them some day. You did a great job of exposure with pure black with pure white. My only suggestion is to crop a small off a small amount from the right side. Looks good as is though. Bruce &nbsp Posted: 04/13/2021 21:55:55
---
---
---
Walt Brunner
Adrian, I like this shot as well as original 2. It looks like one talking to the other which fits the name you gave it very well. It is sharp, and the black/white colors of the puffins is always intriguing. I might have cropped more of the foreground out as I find it a bit distracting. The PP is well done. Exellent! &nbsp Posted: 04/15/2021 12:49:25
---
---
---
Walt Brunner
Adrian, I like this shot as well as original 2. It looks like one talking to the other which fits the name you gave it very well. It is sharp, and the black/white colors of the puffins is always intriguing. I might have cropped more of the foreground out as I find it a bit distracting. The PP is well done. Exellent! &nbsp Posted: 04/15/2021 12:49:26
---
---
---
Please log in to post a comment