Randy Dykstra
---
February 2021 - On The Run
Original
About the Image(s)
Male grizzly in the Bridger-Teton National Forest. Some of you may recognize it. This guy was on the prowl following a female who was about 200 yards ahead and was coming up the edge of a meadow. I used my D850 and 500 mm PF lens Shot at 1/1000 f/7.1 ISO was 2500 so I had to reduce the noise but other than a few tone and color adjustments and one small branch removal this is pretty close to in camera.

---
8 comments posted
---
---
---
Bruce Benson
Hey Randy, I saw your cover photo and article in PSA Journal tonight, congratulations, that is a great honor. YOu are lucky to have the opportunity to photograph both grizzly and black bears. They are really an awesome subject. You image for this month shows a good pose crossing the log and the smile on it's face also adds interest. It is sharp and well exposed. Well done. Bruce &nbsp Posted: 02/02/2021 00:17:57
---
---
---
Walt Brunner
Randy, congrats on the cover shot! Well deserved, this is a wonderful capture of one of the big guys. The PP enhanced the image and brought out the colors and detail. Excellent. &nbsp Posted: 02/03/2021 15:32:00
---
---
---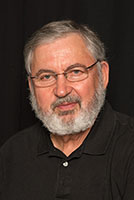 Isaac Vaisman M.D.
Randy, I just saw the February issue of the PSA journal, and I second Bruce and Walt in congratulating you for the honor to have the cover, not to mention the extensive collection of bear images illustrating the very extensive and complete article. The image is sharp, and your PP brought out color and detail. I can sense that you were not very far away from the beast on the basis how much is the bear filling the frame on a 500 mm shot. Great job. &nbsp Posted: 02/03/2021 16:15:53
Randy Dykstra
This was not in a national park and so there was no enforced guidelines. But if I recall this is probably a couple hundred feet away and I was next to my car with an open door. But he did come closer, but he only had one thing on his mind and it wasn't the photographers. &nbsp
Posted: 02/03/2021 16:43:18
---
---
---
Marie Costanza
Randy, Congratulations on your fabulous and informative article. The personalities of the bears really came across in your shots. How very cool to have this image on the cover! The details and your cropping are very effective. Your article is very helpful for those of us who would love to travel to the Bridger-Teton National Forest. &nbsp Posted: 02/05/2021 16:47:40
---
---
---
Adrian Binney
Randy, I'm rather late in offering my congratulations in getting this great image on the front of this month's Journal! I just opened it and recognised you name on the front. Huge honour for you. I will enjoy your article later.

I absolutely love how your image shows off how vast and strong looking these can be. Great capture and PP work. &nbsp Posted: 02/19/2021 12:43:10
---
---
---
Adrian Binney
Randy, I'm rather late in offering my congratulations in getting this great image on the front of this month's Journal! I just opened it and recognised you name on the front. Huge honour for you. I will enjoy your article later.

I absolutely love how your image shows off how vast and strong looking these can be. Great capture and PP work. &nbsp Posted: 02/21/2021 00:56:28
---
---
---
Adrian Binney
Randy, I'm rather late in offering my congratulations in getting this great image on the front of this month's Journal! I just opened it and recognised you name on the front. Huge honour for you. I will enjoy your article later.

I absolutely love how your image shows off how vast and strong looking these can be. Great capture and PP work. &nbsp Posted: 02/21/2021 05:34:36
---
---
---
Please log in to post a comment