Adrian Binney, LRPS
---
February 2021 - Colourful White Pocket
Original
About the Image(s)
This was taken in 2013 during a wonderful "wilderness trip', camping (in a RV!) near Page with short stay trips along the tracks to the south, camping (in 2 person tents) near areas such as White Pocket, ready for sun rise and set sessions - great experience.

Settings: Canon 17-40L at 29mm: 1/80 f16 ISO100 plus tripod.

This was one of the most colourful areas and I'm not sure why I took such a wide view, so I have cropped it quite heavily to achieve this, but the file size from my then 5D iii coped with this. Developed in Lightroom adding texture and contrast to the rock areas and lightening the shadows selectively.

---
This round's discussion is now closed!
7 comments posted
---
---
---
Walt Brunner
Adrian, overall, I like this shot. The striking colors and layers make it interesting. The lack of a smooth reflection in the water does not detract much and the PP you did brings out the colors and details nicely. I might not have cropped as much as you did, but that is the only change. Well done. &nbsp Posted: 02/03/2021 15:38:54
Adrian Binney
Thanks Walt and since your post Isaac below has given me a wider view which does look good! &nbsp Posted: 02/08/2021 06:36:47
---
---
---
Marie Costanza
Adrian, I particularly like the colorful and detailed texture of the mountain in this beautiful, crisp image. The tree line supports the path as my eyes wander up the mountain. I'm not sure about the reflection, which doesn't grab my view. My eyes seem to stay above it. I'm wondering if perhaps a pano crop might have been something to consider. Nevertheless, it is a stunning image. &nbsp Posted: 02/05/2021 17:08:56
Adrian Binney
Thanks Marie - it was 3 out of 3 for a wider view! See below. &nbsp Posted: 02/08/2021 06:37:45
---
---
---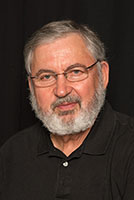 Isaac Vaisman M.D.
Adrian, very interesting and multicolor/multilayer structure, and I think that the whole area is worth to appreciate. I second Walt and Marie's observation about a panoramic crop rather that the tight crop you selected. I used your original and in ACR and using the adjustment brush I added light and texture to some areas, then on Viveza 2 and using adjustment points did some more enhancements in the reddish rock area, then flipped it. The reflections complement the image. &nbsp
Posted: 02/07/2021 20:43:23
Adrian Binney
Huge thanks Isaac for taking the trouble to do all this! I've replicated what you've done in Lightroom and agree with you over your changes. &nbsp Posted: 02/08/2021 06:35:34
---
---
---
Bruce Benson
Adrian, I really like your image. The colors textures and reflection are all interesting. I do like the adjustments that Isaac made, the landscape crop is perfect to go with the leading edges of the image. Flipping it is also an interesting idea. Bruce &nbsp Posted: 02/24/2021 12:18:52
---
---
---