Walt Brunner
---
January 2021 - Mountain Goats
Original
About the Image(s)
This is a photo from the beginning of my digital camera era. I used a Nikon D80 with the kit lens of 70-300 @ f9, ISO 400, and 270mm. We call these the Welfare goats as they are fed by the state at a feeding station. They come down the hill in groups of 10-20 to get their free food. There is also one for the elk that averages 12-15 a day. I processed this in PS6 originally and reprocessed it in PSCC for clarity, color and cropping.


---
7 comments posted
---
---
---
Bruce Benson
Walt, was this near Yakima? I know the have a feeding station there. I also posted a bighorn this month. Your crop is just right and like the detail you were able to show especially in the fur. Nice pose and good eye contact make this a really nice image. My only nit is the big dark rock just about the back of the sheep. Is is allowed to clone it out? Bruce &nbsp Posted: 01/02/2021 17:53:04
---
---
---
Mary Frost
Walt, I agree that the texture you captured on the fur is spectacular! If this was entered into a wildlife competition, you might not be allowed to remove the black rock, but for most other competitions, I think it would be allowed. Spectacular image! &nbsp Posted: 01/03/2021 11:15:33
---
---
---
Randy Dykstra
Great detail and focus! However, I'm not thrilled with the crop. I like to make sure there is space between the image edge and my animals and I believe if you are showing all the body you need to at least show the belly and some of the legs. I would be tempted to remove the entire right side (crop to about middle) and make a portrait style of the head. IMHO &nbsp Posted: 01/03/2021 11:49:42
---
---
---
Walt Brunner
To all, thanks for the comments. Bruce, this is indeed the feeding station outside of Naches. I didn't really take note of the big rock, but now that you point it out, I would remove it also. Mary the texture and detail came from Topaz AI Clear. Randy, I agree on the crop. My only excuse is that this was early on while learning composition. I will try a portrait crop and post it soon. &nbsp Posted: 01/04/2021 17:02:24
---
---
---
Marie Costanza
Walt, I am a huge fan of bighorn sheep, goats and any other creature who resides in mountains. Considering that this was an image from your early photography days, it is a striking image! The details and clarity are stunning. I love the idea of a portrait crop and look forward to seeing your image. &nbsp Posted: 01/04/2021 18:57:36
---
---
---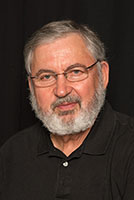 Isaac Vaisman M.D.
Walt, this mountain goat looks younger than the other. His horns are not as beat up. Very sharp, specially the fur. Since most of his body was not included, I prefer a tighter crop more resembling a head shot. Unfortunately, the stone above his horns is somehow distracting. Here in our group (not pure nature) it is allowed to do some tweaking (I used the patch tool) and added a slight vignette. &nbsp
Posted: 01/04/2021 19:30:34
Walt Brunner
Isaac, You have really improved the image with the crop and vignette. I didn't play much when doing the original crop, must be my chemo brain kicking in! Thanks. &nbsp Posted: 01/06/2021 14:56:04
---
---
---
Please log in to post a comment