Adrian Binney, LRPS
---
November 2020 - Bear Cubs Playing
Original
About the Image(s)
To maintain a theme of images from around Yellowstone, this also was taken in the Bear/Wolf sanctuary in the town of West Yellowstone in February 2012.

The story of these two is worth a few words……..we were told that the two cubs had been only added to the unit recently (to our visit) as a result of their mum having to be put down following two occasions of her entering a community: the first time, she was removed back into the wild, the second time she killed a person and thus had to be put down. Sad.

I remember that a pair of bears had turns of being released from their personal space (probably quite small) into a very large viewing field where mostly there was no fence in front of where the photographers were waiting - just a deep pit etc. Food was hidden by the staff - but these two just wanted to play!

Canon 7D mki and 70-200 2.8 Canon lens & 2x converter - at 380mm - Settings 1/640 f8 ISO100.

Lightroom used to bring out the shadows of the darker bear, add texture locally and control the snow bright spots.

---
This round's discussion is now closed!
5 comments posted
---
---
---
Bruce Benson
Adrian, my dad had a summer home 25 miles from West Yellowstone so spent many hours around there. I wish now that I would have appreciated it more. I even drove a produce truck all the way from Idaho Falls through the Park delivering produce to all the park lodges three days a week. The bears were just a delay for me. I love the pose of the cub especially the white of the eye. My only nit on this one is the two large rocks which are distracting to me. Bruce &nbsp Posted: 11/11/2020 20:11:39
---
---
---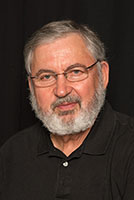 Isaac Vaisman M.D.
Adrian, this image is great. I love the eye contact between the two bear cubs. Indeed their interaction and body embracing makes the picture. Outstanding management of the snow and the rest of the colors brought out by the PP. Great crop/composition. Being a Nature Plus group, I would agree with Bruce that you can clone out the rocks. &nbsp Posted: 11/16/2020 14:20:03
---
---
---
Randy Dykstra
I love bears! And cubs are so much fun. I actually took many, many shots of triplets playing in a rescue area outside Denver, a month ago and have yet to process them. Its tough getting a good expression on both faces. Either a lot of patience or a lot of frames. I also visited the Grizzly & Wolf Discovery Center a couple years ago and enjoyed it. I myself, like the rocks, as they add some depth and character, but I might open up the crop a little to move the left one off the image boundary. &nbsp Posted: 11/16/2020 18:05:57
---
---
---
Walt Brunner
Adrian, what a fantastic capture. The eye of the bear on the bottom looking up makes the shot for me. Your pp does a good job of bringing out the details of both cubs. I agree with the suggestion to clone out the rocks as they detract from the stars of the shot, the cubs. Well done. &nbsp Posted: 11/18/2020 16:04:43
---
---
---
Marie Costanza
Adrian, What a delightful image! I love the eye of the bottom bear; what a great catch. I also like the foot of the little bear as it clings to its sibling as well as the sibgling's claws that are seen in the lower right. Such a great story being told in this image! I agree with the suggestion to remove the rocks, which are a bit distracting to me. &nbsp Posted: 11/20/2020 16:38:30
---
---
---