Adrian Binney, LRPS
---
September 2020 - Spider in Self-Made Lair
Original
About the Image(s)
My wife and I visited a large garden in Hampshire, UK in July (where we are annual members) and spent most of the time photographing insects rather than flowers! There were a number of spiders (I don't know their names, sorry) which had created a vast network of web and a few were lying in wait for their prey to arrive. This one was positioned best within a heather bed.

I have started using close-up rings rather than a specific macro lens as this allows a longer telephoto focus much closer. So this was taken with my Olympus 12-100 f4 lens (fabulously sharp throughout) at 100mm (FF200) at 1/200 f10 ISO800.

But my E-M1X camera has inbuilt focus stacking function - so the original here was the JPEG output of this. I find this works where the image doesn't require much PP work, otherwise not have a RAW file is limiting.

PP work was mostly locally - then sharpening through Topaz Sharpen A1 (a new purchase with the rest of the Topaz suite). T decided to eave much of the area around the spider materially as was to show the scene, but it will be interesting to hear views here.
---
6 comments posted
---
---
---
Randy Dykstra
Great scene for focus stacking. I actually like the back abdomen going soft along with farther down the tube. I need to start playing with that a bit more. Nice shot! &nbsp Posted: 09/03/2020 15:35:47
---
---
---
Marie Costanza
Adrian, I LOVE macro insect shots and this one is just fabulous! I especially find the crispness and the black hole behind him as effective parts of the image. I keep wondering what is in that black hole...
The crisp droplets also add to the image. I'm wondering if it might be even more effective if the large brownish blob (leg of another spider perhaps?) were removed. That spot is a bit distracting to me. &nbsp Posted: 09/03/2020 16:33:50
---
---
---
Walt Brunner
Adrian, capturing insects is difficult in the field, so well done on this one. I have a cognisys focus rail that I use for focus stacking shots, but it is more difficult to use in the field as you have to have a power source. I really like the Topaz products and use them on almost all of my work. Good job on the PP. I really like what looks like a mustache under the the eyes. &nbsp Posted: 09/03/2020 17:16:45
---
---
---
Mary Frost
Adrian, I haven't looked up close at many spiders so this shot amazes me (and leaves me a bit fearful?). It almost appears like the background is spinning. I guess that's an optical illusion. I can appreciate how much work you put into this image. Beautiful! &nbsp Posted: 09/03/2020 18:17:59
---
---
---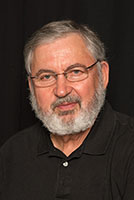 Isaac Vaisman M.D.
Adrian, great macro shot. The other structures in the field look like body parts of a grasshopper or similar critter. In the original is completely exposed the one on the upper left (My left) but after the crop it became distracting. The other one not so much. The photo stacking technique, specially in camera, is a great feature. I also like the dark tunnel behind the spider and makes me wish I could see more. The water droplets also adds interest to the image. Very sharp up to the middle of the body. &nbsp Posted: 09/03/2020 20:10:54
---
---
---
Bruce Benson
Adrian, Wow this one really gets your attention. There are so many small things to look at, plus the scary factor are great. I would like to learn focus stacking, but most of my subjects move to fast to use it. The black hole really adds drama . The light object in the top left is distracting to me I tried to crop it out but still like your image as is. Bruce &nbsp Posted: 09/04/2020 19:12:49
---
---
---
Please log in to post a comment