Randy Dykstra
---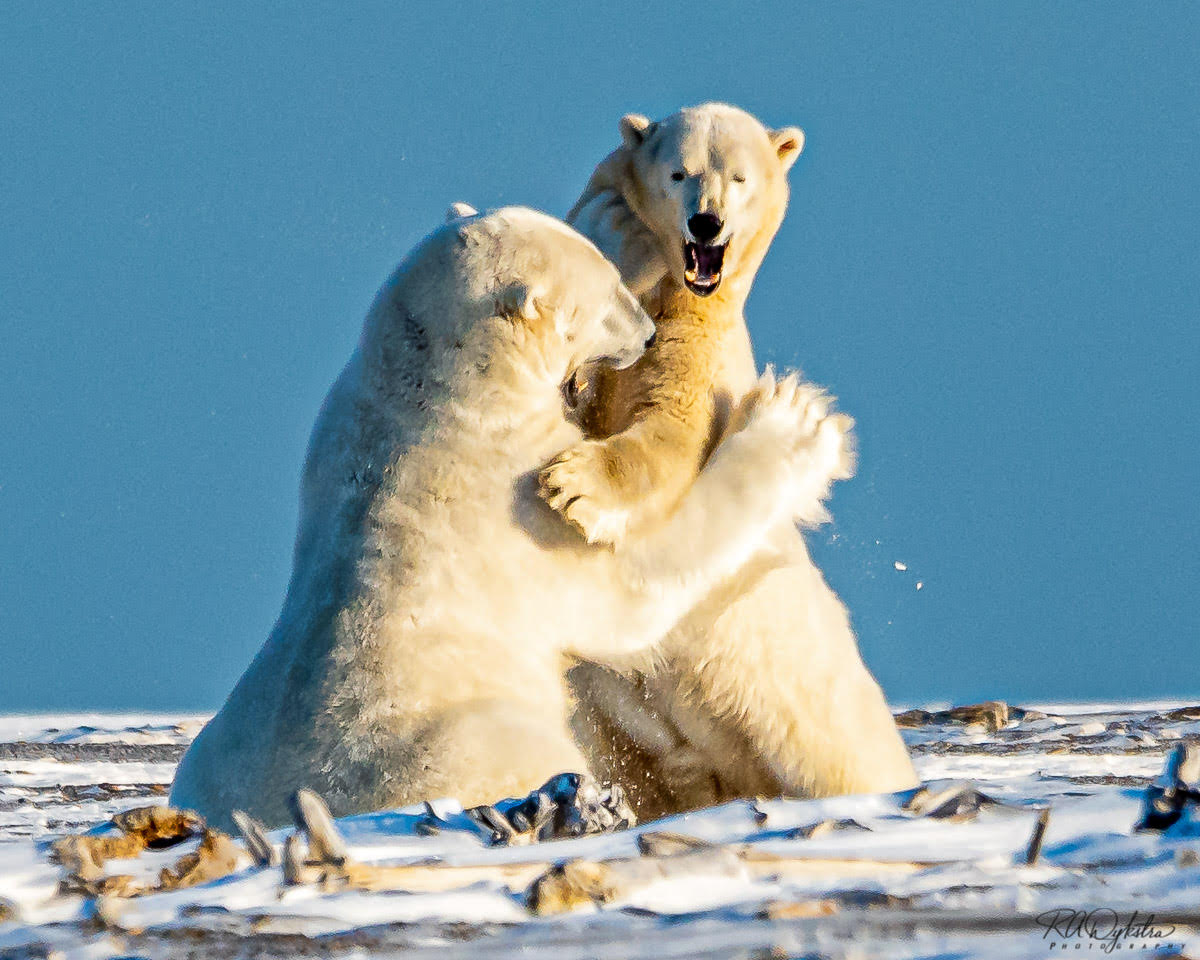 September 2020 - Hey that was my snowbank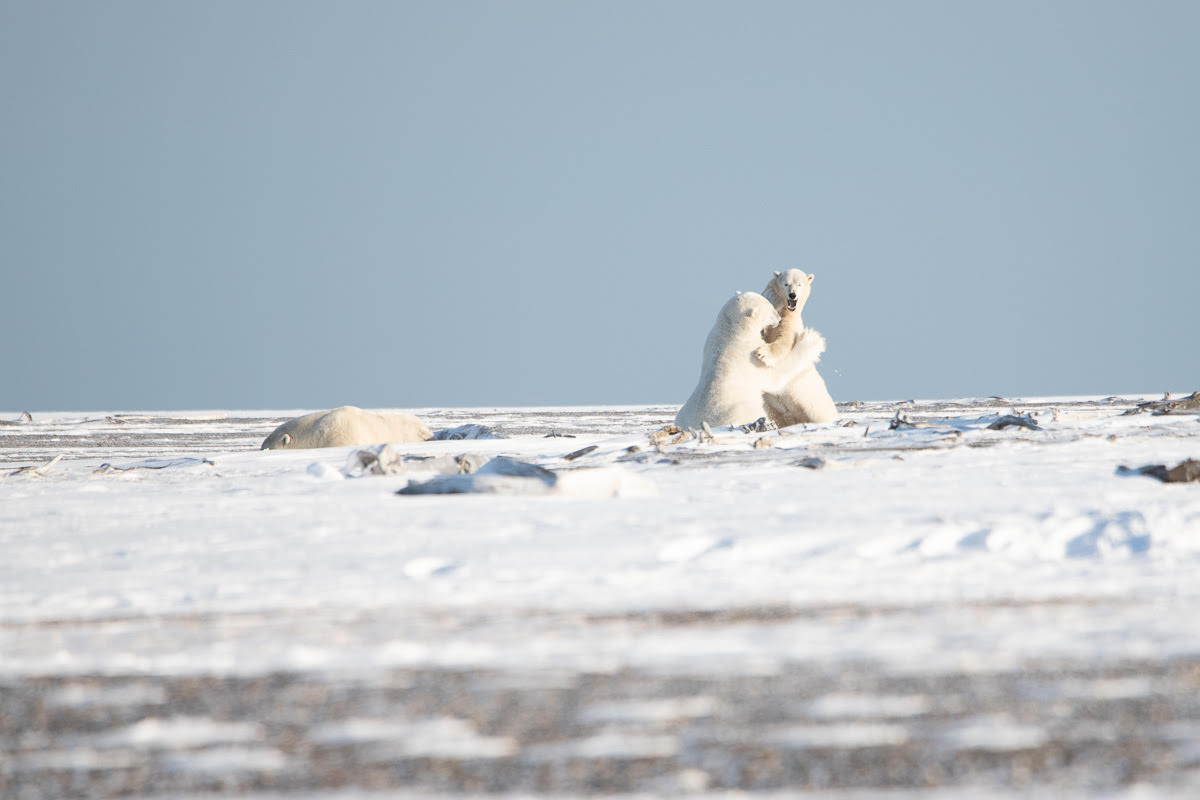 Original
About the Image(s)
Polar bears on the North Alaskan shore. This image was shot from a boat about 100 yards out. I used D850 and Tamron 150-600mm G2 lens @ 600. 1/1600 F/7.1 This was one image from a 3 day expedition, I took a couple years ago. Only processing was adjustments in Lightroom and a crop.
---
12 comments posted
---
---
---
Bruce Benson
Hi Randy, Lucky you to get the chance to photograph polar bears. You got some good action in this one. It looks like the light was pretty harsh, especially difficult shooting white subjects. The image does not appear sharp on my monitor. The boat provided a low perspective keeping the attention on the bears. I hope someday to get to Churchill to photograph these guys. Bruce &nbsp Posted: 09/02/2020 22:10:20
Randy Dykstra
Actually, I believe Issac had some trouble downloading this image. He said he could only take the image embedded in his email. This version has quite a bit of noise and is a bit softer than the image I sent. This was in Oct in the Arctic circle so the sun was always fairly low, although it did make the golden hours quite long. &nbsp Posted: 09/03/2020 14:29:45
---
---
---
Bruce Benson
Thanks for the info Randy, We all wish for long golden hours. Bruce &nbsp Posted: 09/03/2020 15:45:12
---
---
---
Marie Costanza
Randy, This sounds like such a cool expedition! Your caption is perfect. I noticed in your original there is another polar bear to the left. Were there additional bears or just these 3? Your image has made me very curious about polar bear behavior. Nicely done! &nbsp Posted: 09/03/2020 16:06:55
Randy Dykstra
At one point there were 11 polar bears all within sight. We believe we saw 32 different bears over 3.5 days. I believe this may be more of a form of play as it continued for some time and others didn't seem to pay attention and then these two just decided to lay down and go to sleep. Maybe it was just school time, like this one telling the other about how big the seal was he just missed... &nbsp
Posted: 09/03/2020 17:33:08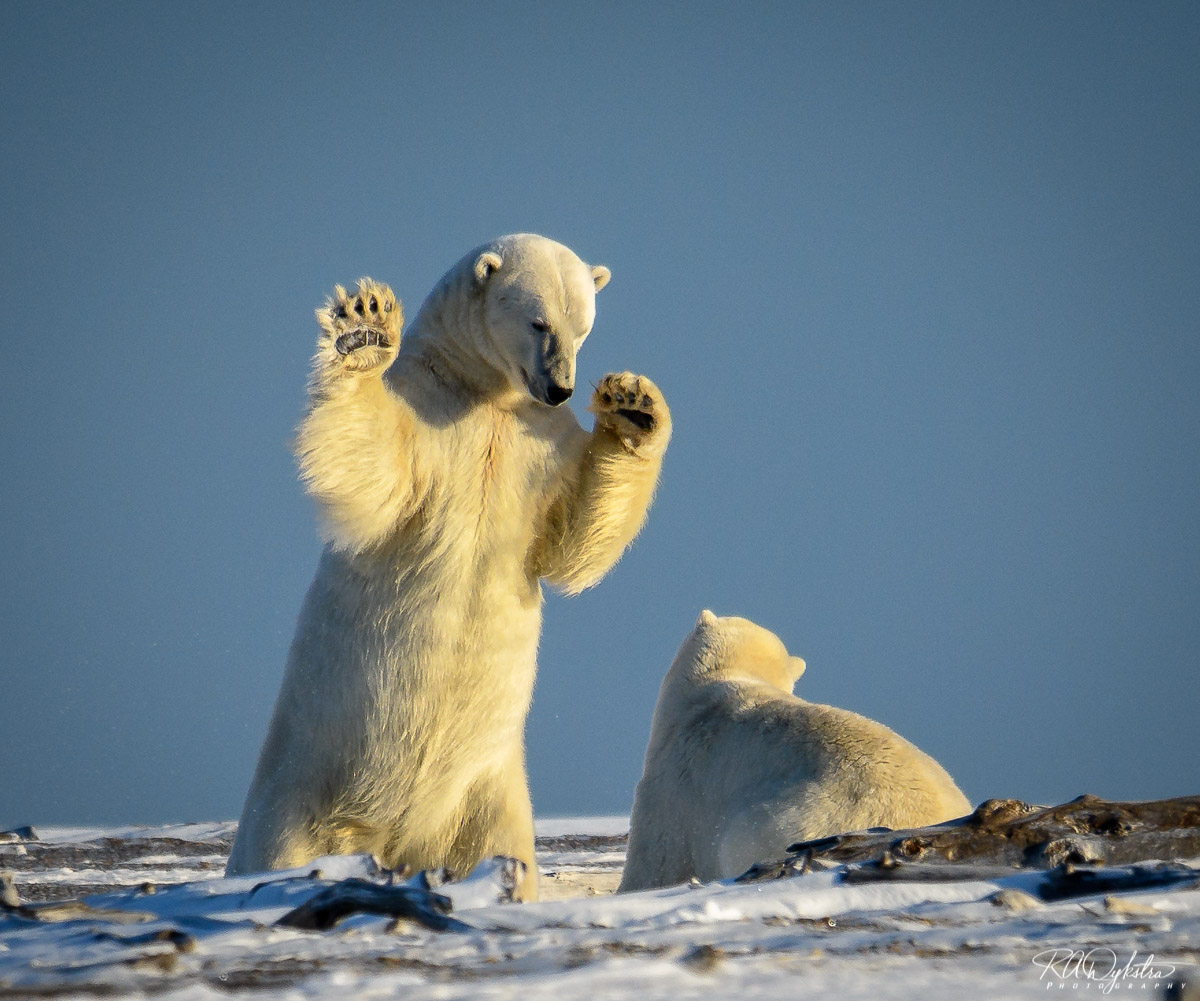 Marie Costanza
Oh I just love this one! &nbsp Posted: 09/03/2020 19:07:57
---
---
---
Walt Brunner
Randy, I love the action you caught in this
image.The
only change i would make would be to try to get little more sharpness. I did a quick run thru Topaz AI Clear and it seemed to help bring out some more detail. Your PP added to the story the image tells. &nbsp
Posted: 09/03/2020 16:52:45
Randy Dykstra
On my screen that appears over done to me... but see my comment to Bruce Benson. Then look at comment to Marie &nbsp Posted: 09/03/2020 17:36:54
---
---
---
Mary Frost
Randy, I tried opening it in Adobe Camera Raw to see if I could bring down the highlights. It seemed to help. I don't know that it improves your original image. It was fun to try. I love their playfulness. I'm glad you were using a telephoto lens. They can be powerful opponents. Nice job. I envy your trip.
&nbsp
Posted: 09/03/2020 18:04:34
---
---
---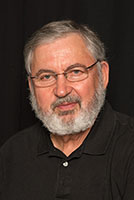 Isaac Vaisman M.D.
Randy, great action shot. I also took a cruise around the Arctic circle about three years ago, spending almost a week just around Svalbard. Only saw a mother with a cub dragging out of the water a dolphin skeleton, and a couple of young bears in dry land with no ice. Indeed the loss of the packed ice has taken a toll on the bears since they can not reach food as easy as before needing to swim undetermined distances. Your image is already soft due to the severe crop, probably augmented by the fact that I could not download directly your image from the mail, and probably has caused additional deterioration on the quality. The additional PP done by our group members specially sharpening, has caused a halo around the edge. Even so, it still is a great action shot. &nbsp Posted: 09/03/2020 20:02:51
---
---
---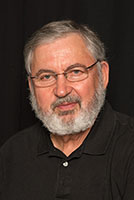 Isaac Vaisman M.D.
---
---
---
Bruce Benson
Hey Randy, I followed Isaac's advice and looked at your facebook and website. It seems that we hang out at the same places a lot. I grew up near Henry's lake (20 miles from West Yellowstone) at my dads summer home and Idaho Falls in the winter. I have shot 11 years in a row at Bosque, 15 yearsin a row in the Tetons and Yellowstone. I recognize the Gross Ventre campground in your photos. I even had a moose pee on my tent during the night there. Moose Wilson road bears eating choke cherries, Triple D in Montana, I have been to Texas several times. I spent 32 years organizing soccer tours around the world and would love to organize photography trips but age and health make it impossible. I love to shoot Yellowstone in the winter, this winter my trip was cut short to one day as a result of a twist of my back. I enjoyed your facebook and will look forward to seeing more of your images. Bruce &nbsp Posted: 09/10/2020 15:32:18
---
---
---
Please log in to post a comment