Isaac Vaisman M.D., FACRO
---
August 2020 - Northern Fulmar
Original
About the Image(s)
Northern Fulmar belongs to the family of Petrels. This bird skimming the ocean with its wing was captured from a moving ship (cruise around the arctic circle) a few years ago in late afternoon, around sunset using a Nikon D4s with the prime Nikkor 200-400 mm f/4 with an added 1.4x Teleconverter for a total of 550 mm @ 550 mm and with these settings: ISO 800, f/8 and 1/400 sec. The camera was set to Aperture Priority that is why the shutter speed was only 1/400 sec, obviously not enough. Anyway, the light reflection in the water in an undulated fashion is just different. The wing touching the water and creating a track, and the reflection. The image was PP in LightRoom and corrected for brightness, clarity. Then in CC 2020 the bright area on the head was selected and the brightness reduced. Finally, it was sent to Topaz Sharpen AI which improved the quality of the image, flipped and cropped slightly.
---
4 comments posted
Randy Dykstra
Very Nice capture. The reflection and water trail from the wingtip make this special. Your cropping and flipping the image works well also. It is surprisingly sharp for a 1/400 shutter speed. So how do you like Topaz. I've found it works on some and not as well on other photos.

Since I'm new, I do have another question, how much post processing is allowed in the "nature" division? &nbsp Posted: 08/01/2020 00:34:51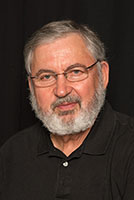 Isaac Vaisman M.D.
Yes Randy, and welcome again to our group. As you said, Topaz Sharpen AI works sometimes, but not always. Here, it did improve the quality of the image somewhat. &nbsp Posted: 08/01/2020 10:14:27
---
Mary Frost
Isaac, I, too, find the reflections in the water to be amazing. It is one thing to capture a bird at the right moment, but to get such detail in the water is outstanding! &nbsp Posted: 08/02/2020 17:11:21
---
Marie Costanza
Isaac, I agree with Mary and Randy....what a beautiful reflection of the wingtip. The pattern formed in the water also makes this such a unique image. Great idea to flip the bird. &nbsp Posted: 08/03/2020 10:44:22
---
Please log in to post a comment