Marie Costanza
---
January 2020 - Fading Away
Original
About the Image(s)
I took this image in July at Lake Ontario, located near my home. The lonely tree branch had fallen into the lake after a wind storm, and I watched it throughout the month as it slowly slipped into the lake. Eventually, about a week after I took this shot, it disappeared completely.

I used a Nikon D5500; a Tamron 16-300 lens with the following settings: ISO=100, 165 mm, F16, 1/8. I adjusted the white balance and increased the contrast.
---
This round's discussion is now closed!
13 comments posted
---
---
---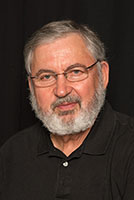 Isaac Vaisman M.D.
Marie, very peaceful image of the silhouetted tree branch, the lake and the hiding sunset. I kind of prefer the colors of the original rather than the purple colored water. It is sharp, the horizon line is leveled and placed in the upper third. &nbsp Posted: 01/13/2020 10:50:45
Marie Costanza
Thanks, Isaac. I went back and forth with the colors, which were more vibrant in reality than the original showed. Perhaps I should try to get something a bit in between what I ended with. I appreciate your feedback. &nbsp Posted: 01/13/2020 15:22:22
---
---
---
Bruce Benson
Marie, I agree with Isaac regarding the color, particularly the pink moon seems abnormal. Not sure if you have any more room on the right, but I might try having a little more room for the ends of the branches. Nice image overall. Bruce &nbsp Posted: 01/14/2020 18:38:40
Marie Costanza
Thanks, Bruce. I see your point about the color of the moon and the space. &nbsp Posted: 01/21/2020 20:34:13
---
---
---
Walt Brunner
Marie, very interesting and peaceful image. I liked the color change, it adds a new perspective. You might try reducing the vibrance a little to see if that gets you to the balance you want. Well done. &nbsp Posted: 01/20/2020 18:13:02
Marie Costanza
Thank you for your suggestions, Walt. &nbsp Posted: 01/21/2020 20:34:40
---
---
---
Adrian Binney
I like this image and what you have done Marie. When I looked at your images ahead of reading the prior reviews, I very much preferred what you have done in achieving your main image. I still am! I am not convinced the subdued tones of the original work to achieve a pleasing viewing.

I also 'see' and croc or alligator by the tree - even if they don't exist in Lake Ontario!

You're exceptionally lucky to live near there!

&nbsp Posted: 01/25/2020 12:30:33
Marie Costanza
Thank you Adrian. I thought my original was dull and did not really represent the vibrant colors that I saw that night as the sun was setting. Ah...you noticed the crocodile in the lake!! I ended up receiving a People's Choice Award for this image last week. It was juried into a local photography gallery show. Very exciting!! &nbsp Posted: 01/26/2020 13:22:07
Adrian Binney
Congrats Marie! &nbsp Posted: 01/26/2020 14:37:03
---
---
---
Very comforting and tranquil image. Good composition with the tree in the front and the Sun in the background. As pointed out by others, I would prefer natural colors. &nbsp Posted: 01/26/2020 09:37:31
Marie Costanza
Thank you for your comments,Abhijeet. &nbsp Posted: 01/26/2020 13:24:48
---
---
---
Mary Frost
Marie, the color changes create 2 image choices. I think I would be interested in seeing something between the original and the final image.

I, too, live near to Lake Ontario (Western New York). I'll have to make it to the Lakeshore more often.

Beautiful image. &nbsp Posted: 01/26/2020 17:04:09
Marie Costanza
Thank you, Mary. We are so fortunate to have such a beautiful lake near us. &nbsp Posted: 01/26/2020 19:12:57
---
---
---