Walt Brunner
---
January 2020 - Stairway To Heaven
Original
About the Image(s)
This was taken on a Mt Rainier hike in July of 2015 using my trusty D800 with a 24-70 f2.8 at 48 mm. I used ISO 100 and an exposure of f/11 at 1/60 sec. I used Nik Silver Efex to do the black and white conversion and Dfine and Viveeza for the sharpening and some color management. I like both the color and BW versions, but thought the shadow of my wife was the more interesting of the two.



---
This round's discussion is now closed!
6 comments posted
Marie Costanza
I really like the framing with the darker values in this image. The leading lines of the staircase make me want to climb the steps to see the whole view that the silhouetted figure is seeing from the top of the steps. &nbsp Posted: 01/09/2020 17:46:39
---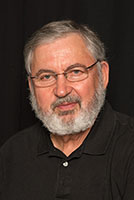 Isaac Vaisman M.D.
Walt, I kind of like the color version more. You still have the silhouetted human presence, which gives dimension to the landscape, the leading lines toward her given by the stairs, and the beautiful colors of the flowers and the sky. It is sharp. Nice composition. &nbsp Posted: 01/13/2020 09:41:32
---
Bruce Benson
Walt, I agree with Isaac, about liking the color version better. For me the stairs really make the image. The trees on the right and left form a nice frame of Rainier. Bruce &nbsp Posted: 01/14/2020 17:32:53
---
Adrian Binney
Walt - A great image and I admire the planning to get your wife to stand in that position for you!

I think your image works in both B&W and colour. It depends on what you do with it/them! For non-competition viewing (and if you were to enter this into a Nature Comp), I agree with others re the colour one being stronger. I understand the enhancement of the shadow of your wife in B&W though, thus you've got many options fro the same image. Thank you for sharing. &nbsp Posted: 01/25/2020 11:14:29
---
Abhijeet Banerjee
I liked this mono conversion and the story. Liked the artistic treatment. Very good framing with stairs leading the views to the human element. Good balance between foreground, mid and the background. &nbsp Posted: 01/26/2020 08:35:07
---
Mary Frost
While I like both versions, I am wondering if the color version has the saturation raised a bit more than my preference.

A beautiful image. &nbsp Posted: 01/26/2020 16:00:05
---