Bruce Benson
---
January 2020 - Bosque Del Apache Landing Goose
Original
About the Image(s)
1/1000/ f11/ ISO 800
Canon 1DXMKII/ Canon 800 5.6

I cropped out many of the other geese that were landing, cloned out the rest, increased exposure and sharpened the image.


---
This round's discussion is now closed!
6 comments posted
Marie Costanza
Your post processing makes this such an effective image. Removing the cluttered background, sharpening the image and bringing out the color in its beak and feet really enhanced it. Nicely done! &nbsp Posted: 01/09/2020 17:36:20
---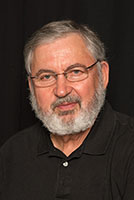 Isaac Vaisman M.D.
Bruce, capturing images of flying birds coming towards you is a very challenging task, since you have to take into consideration Depth of field, which is very shallow in a long lens (800 mm @ f/11). But you were able to get a very sharp image of the front of the bird's body and legs, not so much of the tip of the wings, probably due to motions (speed only 1/1000 sec). The colors are beautiful, and your PP is very good. Normally the white geese in Bosque fly in the thousands together. &nbsp Posted: 01/13/2020 09:33:37
---
Walt Brunner
Bruce, this is an excellent image especially due to the difficulty in the depth of field. You must have spent alot of time cloning! My only other suggestion would be to darken the sky to add contrast to the goose. Well done. &nbsp Posted: 01/20/2020 17:00:21
---
Adrian Binney
Bruce - I like this a lot! To get the head, body and feet sharp and well resented is quite an achievement! I actually like the blur to the wings, as this adds impact to their movement.

I accept that the sky is whiter than fully desirable, but I feel the image is about the impact on the viewer of goose landing in front of 'you'. I do wonder whether a letterbox format, taking space off the top would enhance the feeling of the bird descending (as well as making it less central).

An image with strong impact - thank you for sharing Bruce! &nbsp Posted: 01/25/2020 10:35:18
---
Abhijeet Banerjee
I liked this high key image. You have done well in post processing. Good sharpness on the body of the bird and good light on the tail. In this case I liked the blurred wings which signify motion and the effort of the bird while landing. &nbsp Posted: 01/26/2020 08:24:15
---
Mary Frost
What holds my attention is the extremely sharp head. Since the bird is in flight, I actually like the drop off of focus. It accentuates the motion. &nbsp Posted: 01/26/2020 15:52:04
---