Pierre Williot
---
December 2019 - Male Northern Cardinal
About the Image(s)
Equipment: Panasonic Lumix DC-G9, Olympus M. Zuiko 300 mm f/4, Olympus 1.4X Teleconverter, Hand Held

Set up: ISO 800, 420 mm (840 mm full frame equivalent), f/6.3, 1/2000 sec, minor adjustments in LightRoom.

Location and date: TIFFT Nature Preserve, Buffalo, New York, November 30th 2019

I was attracted by this very bright Male Northern Cardinal. He was eating some Sumac but unfortunately I could not capture him properly while eating. He rests on one of the branch soon after.
Through all the colors, I found difficult to obtain the proper red. Here we have a contrast between the Sumac and the Cardinal.
---
3 comments posted
Brenda Fishbaugh
Pierre, You are a hardy soul to be out photographing in late November in Buffalo! You nailed a catch light in his eye, which is quite the trick in winter! I like the colors, and have no issue with the cardinal and sumac colors. However, everything seems a bit soft--that's a lot of lens to hand hold! Have you tried to selectively sharpen your bird?

There are some darker blue blotches throughout--for example, the large triangle in the top right. Were you trying to darken down or is it part of the original?

think there is a less busy crop in there, but I'm not sure where it is. I look forward to our bird experts' comments! &nbsp Posted: 12/01/2019 16:33:36
---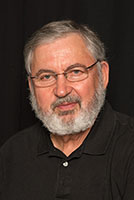 Isaac Vaisman M.D.

(Groups 4 & 58 & 72)
Pier, this is a good picture of the male cardinal. It is a bit soft as stated by Brenda, plus there is a lot of branches in the way that do not help to the image, but creating obstruction and distraction, but sometimes we can not change the environment. I did some selective sharpening and cropped the image to eliminate some of the branches, and giving the cardinal a more prevalent place in the image. Added a slight vignette as well. &nbsp
Posted: 12/07/2019 14:30:45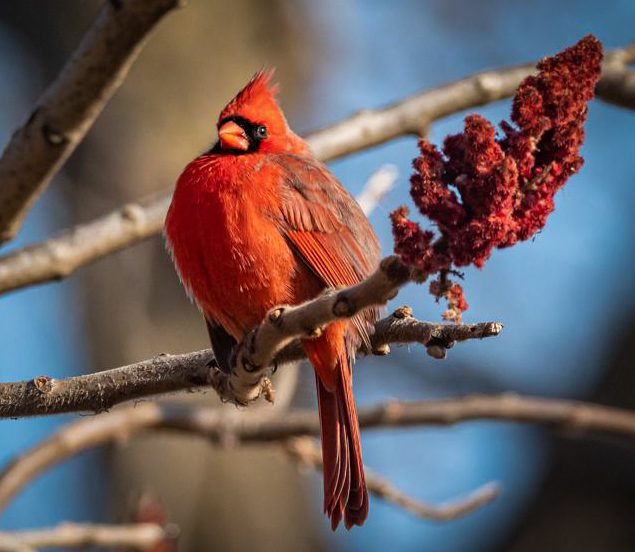 ---
Pierre Williot
Thanks Isaac. Much better like this. &nbsp Posted: 12/07/2019 17:23:38
---
Please log in to post a comment