Signe Emmerich, FPSA, EPSA
---
September 2020 - Face Fountain
Anaglyph
About the Image(s)
At a lakefront park in Chicago, there is this giant fountain with a moving face. This face is replaced with several others over the course of a day but in all of them the mouth will eventually have a stream of water coming out to create a pool. People and especially kids have a great time. It was getting dark when I was there so the water reflections were enhanced.
---
6 comments posted
---
---
---
David Allen
Interesting image! It looks like the actual image is made up of square pieces about 8" wide. How was the whole thing made? The water looks orange here, was that what you meant "reflections were enhanced"? There isn't a lot of depth, but it looks like this display is quite thin as I seem to see a fountain behind it. It looks real bright here, was it good in noon day sun? I like the image. &nbsp Posted: 09/07/2020 16:43:53
Signe Emmerich
In response to your questions, I researched for details because I was curious too. This is called the Crown Fountain in Millennial Park. It is described as a whimsical public art/video sculpture designed by Catalan artist Jaume Plensa. It is a modern take of old fountains with mythological gods spouting water out of their mouths. The reflecting pool is black granite positioned between a pair of 50-foot glass brick towers using LEDs to display digital videos of faces of 1,000 Chicago locals. The towers are 16 feet deep and 23 feet wide.
The wall is still quite bright during the day...like the electronic billboards along the Interstates. I think the water appears orange just because of the saturated colored lights behind the water, and to me, twilight enhanced the colors, brightness, and the reflection. The faces change and are expressive. When the lips pucker up, the people below know the water is going to project out and get ready to get wet. &nbsp Posted: 09/07/2020 19:38:15
---
---
---
Nick Muskovac
Signe, Thank you for the very extensive description of the scene. The puckered face sure does draw your attention. The people reflecting in the water helps make the image. Since the large face is so bright, it makes the rest of the image seem too dark. &nbsp Posted: 09/12/2020 14:10:22
---
---
---
Betty Drinkut
INteresting, I have not seen this park before. I like the lighting from the time of day.
&nbsp Posted: 09/13/2020 12:31:10
---
---
---
Dr V G Mohanan Nair
Interesting image of the Millennial Park, Chicago. The reflection of the tower and people add to the image. The bright tower face made the rest of the background dark. Did you try Shadows/highlights option in photoshop to partially correct it? I think you should have included the side of the tower from a different angle.
I had an opportunity to visit Chicago on my return journey after San Antonio conference. I too took an picture of this fountain. With W3, it was difficult to cover the full tower with less people. Hence took with normal camera a 2D picture only. It was uploaded in November, 2016 in Group-16.(Since it is not available in the site now, a copy is given here) &nbsp
Posted: 09/13/2020 13:51:17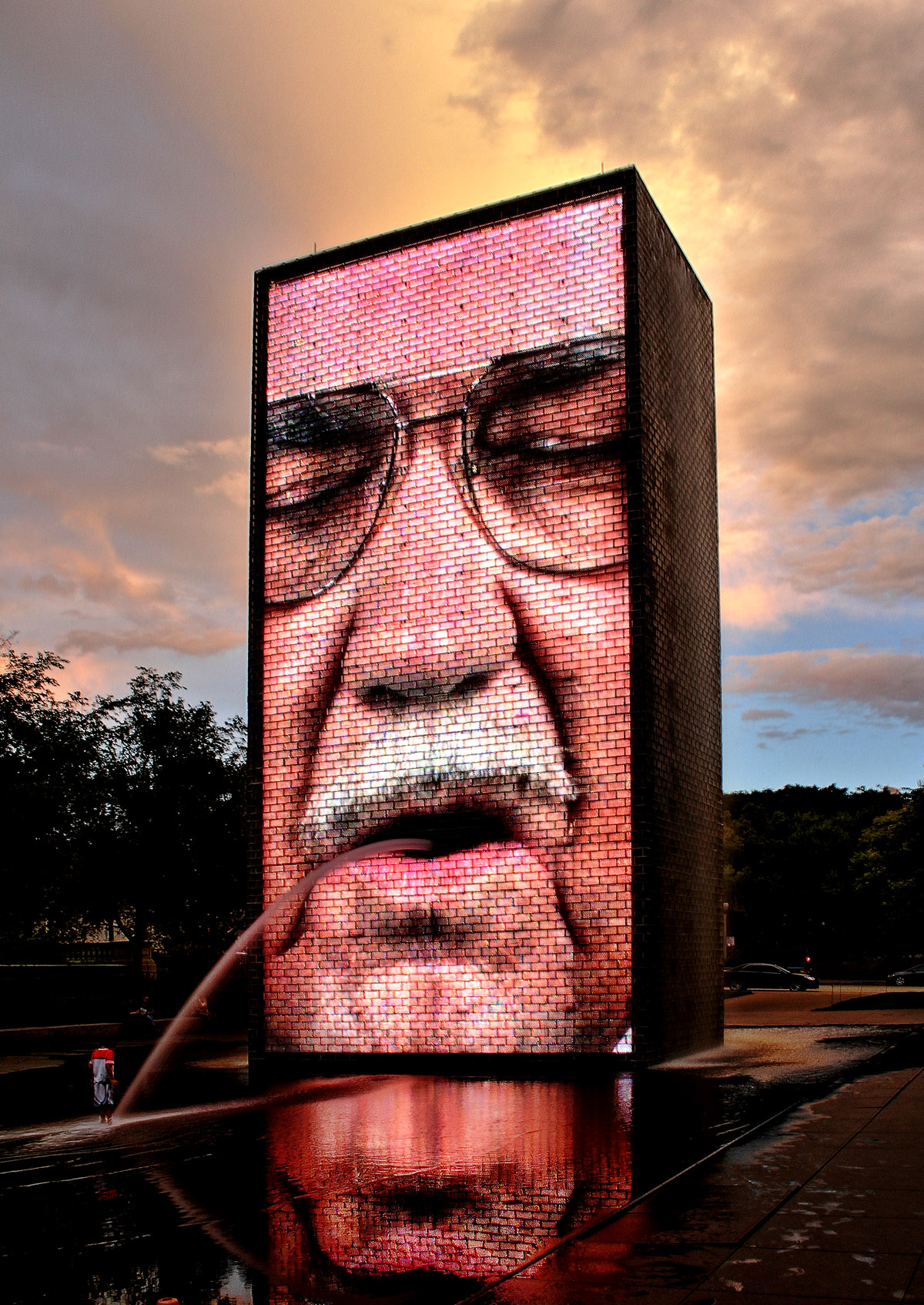 ---
---
---
Brian Davis
A most interesting fountain and I can fully understand why you took the full height but a crop off the top taking off the light sky lifts the whole image and the people and the water coming from the mouth is clearer and more dramatic &nbsp Posted: 09/22/2020 15:29:14
---
---
---
Please log in to post a comment