Larry Treadwell
---
March 2023 - Gone Fishing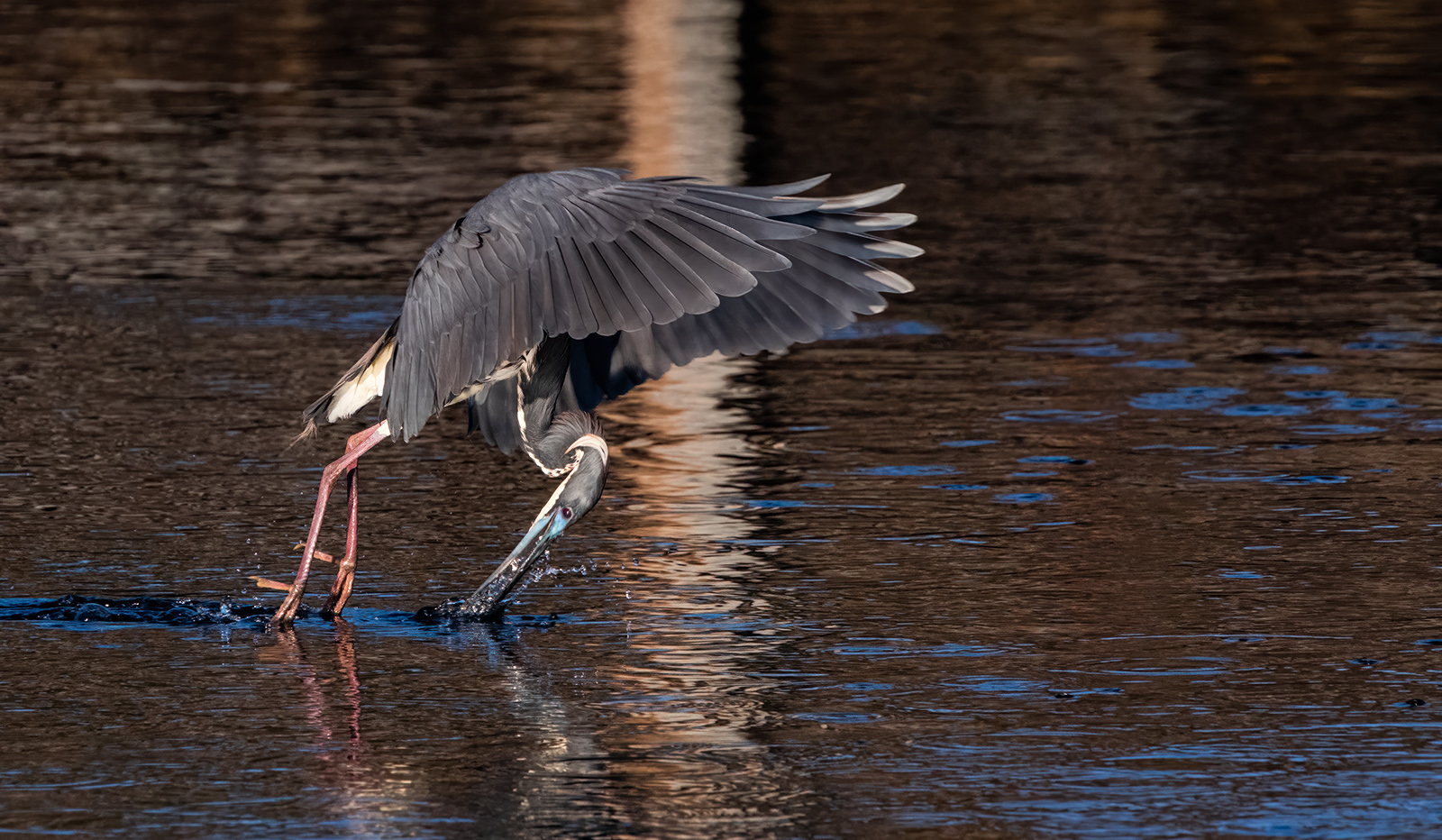 Original 2
About the Image(s)
Nikon D850, 200-400mm with tc1.4, ISO 1250, f9, 1/1250, monopod with gimbal head

The goal was to capture wading birds trying to aquire a meal in unseasonably deep water. Wading birds such as the tricolor heron prefer to fish for their meal by standing in shallow water on legs that are about a 14 inches long and then striking at their intended meal using their long flexible neck and bill. This is method works when the water is not more than a foot deep and the bird stand while keeping its body out of the water. Large fishcan be captured using this method. However when the water is several feet deep these birds cannot fish by wading. Therefore they have adapted to capturing their meal while flying. The bird will fly over a pond at less than a foot above the water surface. Then, as they pass over a fish (usually one that is not much more than an inch in length) they will strike by extending their neck and bill trying to grab a meal that is swimming just inches below the water surface. While striking they lower their feet to the water surface so that they can actually run after their prey. As they strike and move forward their body literally moves to be in front of their head that ends up under their body.

I needed a fast shutter to stop the action of the run and strike, the increased aperture of f9 was used because of the width of the wings and I wanted both wings in focus. The higher ISO was selected because it was the only way I could obtain the required shutter speed and aperture. Capturing this image required tracking the bird as it flew in circles around the surface of a small lake until it decided to strike its prey. Most often the bird missed and would continue to circle and try again. This image shows a Tricolor Heron running on the surface while striking at catch a fish. The wake connected to the bill shows the spot of the strike (left side of wake and just as the bill is rising from the strike after grabbing a fish. As noted the fish is about an inch in length and can be seen at the tip of the bill if the image is enlarged. My intent was not to actually show the prey, since it is so tiny, but rather to show the technique of running and grabbing prey while in motion. I feel the nature story is not bird and prey but the technique used in the fishing process. Most likely the image will not be scored as a strong nature story because the prey is nearly invisible.

Processing included cropping, adjusting for highlights and both sharpening and noise reduction due to the high ISO were applied.

---
This round's discussion is now closed!
13 comments posted
---
---
---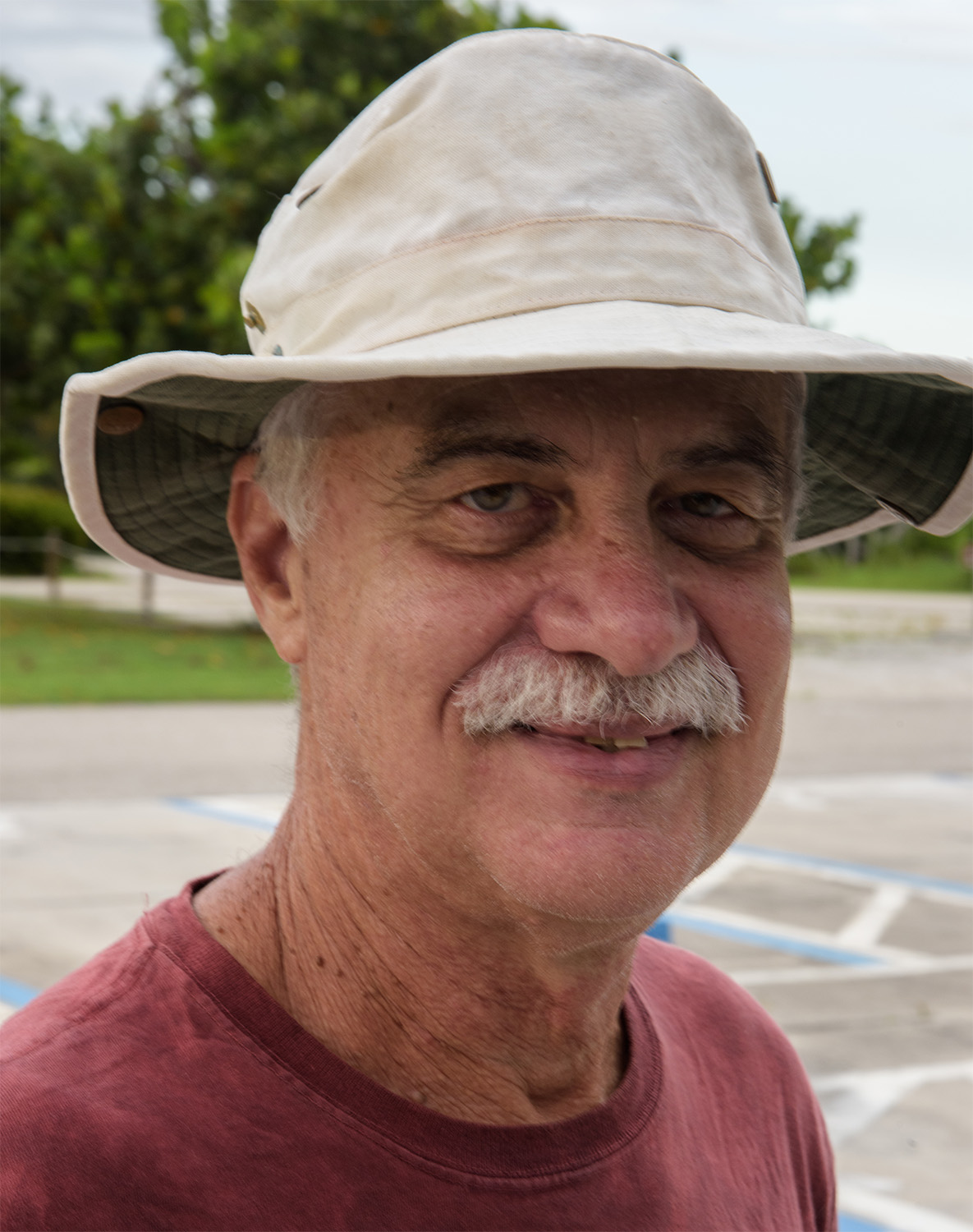 Larry Treadwell
A quick question. Under Original 2 I have uploaded a second image of a Tricolor Heron preforming the same fishing act described above. My question is which of the two images do you fell best tells the story of the fishing technique? The image in my original post or the image labeled as Original 2. If you could tell me why you made your choice I would be appreciative. Thanks &nbsp Posted: 03/02/2023 12:19:34
---
---
---
Susan Sayshi
Well, thank goodness I'm a newbie because I can't possibly choose between these two powerful images! They both capture the intensity of the catch and the colors of the heron. That the "invisible" prey would lower the score of either photo is disappointing since, as you say, it's the unique strategy these birds apply to the hunt that is the story you tell -- and it comes across perfectly. &nbsp Posted: 03/06/2023 09:39:49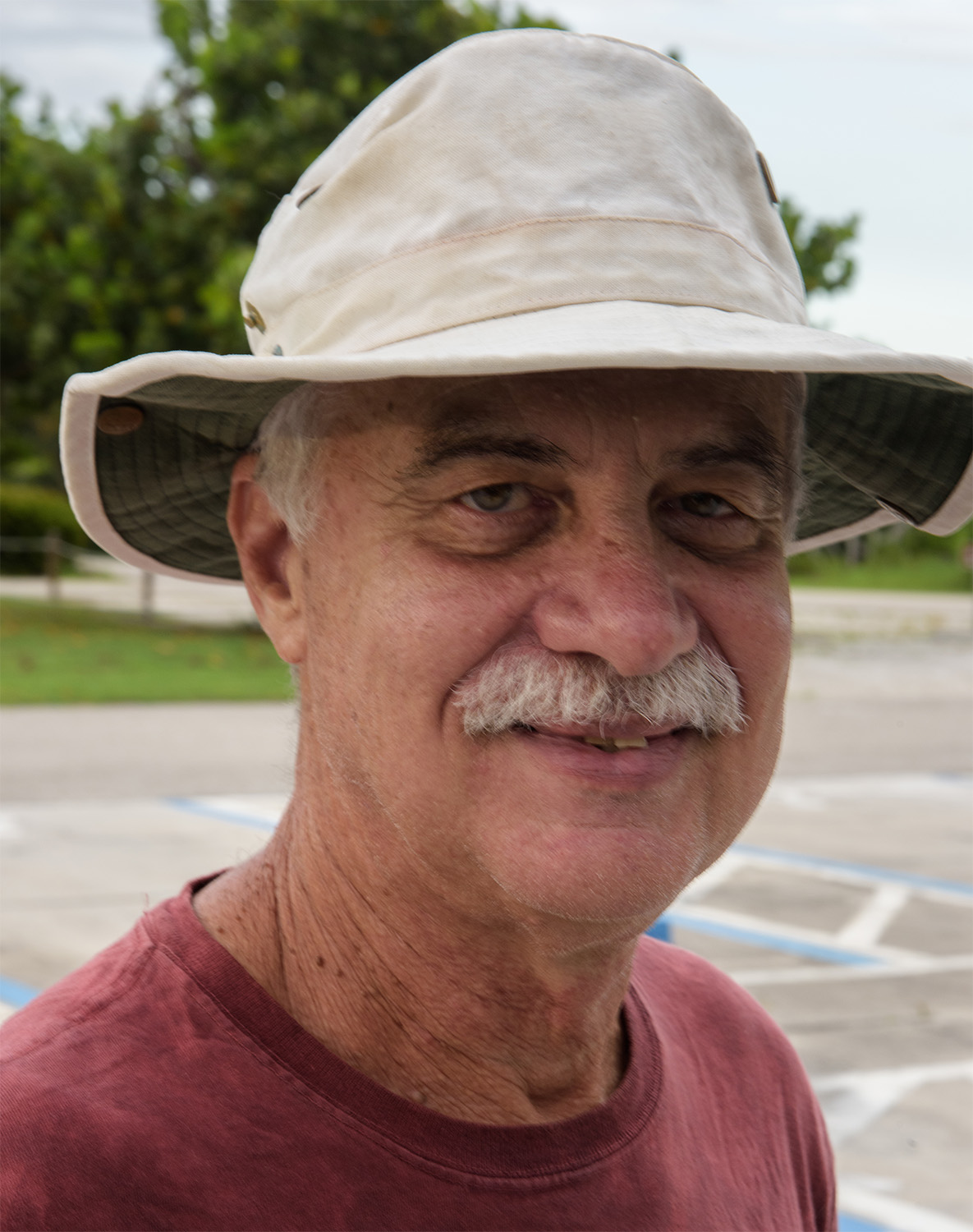 Larry Treadwell
Ok Susan, look at it this way. In a nature image the EYE is everything. No eye the image will be downgraded for certain. So I have the eye. The big issue (at least for me) is this. In the main image you do not actually "see" the head moving back under the body as the bird flies forward. To the discerning eye the water wake that is under the bird and connected to the bill shows the prior position of the head and also shows that the head is rising into flight position. In the second image the head position is further under the body of the bird thus more clearly displaying the position during fishing. When the bird actually grabs the prey its head in under water in a horizontal position. But the eye is invisible. So the questions comes down t0 how is the story best shown, with the wake included or without.

Actually getting a winning or exception nature image is really tough. getting all the details right really does matter. Lots of images are shown and posted everywhere, but so very few really have the WOW factor that works. I try,and often do not succeed, to show images that really work. This is why I put the pressure on the group, to see what they think. &nbsp Posted: 03/06/2023 13:25:15
---
---
---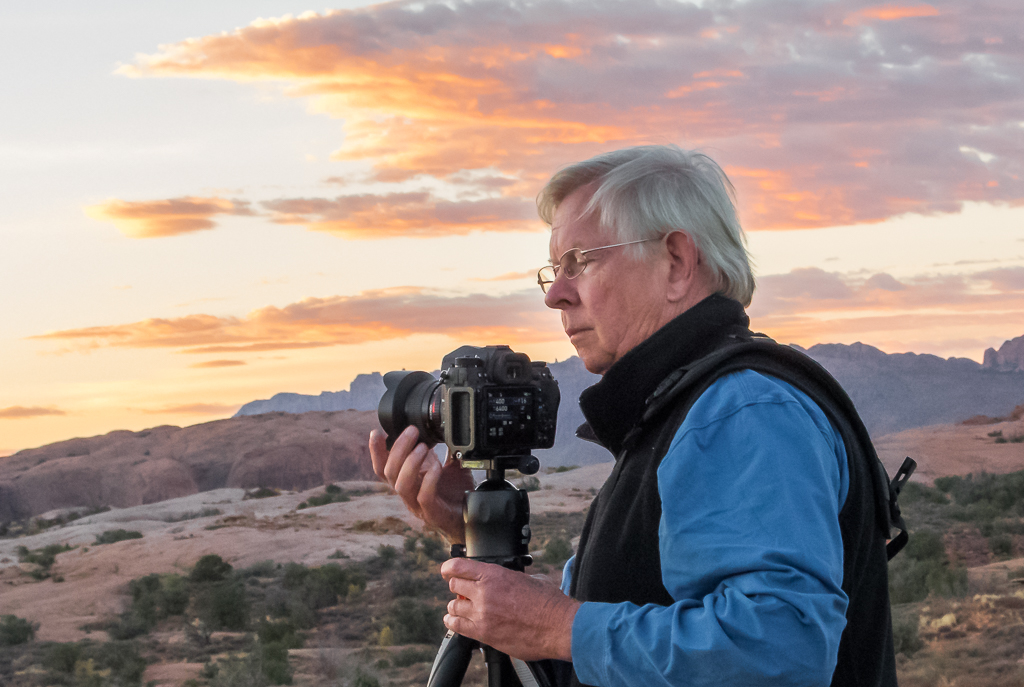 Michael Weatherford
Original 2 shows the fishing technique a little better in my opinion. The forward position of the wings and the heron's beak is open, giving a better impression that he has caught something. However, if I had to choose between the two images it would be your first one. It's just a more beautiful image, showing a more attractive bird pose, a much better background with the blue water and absence of that tree trunk. Just my opinion, which is always correct. &nbsp Posted: 03/06/2023 18:43:59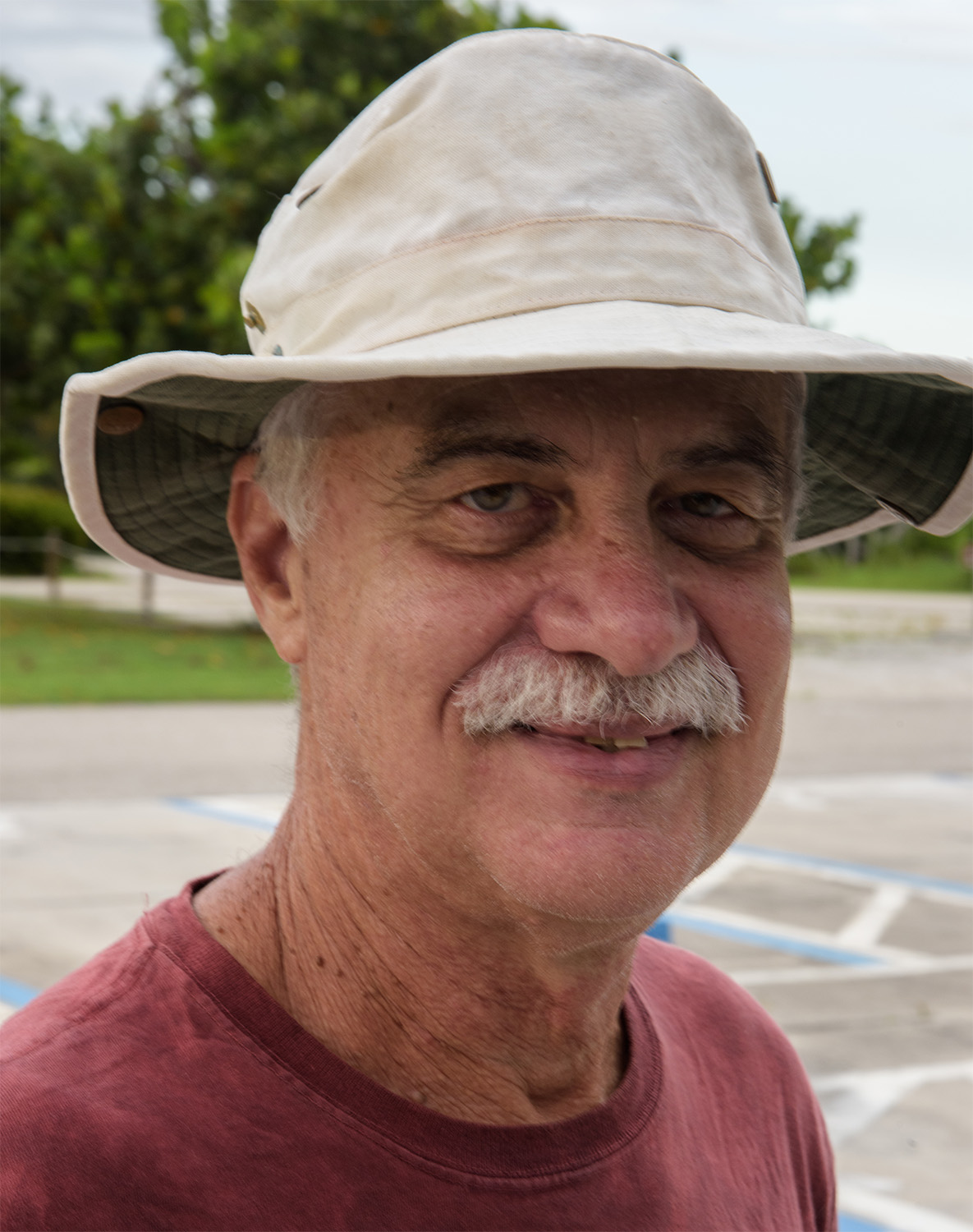 Larry Treadwell
I fully agree with your assessment. The main submission is just a prettier image---especially without the palm tree reflection. Besides I have learned to accept the wisdom set forth in your opinions. As you note you are always right. :-)


I will likely enter the original 2 image for the reasons you indicate.
Thanks &nbsp Posted: 03/10/2023 10:24:13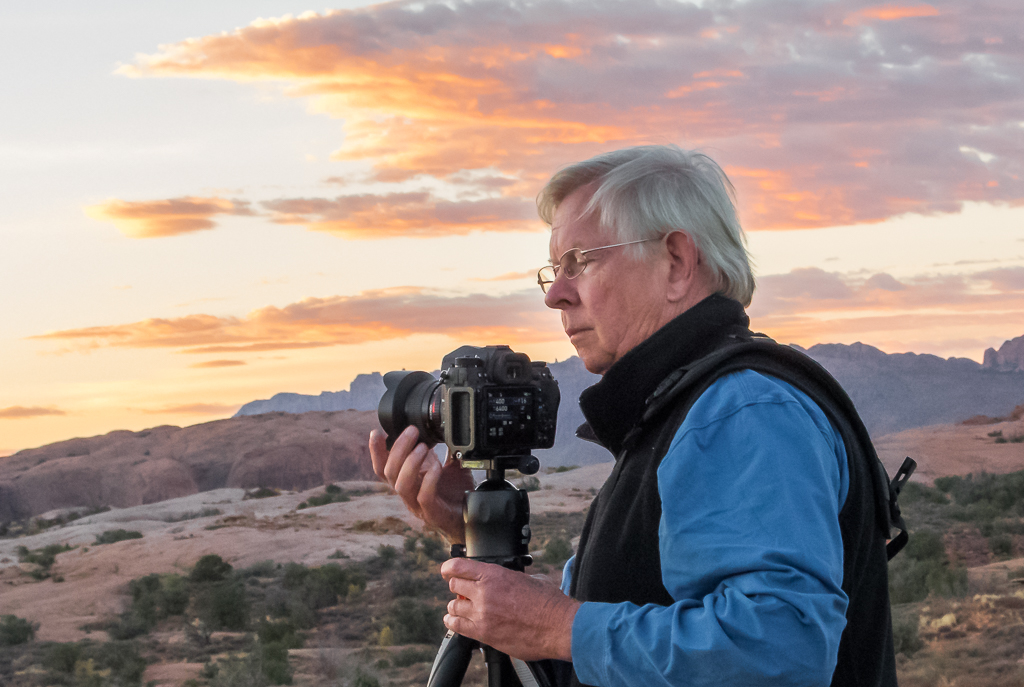 Michael Weatherford
Yes, just like I said, you should enter Original 2. ;) &nbsp Posted: 03/10/2023 12:31:04
---
---
---
Richard Matheny
The National Geographic photographers say that to make a great photo you need good light, good composition and a moment. The Moment being the most difficult to capture. I think you have done that with number 2 original photo. The first is good as well but I think that the moment is best displayed with the head and neck of the Heron pulled and forced back under its body because of the action taken by the bird resulting resistance of the water. That I would consider a moment more that the first image. Just a great capture. &nbsp Posted: 03/09/2023 19:21:56
---
---
---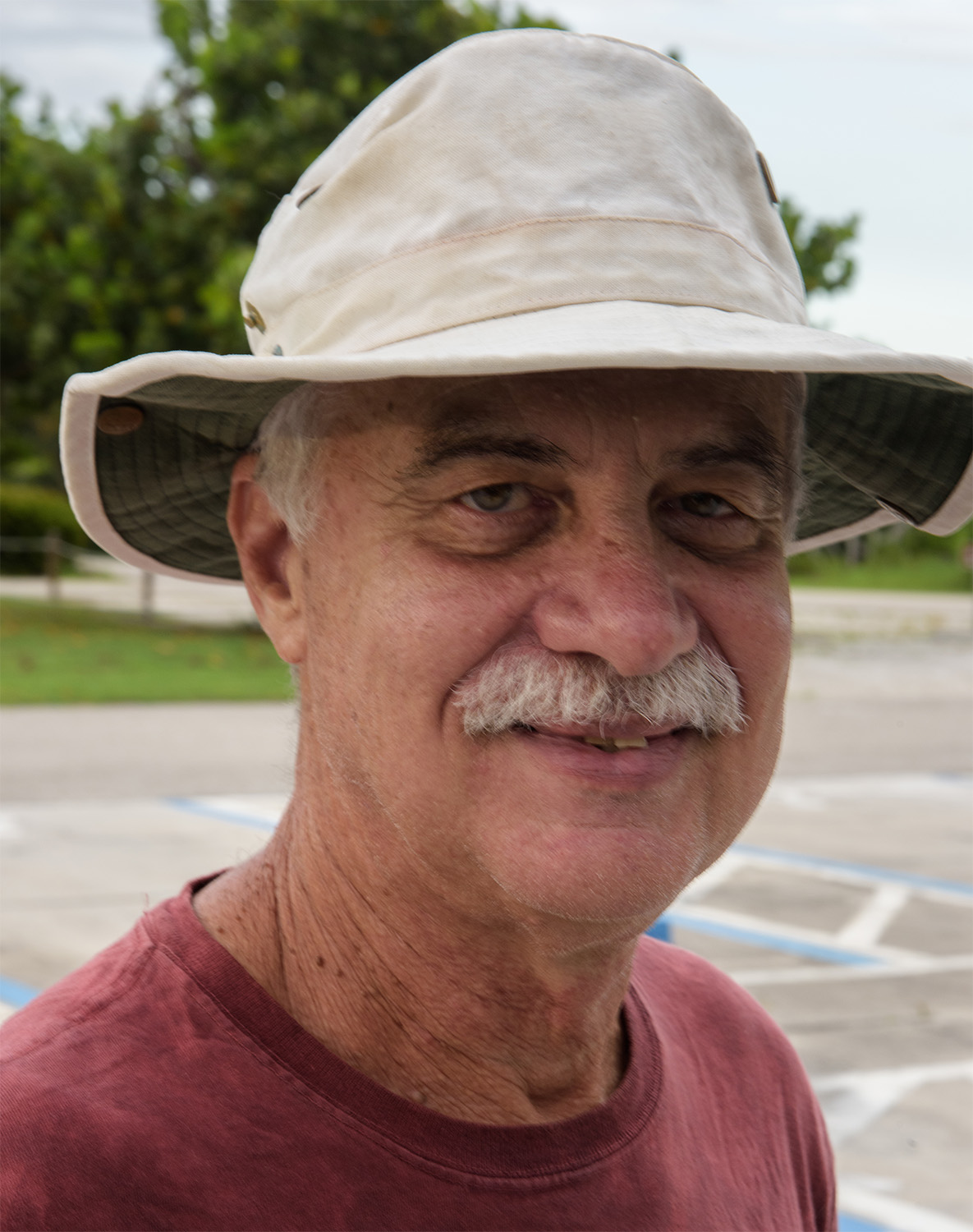 Larry Treadwell
Thanks Richard. Capturing these shots was quite time consuming as I spent several hours each of the three days I worked on this. All this action happens so darn fast. I like number two for the same reasons you indicate but I do hate that tree reflection. I guess it will come down to what judge reviews the image. A really good judge with focus on the moment as you note while a less knowledgeable
judge will focus on the technical aspects and deduct for the tree reflection.
Maybe I'll just have to speak to the birds about fishing where there are better backgrounds. :-)

You are so right about capturing the "moment" &nbsp Posted: 03/10/2023 10:33:10
---
---
---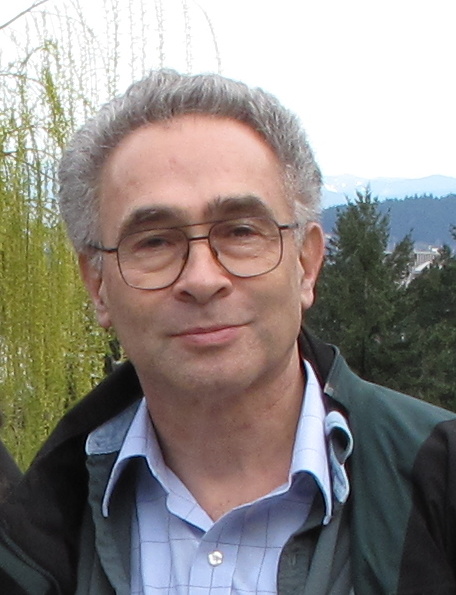 Stephen Levitas

(Group 32)
Your original image is more "photographic", whereas your original 2 image is more instructive, as if it were meant to be one in a series of Muybridge images.
I am curious about the deep-water fishing technique from an evolutionary point of view. Do you think it was always a technique of this wader, or are we witnessing an actual evolutionary change, where a change of environment makes for a rapid change of behavior, according to Stephen Jay Gould's theory of punctuated equilibrium. &nbsp Posted: 03/14/2023 22:53:08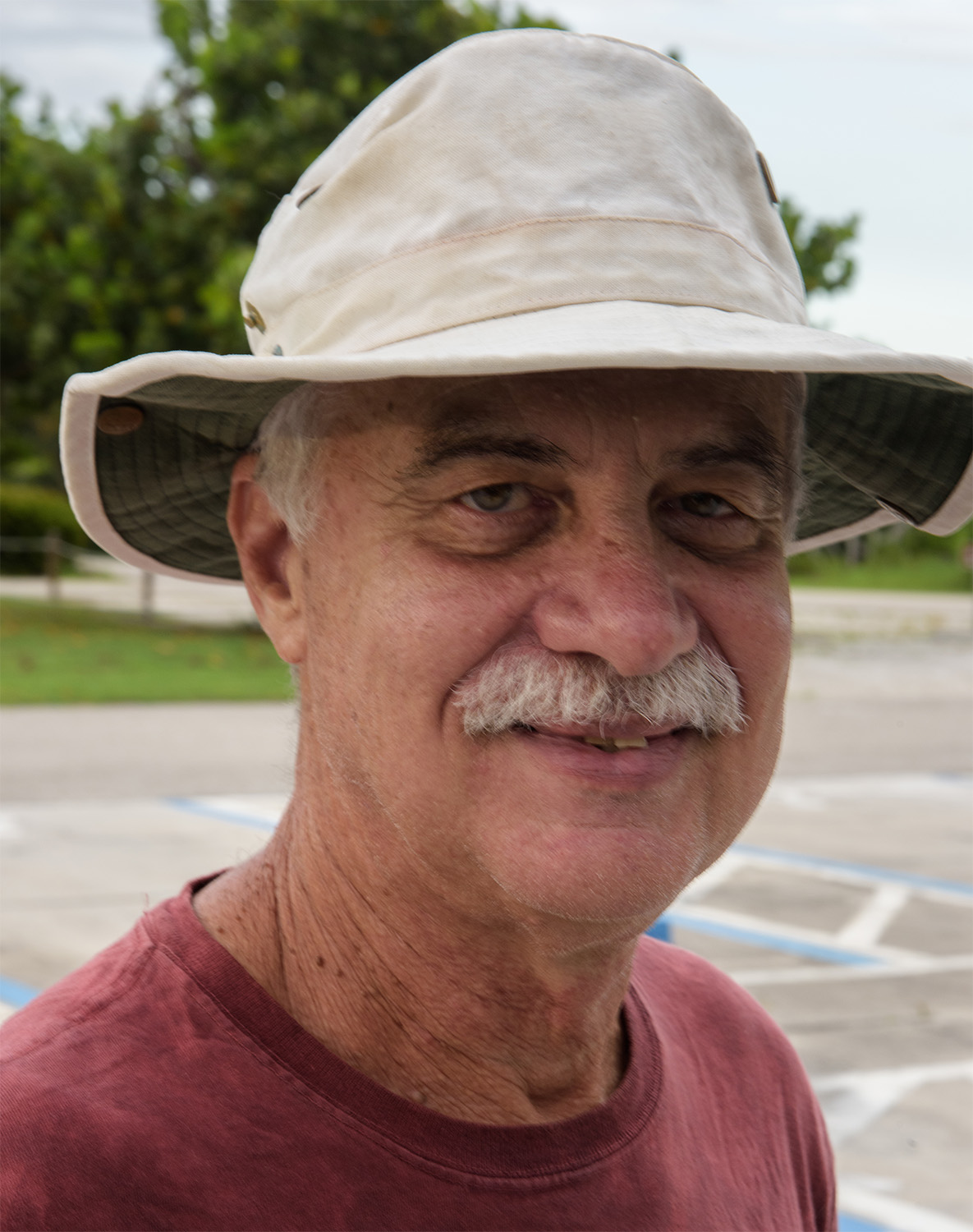 Larry Treadwell
Hi Stephen You pose an interesting question. I have been shooting these birds throughout the Florida Everglades for more than 30 years and have never seen water as high as it is this year. Many of the land marks I use as "signposts" while paddling around in my kayak and no longer visible. Also the total bird count, by my unofficial count, is lower than in previous years. Birds do not nest where there is not an adequate food supply. So there is clearly something different. I have seen the behavior in the past preformed by Snowy Egrets but not by Tricolor Herons. This year I have seen several Tricolor Herons exhibiting this behavior in this particular area. However in a different pond about 20 miles further north there is an abundance of nests, but no one was fishing using this technique. Perhaps some hungry birds are try8ng to learn a new trick. &nbsp Posted: 03/15/2023 17:57:27
---
---
---
Cindy Marple
Well I'm going to be very slightly contrary here. While I really like the contorted pose of "original 2", I think the story in the main image is also quite strong. It shows the feet pattering/ running, and the wake from the beak shows the strike action. Pictorially the stretched wings fill the frame better too. They're both strong, story-telling images, to be sure.
It's interesting how similar this is to one of Snowy Egret's fishing techniques. I've spent many sessions trying to capture it, it is challenging for sure. &nbsp Posted: 03/15/2023 15:33:05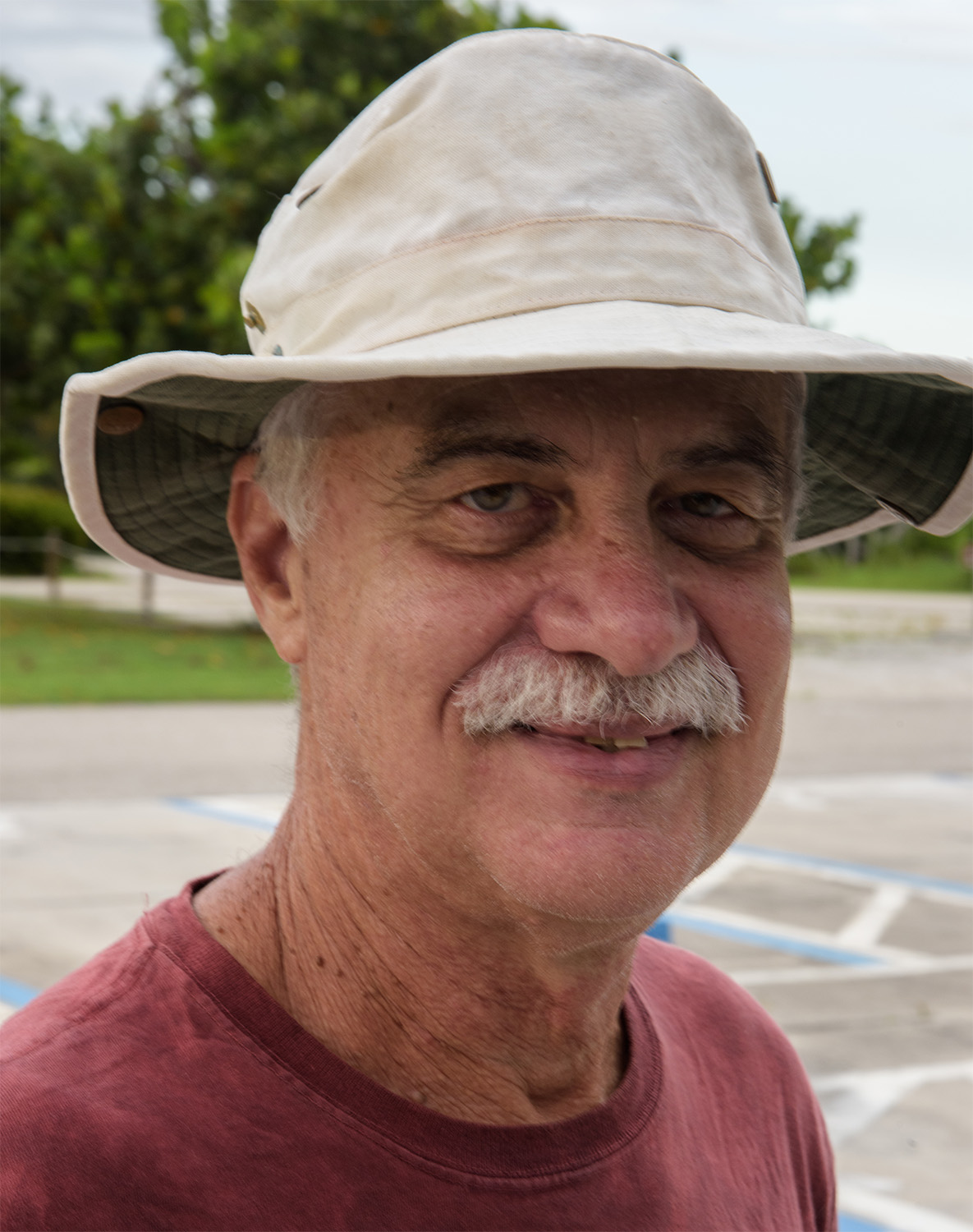 Larry Treadwell
Well, seems opinions are really wide spread on this one. If I were going to frame one of these shots I would be the main image on this page and not original 2. I just like the look of the water. I don't care is no one else can see the fish, I know it is there and that is good enough.

As for your comment about snowy fishing habits, well, you will have to wait until next month. :-) &nbsp Posted: 03/15/2023 18:07:35
Cindy Marple
Should we make it a theme for the month? :) &nbsp Posted: 03/15/2023 18:43:33
---
---
---