Michael Weatherford
---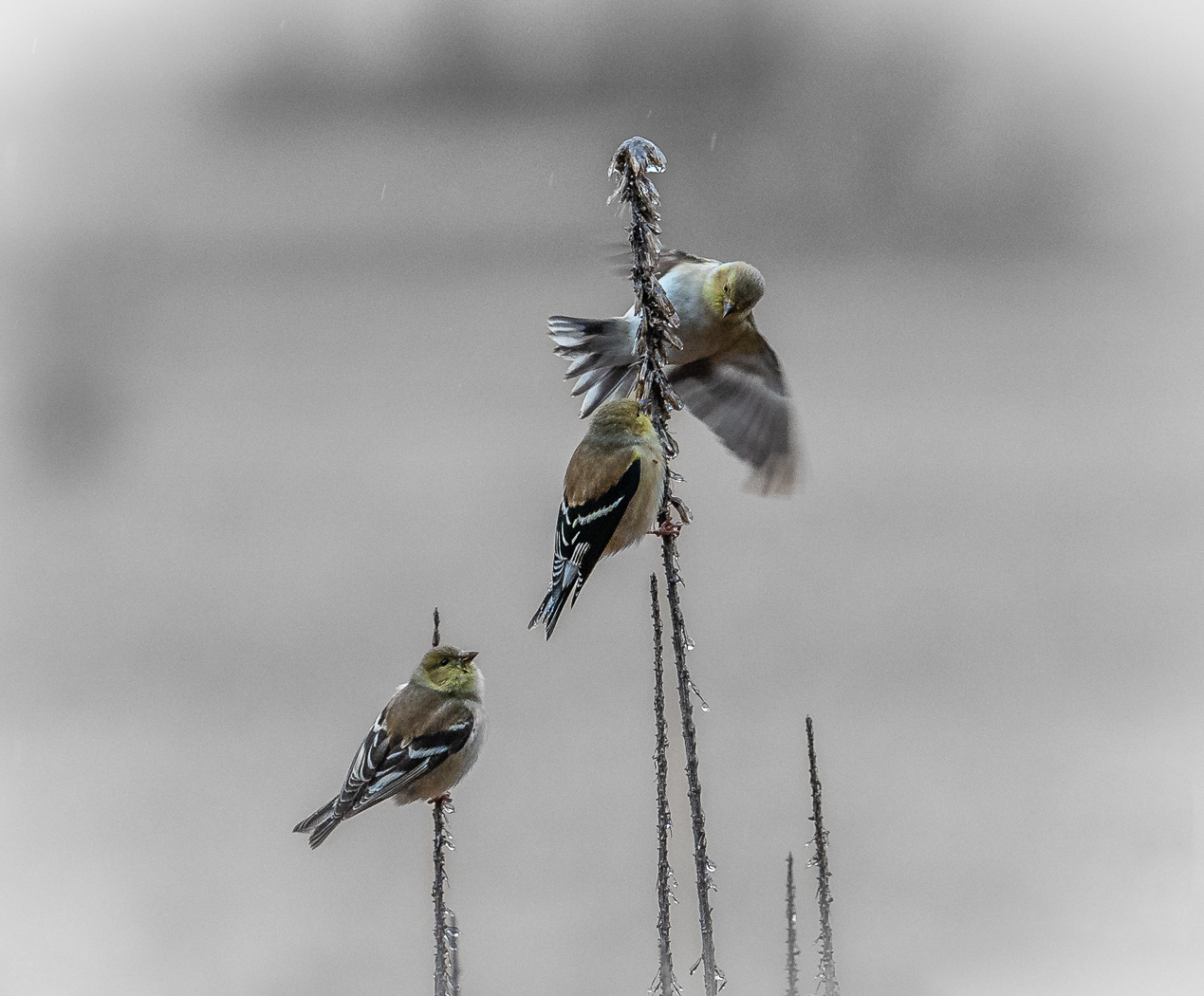 March 2023 - Goldfinches on Liatris
About the Image(s)
A large number of American Goldfinches moved into our wildflower meadow during an ice storm in February. The birds were very actively feeding on a variety of wildflower seeds. In this image they are feeding on the few remaining seeds of Prairie Blazingstar. They are elegant little birds with their yellow color showing nicely in an otherwise gray landscape. Processed in Lightroom Classic. Heavily cropped to isolate three birds out of a group. Used the new LR masking feature to process the birds and background separately. Selected "Mask>>Objects" to sharpen and increase saturation on the birds. Then selected "Mask>>Duplicate Mask 1 and Invert" to desaturate the background and remove noise. Then I applied a light vignette (sorry y'all). Borderline artsy I know, but I think tells a story of birds feeding in icy weather. Nikon Z6ii with 400mm Nikon lens and 1.4X Nikon teleconverter. 560mm; 1/500 sec; f6.3; ISO 2500.
---
This round's discussion is now closed!
10 comments posted
---
---
---
Susan Sayshi
I don't see the original image, so I can't compare the two, but this final product is really nice. I can understand how necessary it was, though to postprocess carefully given the low contrast (pretty much heavily mid-toned). Looks like an intense conversation is going on in addition to nibbling on seeds :-) The sparkly raindrops is a really nice touch. &nbsp Posted: 03/06/2023 09:28:56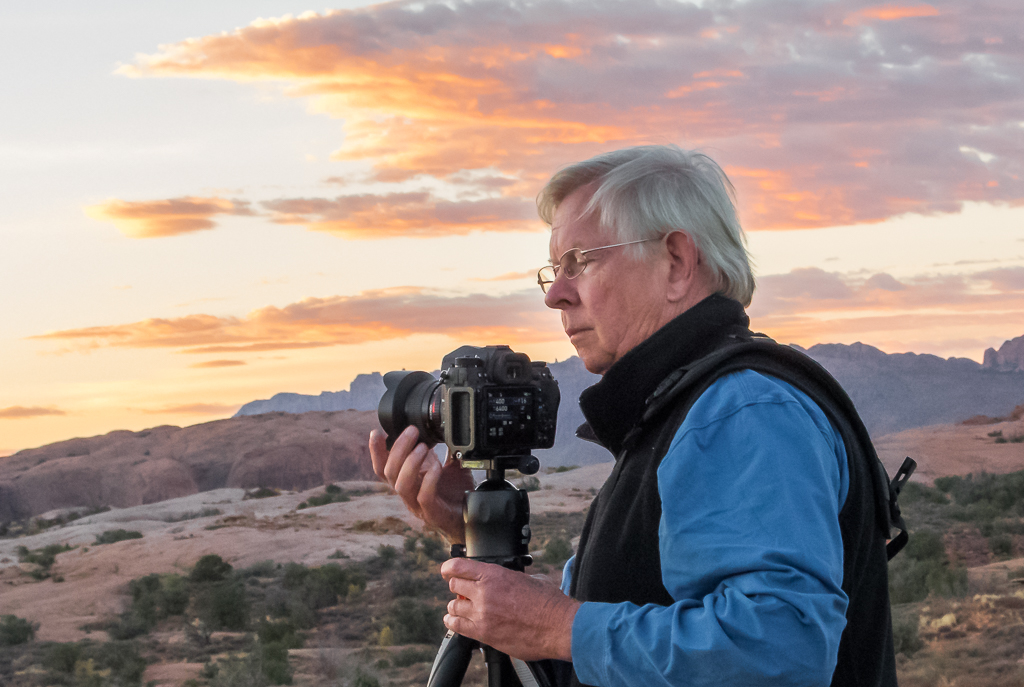 Michael Weatherford
Yes I had to do quite a bit of post processing because the image had a distracting background. I also increased the yellow on the birds. Too bad they weren't in full breeding colors. Thanks for the comment! &nbsp Posted: 03/06/2023 11:07:51
Susan Sayshi
You brought out what was there beautifully.
&nbsp Posted: 03/06/2023 12:47:19
---
---
---
Richard Matheny
I like it, Michael. I understand about the dull color of these guys here in the south. I used to feed a lot of these Goldfinches up north and they were so colorful. I don't get a lot of them here on the coast but a few. They always come to the Sunflower Fields after the flowers have bloomed and have hung their heads turning a brown color. You know what I kind of like that story and even the dullness of the birds. Your image is sharp with a little motion in the wings and that makes it interesting. I don't know what your background was, so I assume it was not so good. You isolated the Finches very well. Good job. &nbsp Posted: 03/09/2023 17:58:22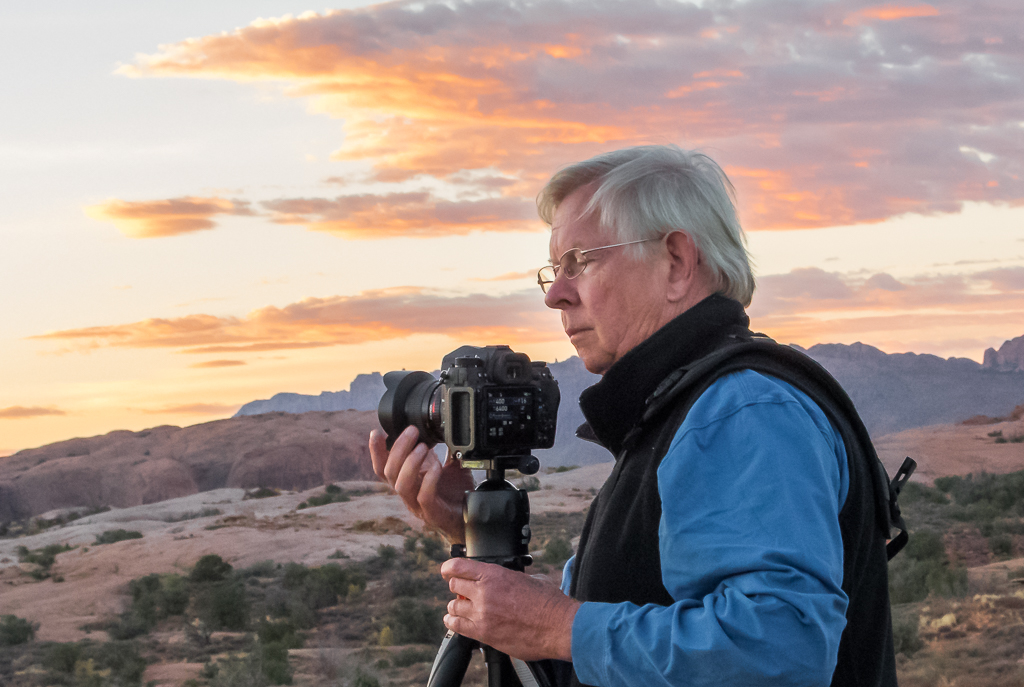 Michael Weatherford
Thanks Richard,
You are correct, the background was not good. I tried to eliminate it as much as possible and still retain some of the freezing rain drops. Didn't work too well. Think I might try just a plain white background. The image is basically a black and white, retaining only the yellow. &nbsp Posted: 03/09/2023 18:24:09
Richard Matheny
I just came back from 3 days at the Carolina Nature Photographers Convention and there was a ton of talk about shooting wildlife with clean back grounds. It's a real issue when competing these days. &nbsp Posted: 03/09/2023 19:46:48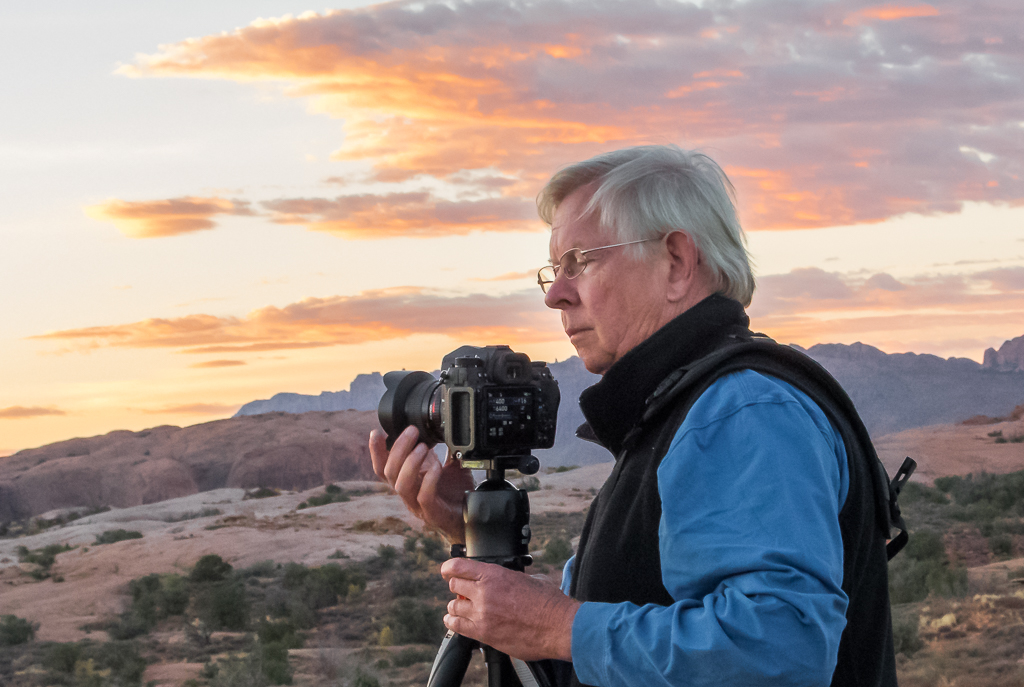 Michael Weatherford
I really don't favor that, but might work on this image. &nbsp Posted: 03/09/2023 21:13:06
---
---
---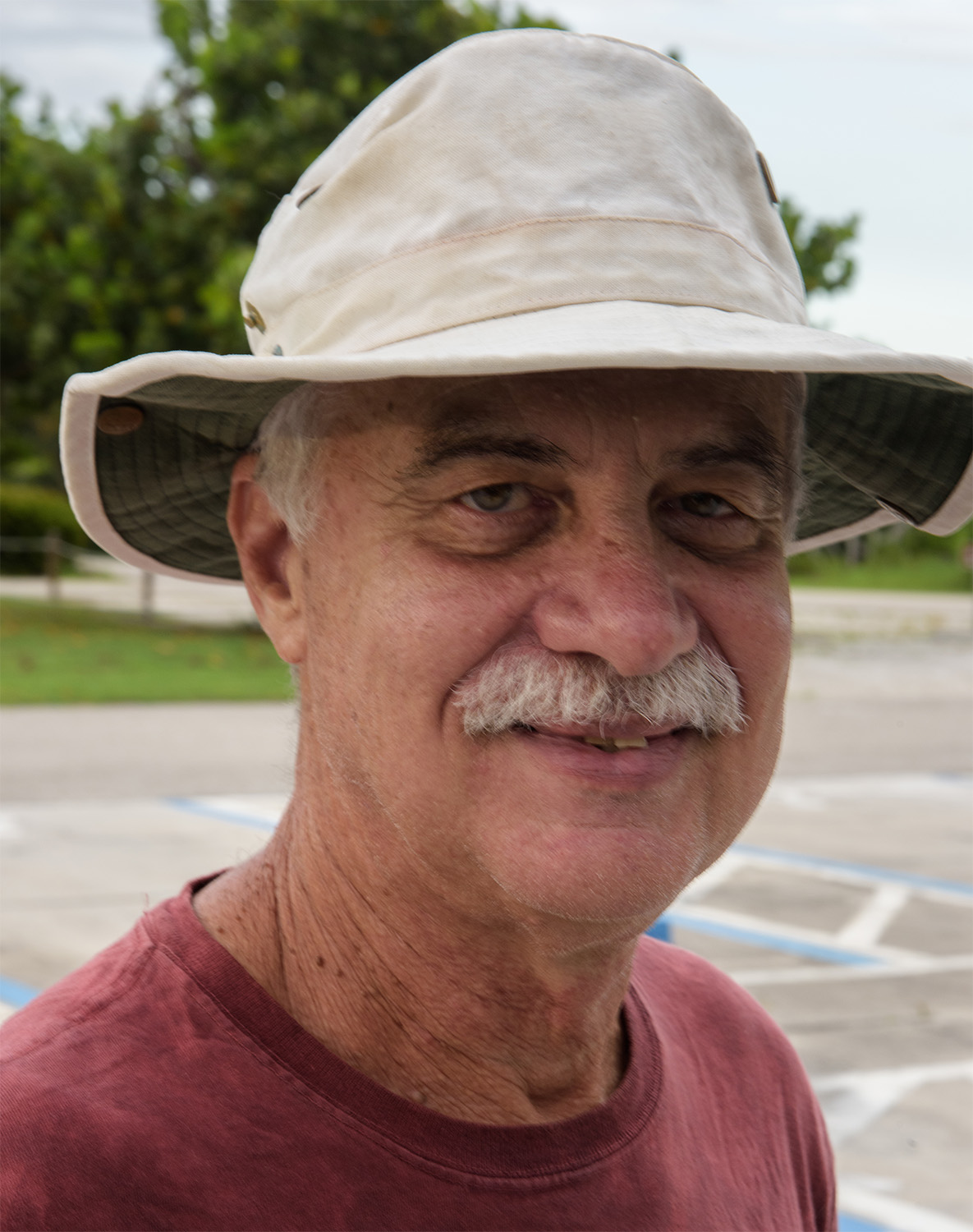 Larry Treadwell
Without seeing the original background it is hard to make a final decision. As shown the image is quite nice. I really like the simplicity and the limited color pallet. The relatively flat light is not a problem---it that is what the weather is, then there is nothing wrong with displaying that. I do think the image is a bit soft and since the Z6 is supposed to have the ability to use high ISO levels why you didn't use 3200 ISO. I ran your image through Lightroom and resharpened as shown below.
Just had one additional thought. A great deal of the need for AI use is because the tools to create these types of images the traditional way are just prohibitively expensive.
As for the replacememt background now that AI is taking over I see two avenues. For me the question to be considered is are you photographing nature or creating fine art? Either is a fine but they are very different approaches. Nature photography is supposed to represent the world as it actually is. If the goal is just to capture a beautiful image then making any and all changes are perfectly fine. Just looking at this image is a pleasure---this is excellent eye candy and I can see it framed on a wall (if it was slightly sharper) As I noted above, the color palette is beautiful the simplicity of the image just stunning. It is all about the goal of the maker and the maker is always right---it is after all their image.
Just had one more thought. One reason AI has become so popular is the it can help create images that previously could only be created using gear that is prohibitively expensive. For example using a 400mm lens with a tc1.4 (not you have 550mm) will produce a image far different from using a 800mm f5.6 lens and a tc1.4. The 2 degree angle of view provided by the 800mm lens can do things to a background that can only be dreamed of doing with a 400mm lens. There are reasons why Nat Geo photographers get those amazing images. &nbsp
Posted: 03/10/2023 11:26:54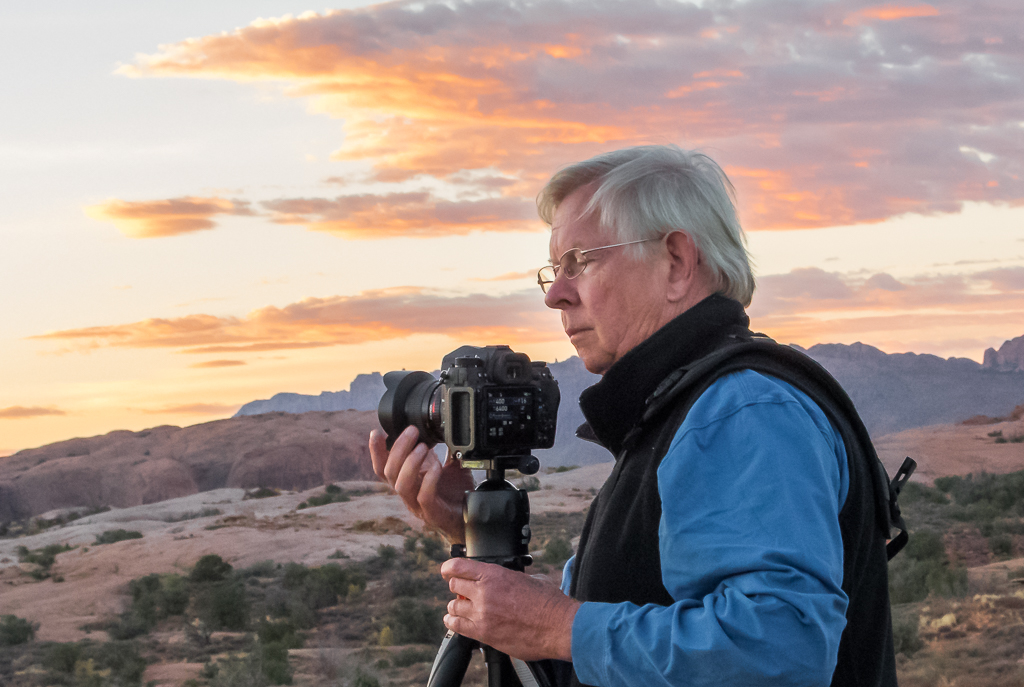 Michael Weatherford
Yes I'm thankful for the modern software, because I can't justify the cost of an 800mm. And it let's me create images that are good enough for me. Thanks for pointing out the softness of the image. I never noticed it. &nbsp Posted: 03/10/2023 12:27:39
---
---
---
Cindy Marple
This is a lovely image. The gray background, rain streaks and ice on the stems combine to tell a story. You've got a nice arrangement of the 3 birds and a bit of action with the wing out and tail fanned. The little bit of extra sharpening makes it even better. Nice work.
&nbsp Posted: 03/15/2023 14:57:24
---
---
---