Michael Weatherford
---
May 2020 - Green Anole
About the Image(s)
Green anole lizard on Zigzag Iris. The anole is a common reptile in most of the southeast USA. The Zigzag Iris is one of the not so common native irises that grows in the southern USA wetlands. I was fortunate to spot them both together while I was walking in our wildflower meadow.

Pentax K-1; Pentax DA* 300mm lens; 1/320; f9.0; ISO1250.

Processed in Lightroom; Adobe Color Profile. Selectively darkened and blurred the foliage in the background; adjusted whites, blacks, highlights; selectively sharpened. No cropping!! Finished processing in Luminar 4 to bring out fine detail of the scales on the lizard and adjust color cast.
---
8 comments posted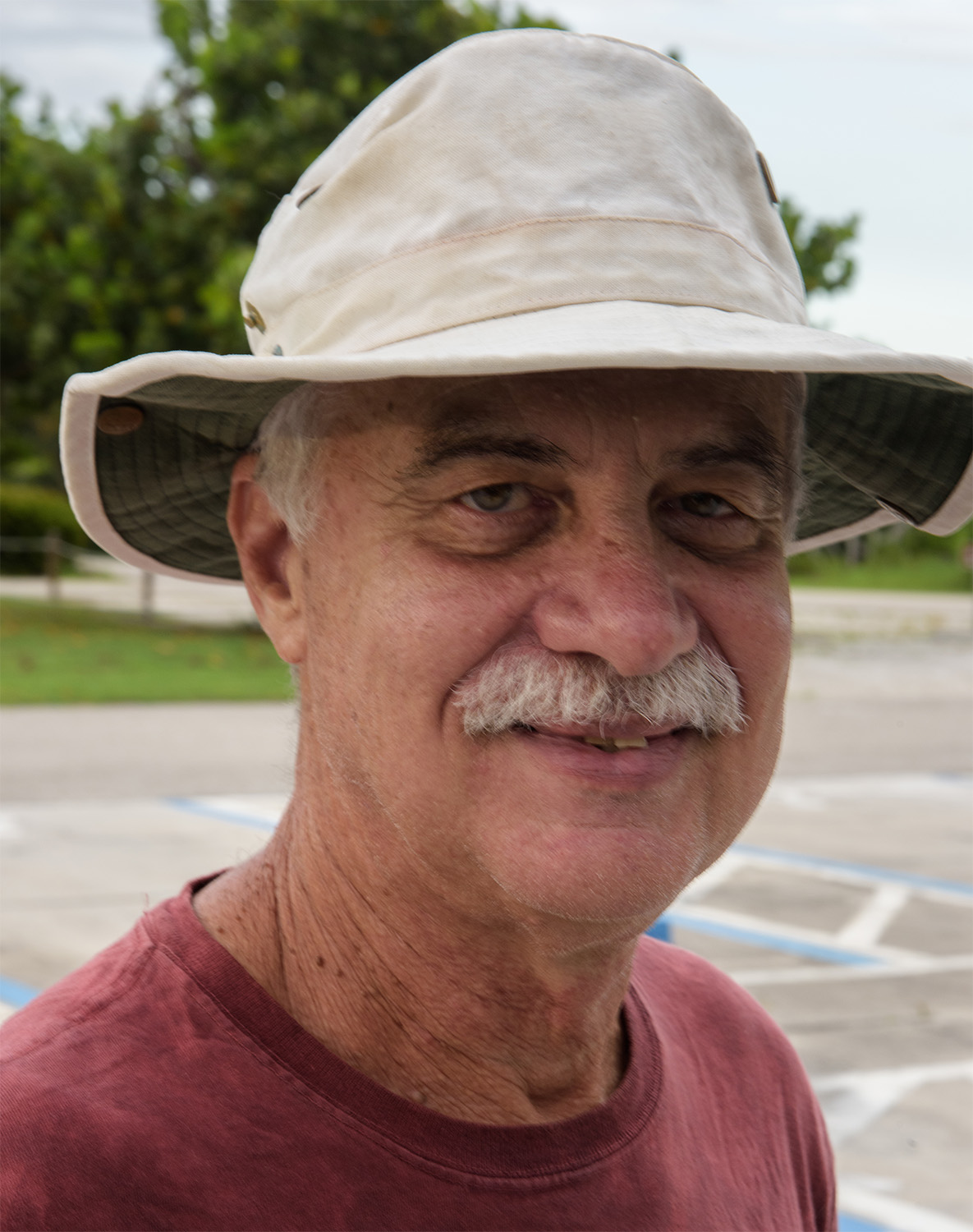 Larry Treadwell
I feel you did a great job capturing the detail of the lizard. Additionally the pose has interest as I think the curve position make the little guy look more appealing.

As I have always been a background fanatic i am really caught up with this image. On one hand the bright purple leaves really bother me as they distract from the lizard. On the other hand I can't figure out what to do with them. They sort of act as a frame to set off the subject, but they are brighter than the subject. They really can't be toned down or they will look fake. I thought of trying a vignette to darken the edges, but that will look fake.

All this creates so much to think about that my head hurts. i think I end up concluding that this is the best composition you can get.

Well done (but I wouldn't enlarge it to a 30x40 print. :-) &nbsp Posted: 05/05/2020 08:58:24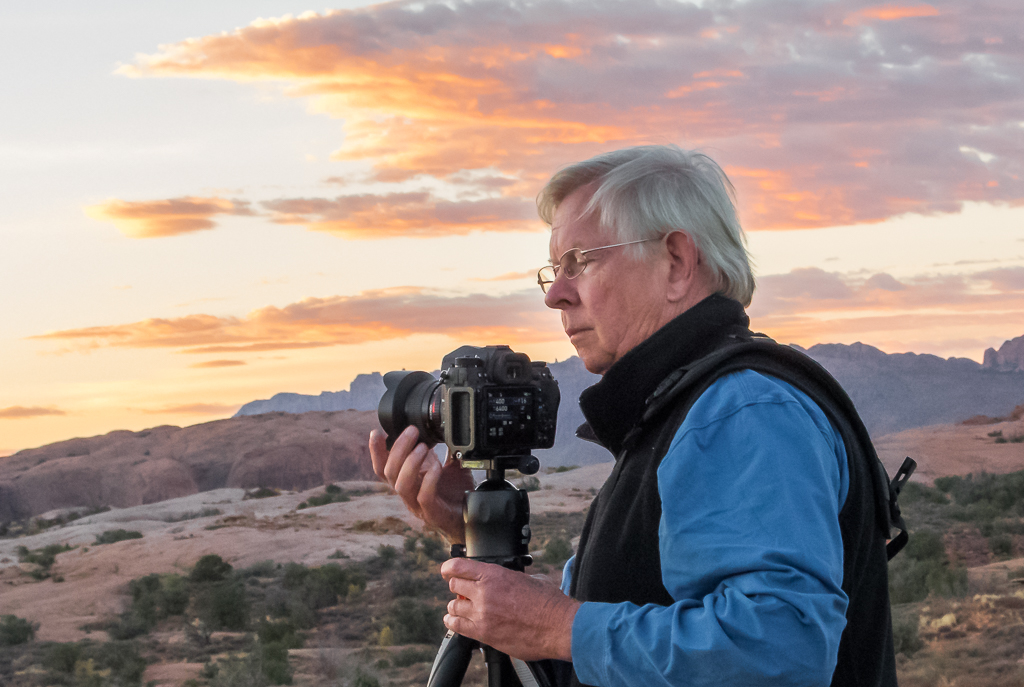 Michael Weatherford
Thanks very much for your perspective. I see the subject as not being only the lizard, but the lizard in a colorful natural environment of irises. So the bright colors to me are not distracting. I'm attaching another crop which includes less of the iris. I think I actually like this one better. &nbsp
Posted: 05/05/2020 10:47:27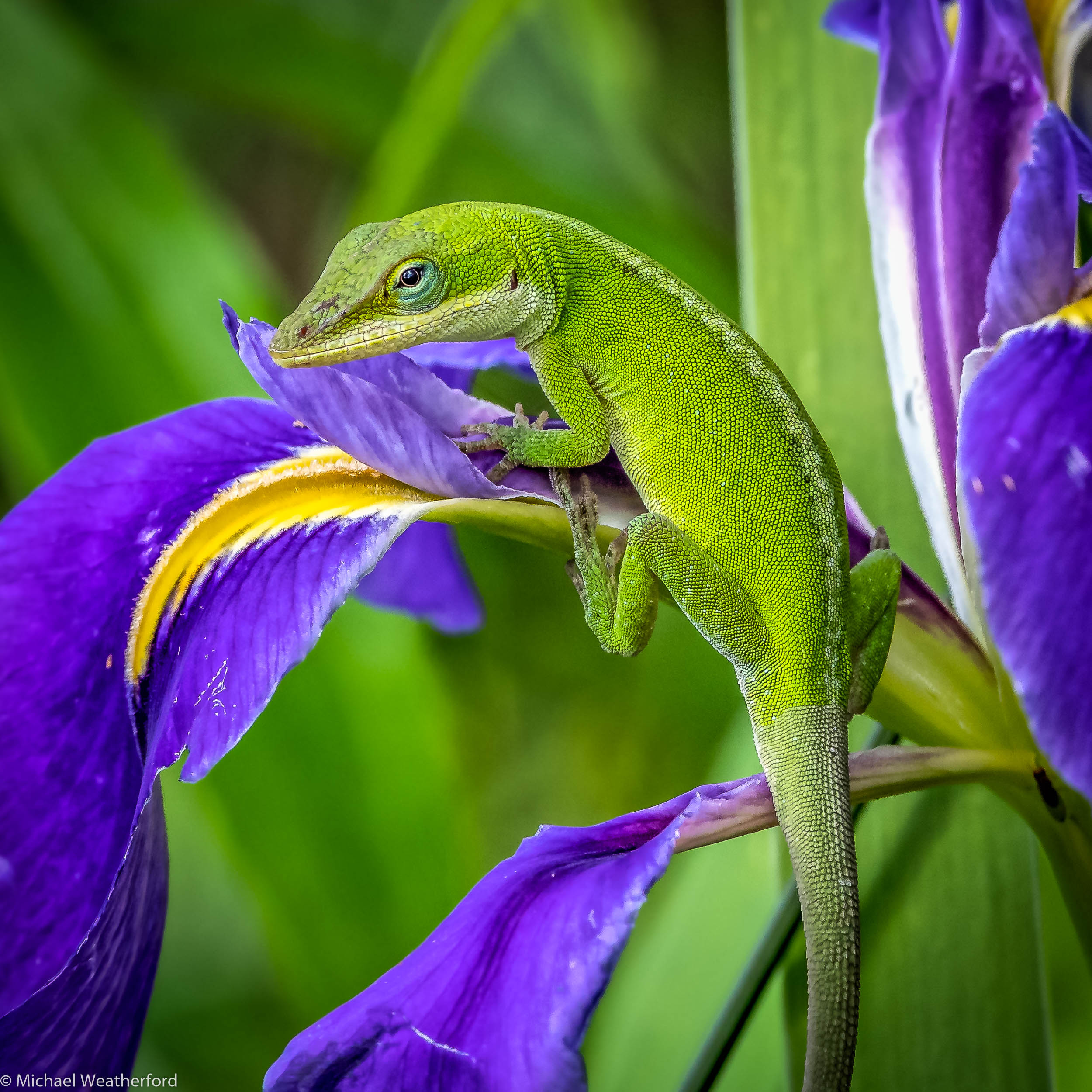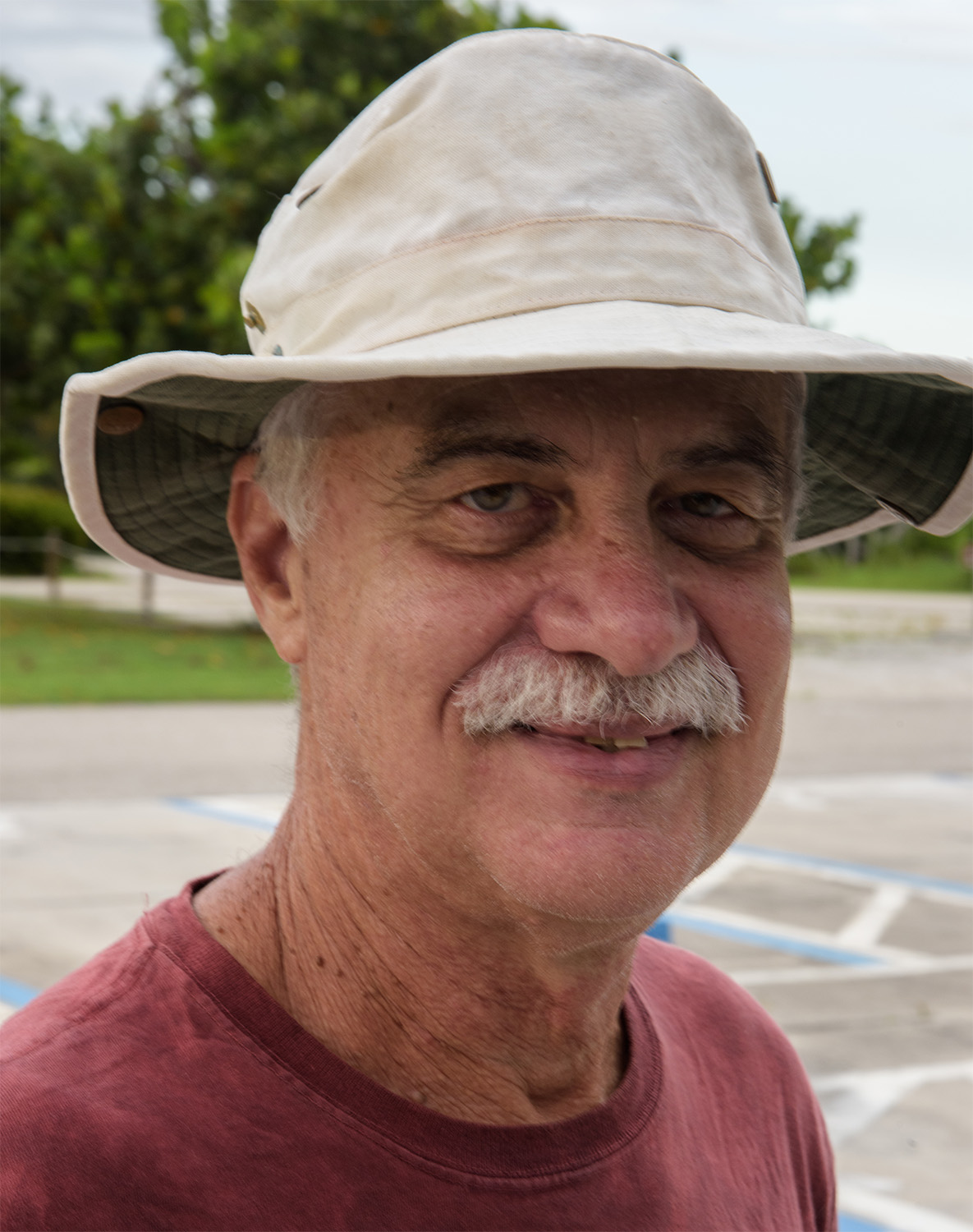 Larry Treadwell
Michael, I think you are right. I also like this crop much better. In this version the lizard really pops out. &nbsp Posted: 05/05/2020 12:21:14
---
Richard Matheny
Michael these guys are always a joy to see. I think they make great subjects to photograph and you have done well with it. It always looks like they have a half smile on and the texture of the green body is intriguing. I do like that you captured the Anole showing the same curvature as the flower stem it is perched on. Even though the Green and Purple are not what you could call color companions the shape kind of blends them just the same. Wonderful detail on the anole and you caught the eye glint too. If there is anything I would change and I don't think you could do it easley it would be the flower on the left of the frame. But as you said sometimes the environment as a whole that make everything work. &nbsp Posted: 05/06/2020 16:25:01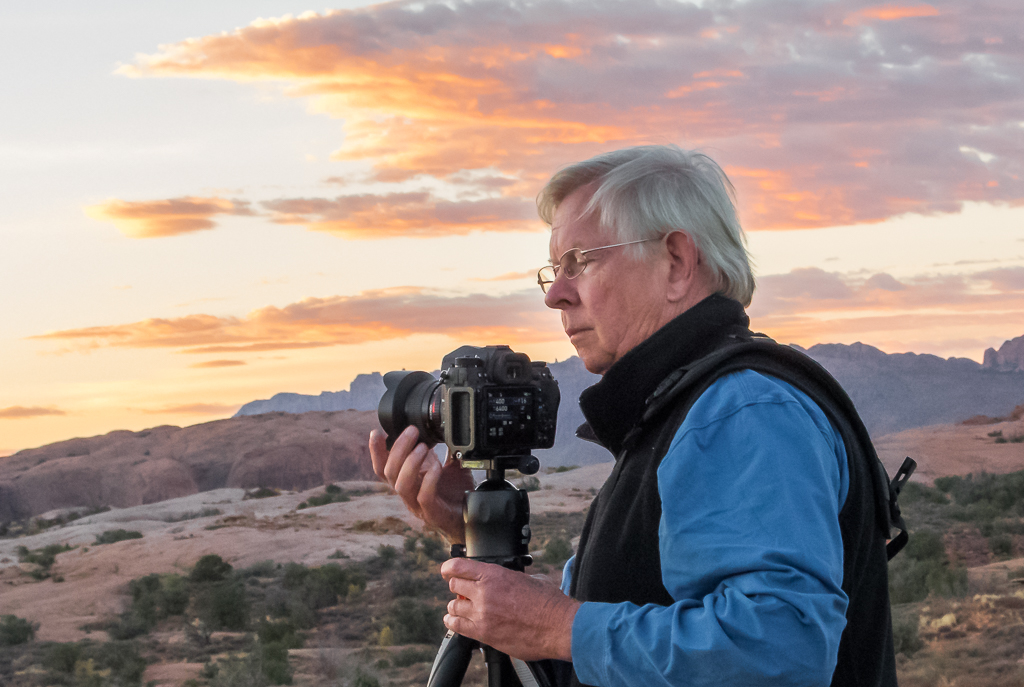 Michael Weatherford
Well, don't blame me. I'm not the one who jumped on the wrong color flower! (joking) &nbsp Posted: 05/06/2020 22:29:33
---
Todd Grivetti
Very nice composition Michael. Colors appear balanced as well as the light. Not sure what the original looks like, as far as detail, but this is done well and solidly places the Anole as the center subject. I personally like the larger version better as the re-cropped version, which cuts the tail off as well as the petal of the iris at the bottom, though it does bring the Anole in closer.

Overall the image is clear and sharp with some degredation/blurriness along the outer edges. BUT... those are not the focus, so it does work well. You have great detail in the Anole's body. Good dynamic range and not overwhelming. Nice blend of colors all around. Not knowing what the lighting was like, the one thing I do notice is the body appears just a bit highlighted, which suggests side lighting. &nbsp Posted: 05/09/2020 12:59:37
---
Jason Stewart
I love the contrast with the green and purple. The lizards eyes pop as they have the blue under the orbit. &nbsp Posted: 05/12/2020 11:56:40
---
Mark Winter
Michael,

I really like the cropped image as it really does separate the lizard from the rest of the image. I actually like the purple as it contrasts nicely with the lizard. If it was green, or instance, I think that the lizard would be lost altogether. Well done! If anything, I wonder what it would look like with slightly less depth of field, maybe f6.3. But you only get so many chances when something live is in front of you. &nbsp Posted: 05/13/2020 15:59:27
---
Please log in to post a comment