Emil Davidzuk
---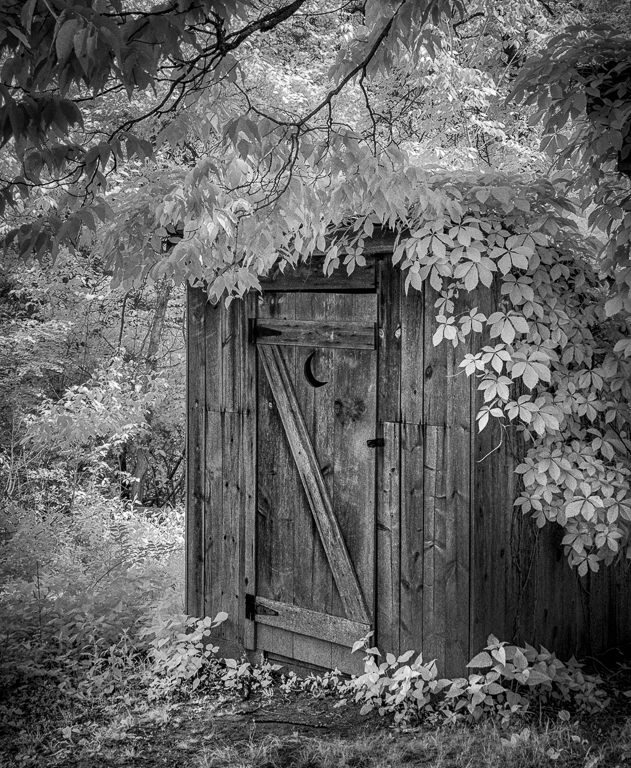 April 2021 - The Reading Room
Original
About the Image(s)
Sometimes during these trying times you just need a quiet place
Workflow: I converted the raw image to BW using PS CC/Silver Efex, LR filters and adjustment brush on highlights/shadows. I added a vignette in LR and cropped the image.

Shot with Canon EOS M 590nm, 24-70mm f2.8 lens, 24mm, 1/200 sec, f8, ISO 200, -2/3 EV.


---
8 comments posted
---
---
---
Palli Gajree
Hi Emil
Your cropping is spot, and so is the processing and composition. A simple subject which you've turned into something special in IR. Vignetting too has helped, taking the eye around the subject and beyond. Detail in the wooden structure beautifully rendered. Like it very much.
&nbsp Posted: 04/02/2021 00:46:57
---
---
---
Gary Potts
Great title, Emil! I like this a lot. I'd probably go for higher contrast and more white in the whites, but that's me with the dramatic blacks and whites. This is a wonderful application of IR. &nbsp Posted: 04/02/2021 13:19:55
---
---
---
Jack Florence Jr
When I first saw this, I assumed you had cloned some leaves in, but in reality of course, as Palli points out, it's just a very effective crop. This is another image, like Charles', that evokes some wonderful mood, however I do agree with Gary, that brightening some of the leaves a bit more would be even more effective. Currently, I think the tonality of the leaves surrounding the outhouse are too similar to those of the outhouse. That's just a minor observation, overall I enjoy this. &nbsp Posted: 04/04/2021 11:19:00
---
---
---
Arik Gorban
Beautiful image that captured the interesting "reading room" with its great textures and details. Framing with the leaves works well. Brightening the leaves may take away from the textures and details on the wooden structure. I like it as presented.
&nbsp Posted: 04/04/2021 16:06:58
---
---
---
Jack Florence Jr
When I first saw this, I assumed you had cloned some leaves in, but in reality of course, as Palli points out, it's just a very effective crop. This is another image, like Charles', that evokes some wonderful mood, however I do agree with Gary, that brightening some of the leaves a bit more would be even more effective. Currently, I think the tonality of the leaves surrounding the outhouse are too similar to those of the outhouse. That's just a minor observation, overall I enjoy this. &nbsp Posted: 04/04/2021 17:00:01
---
---
---
Emil Davidzuk
Palli, Gary, Jack, and Arik

I did work to dodge the leaves adjacent to the Reading Room and was timid about going further. In retrospect I could go a a little farther down that road

Thanks for your comments

Emil &nbsp Posted: 04/07/2021 10:36:14
---
---
---
Melanie Hurwitz
Hi Emil, So simple yet so effective! The textures and clarity are so well presented. Perfect image for taking out the sky. Great job! &nbsp Posted: 04/10/2021 10:44:42
---
---
---
Charles Walker
Emil, such a fun image, and rendered so nicely. IR can extract beauty even from an outhouse. I liked the way you cropped the sky out to emphasize the outhouse, especially its door. In post processing you sharpened the leaves of the foliage, which framed in the subject of this photograph. So, what's being read today? &nbsp Posted: 04/20/2021 22:48:56
---
---
---
Please log in to post a comment