Jack Florence Jr
---
February 2021 - Cascading Ferns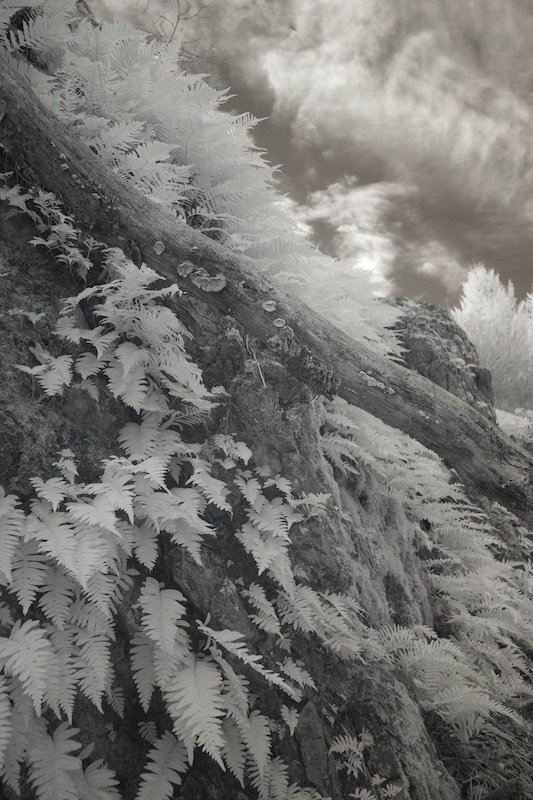 Original
About the Image(s)
Is there too much in this image? Too busy? I have versions with just the ferns (lower half). Does it work as a landscape with the sky?
Also, I was unsure of how to treat the row of blurry ferns on top. Keep them lower contrast as in the original or boost the whites like in the other ferns? And how bout the diagonal log? Thanks! f6.3 1/100 28mm prime
---
This round's discussion is now closed!
7 comments posted
---
---
---
Gary Potts
Hi Jack,
I think it's absolutely fascinating as a subject! Original, unique perspective and composition in my opinion. IR just makes it so impressive with high impact. Now that I've swooned over it, I must say it is BEGGING for more contrast and a white point setting in Levels. Using Detail Extractor also differentiates the row of ferns at the top from the sky area. See my adjusted version and tell me what you think. We frequently have this difference of views about contrast and whites! &nbsp
Posted: 02/03/2021 17:22:18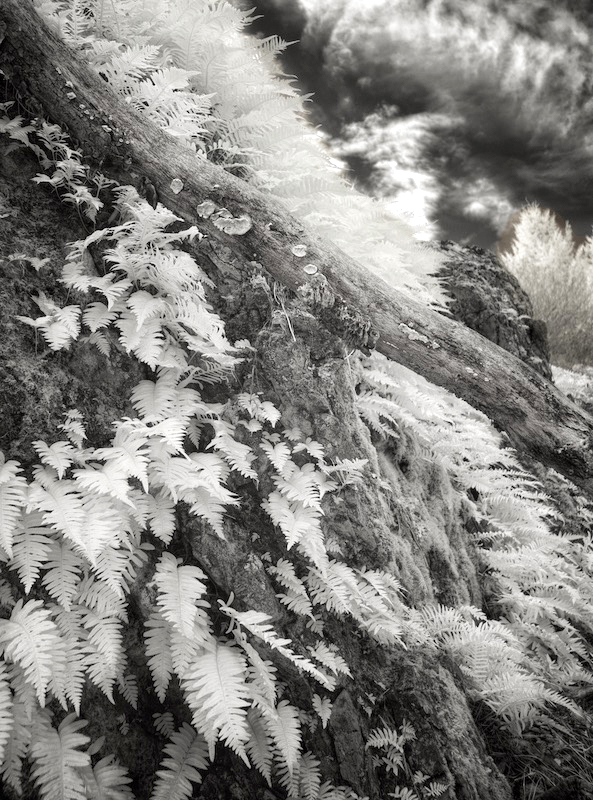 ---
---
---
Jack Florence Jr
I agree with you, Gary, thanks! You can see from the original, I did brighten the whites somewhat, but your version shows I was only half way there. The details work better too. &nbsp Posted: 02/03/2021 17:51:02
---
---
---
Palli Gajree
Hi Jack
Nicely executed and composed. Here I think I like your original processing ... but am torn between yours and Gary's version. All in all, a beautiful subject to record in IR. &nbsp Posted: 02/03/2021 23:28:59
---
---
---
Emil Davidzuk
Jack,
This is a very interesting perspective that seemed somewhat confusing to my eye as I try to reconcile the sky and the ferns below.
I thought if we use the log as a diagonal by flipping the image horizontally with a crop you can bring the focus back to the ferns. I brought the clouds down as well
Regards
Emil &nbsp
Posted: 02/04/2021 12:36:35
---
---
---
Jack Florence Jr
Thanks, Emil. I think it's a toss-up on the flip, and I agree there is some initial confusion to the eye, I got that feeling to, coming back to it. I do like the way you've separated the ferns from the sky, but I'm thinking framing the image without any sky at all would be another image to consider. &nbsp Posted: 02/06/2021 17:25:46
---
---
---
Charles Walker
Jack, at first glance I had some of the concerns you had about the blurry ferns; however, I rather like the way they transition to the wispy clouds in the sky. The perspective you take is fresh and unexpected. The viewer is challenged to see ordinary things in a new light. Ferns are not easy to photograph, but you have rendered them well. &nbsp Posted: 02/07/2021 19:39:47
---
---
---
Melanie Hurwitz
Hi Jack,
I have kept coming back over and over to look at your image. This only goes to prove how intriguing it is. I have gone back and forth with your sky, and agree that it is a important part of your story. I think that I might crop it just above the central puff of cloud. Sharpening and contrast will not take away from the delicacy you are showing. Such a lovely subject.
&nbsp Posted: 02/14/2021 13:56:20
---
---
---