Palli Gajree, HonPSA, PPSA
---
January 2021 - Canberra Suburb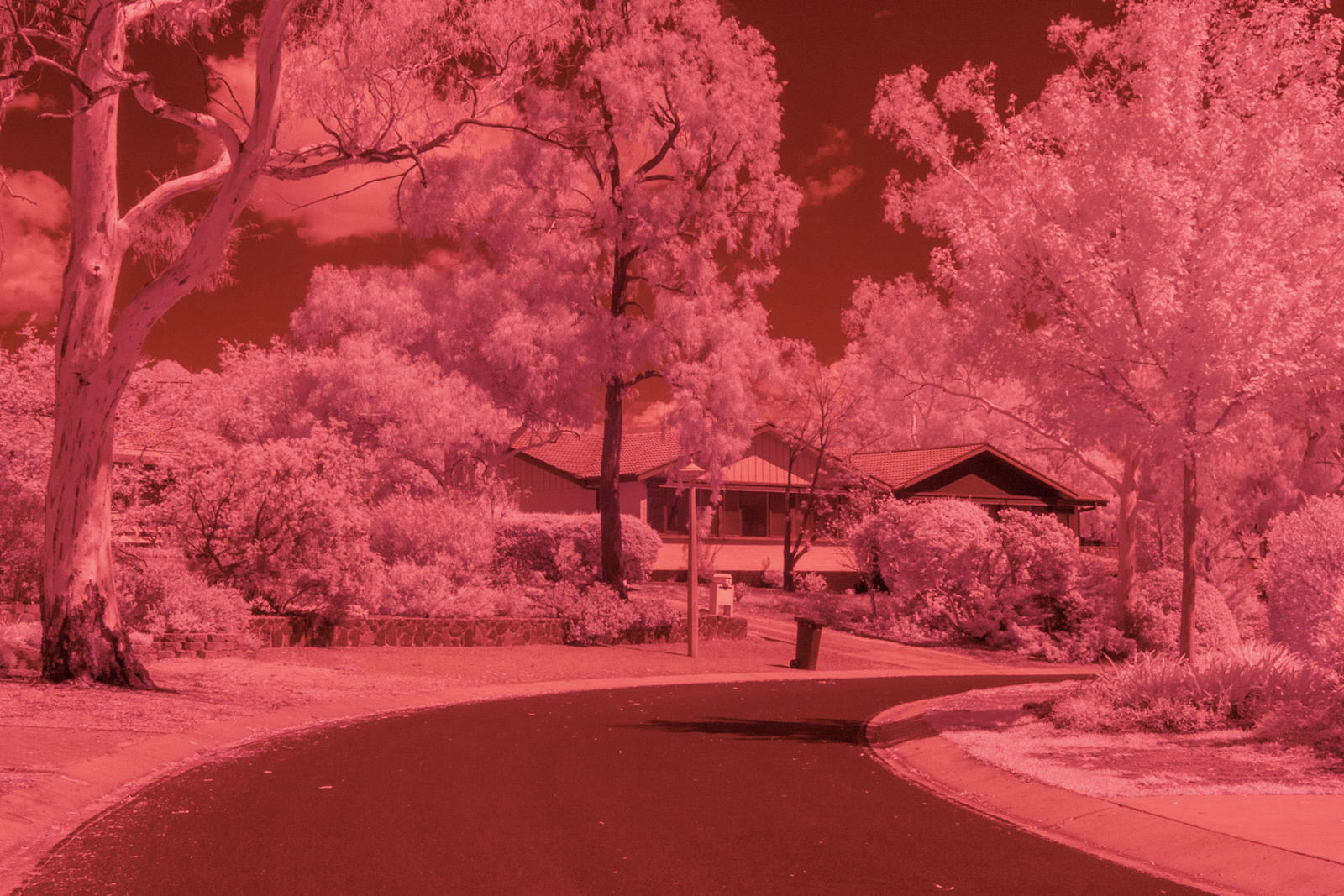 Original
About the Image(s)
Took this image early last March in one of the suburbs of Canberra. The setting in the street surrounded by eucalyptus trees seemed ideal for IR photography. It seems like a Swiss Chalet, but I may be wrong. Would welcome your comments on that!
Workflow : Pictured with my converted IR 40D Canon. Image processed using NIK's Silver Efex Pro 2, "Fine Art Process" Preset. Cloned out both the wheelie bin and the lamp post. Also extended the canvas marginally on the left to give the image some breathing space.

Fine-tuned the image in Lightroom and Photoshop … adding a touch of warm tone. That's it.
---
10 comments posted
---
---
---
Jack Florence Jr
It makes a nice companion image to Charles', and in this one you've got a nice sky with those puffy clouds, Palli. I've no suggestions for improvement, other than that some might ask you to remove that little thing that remains where the waste can was. &nbsp Posted: 01/03/2021 15:44:28
Palli Gajree
A good suggestion Charles, which will be rectified. Should have noticed this originally! &nbsp Posted: 01/03/2021 18:21:52
---
---
---
Gary Potts
Hi Palli,

I like the composition very much. Is it sharp in the master version? If so, my only suggestion is to remove the mailbox/fixture in the front drive to the home. Good use of IR for an otherwise conventional or traditional subject. &nbsp Posted: 01/04/2021 08:30:09
Palli Gajree
Good point Gary ... and thanks for your comments. &nbsp Posted: 01/06/2021 00:53:57
---
---
---
Emil Davidzuk
Palli

I like your vision in this composition, I want to go around the turn to see the rest of the neighborhood. Processing is well done

The beauty of IR is that it makes a subdivision photo compelling

Emil &nbsp Posted: 01/04/2021 09:38:06
Palli Gajree
Thanking you for your comments, Emil. &nbsp Posted: 01/06/2021 01:00:23
---
---
---
Charles Walker
Palli, looks like you and I drank the same tea the day were took our photos. Of course, I like the strong curve of the street. Curvy paths, trails, roads and streets can be seen in a lot of my photos. I like the way they pull an image together and lead the viewer where you want them to go. Great photo! &nbsp Posted: 01/06/2021 10:48:04
Palli Gajree
Charles
Yes indeed! Could it be telepathy!!!
Thanks also for the comments. &nbsp Posted: 01/06/2021 23:55:31
---
---
---
Melanie Hurwitz
Hi Palli, An inviting street to walk down. Mystery as to where I am being led. The cloud puffs work well. Nicely converted and in keeping with a gentle subject. &nbsp Posted: 01/09/2021 10:46:50
Palli Gajree
Hi Melanie
Thanks for your interesting observation and comments. &nbsp Posted: 01/09/2021 19:38:47
---
---
---
Please log in to post a comment