Gary Potts, APSA, GMPSA, SPSA
---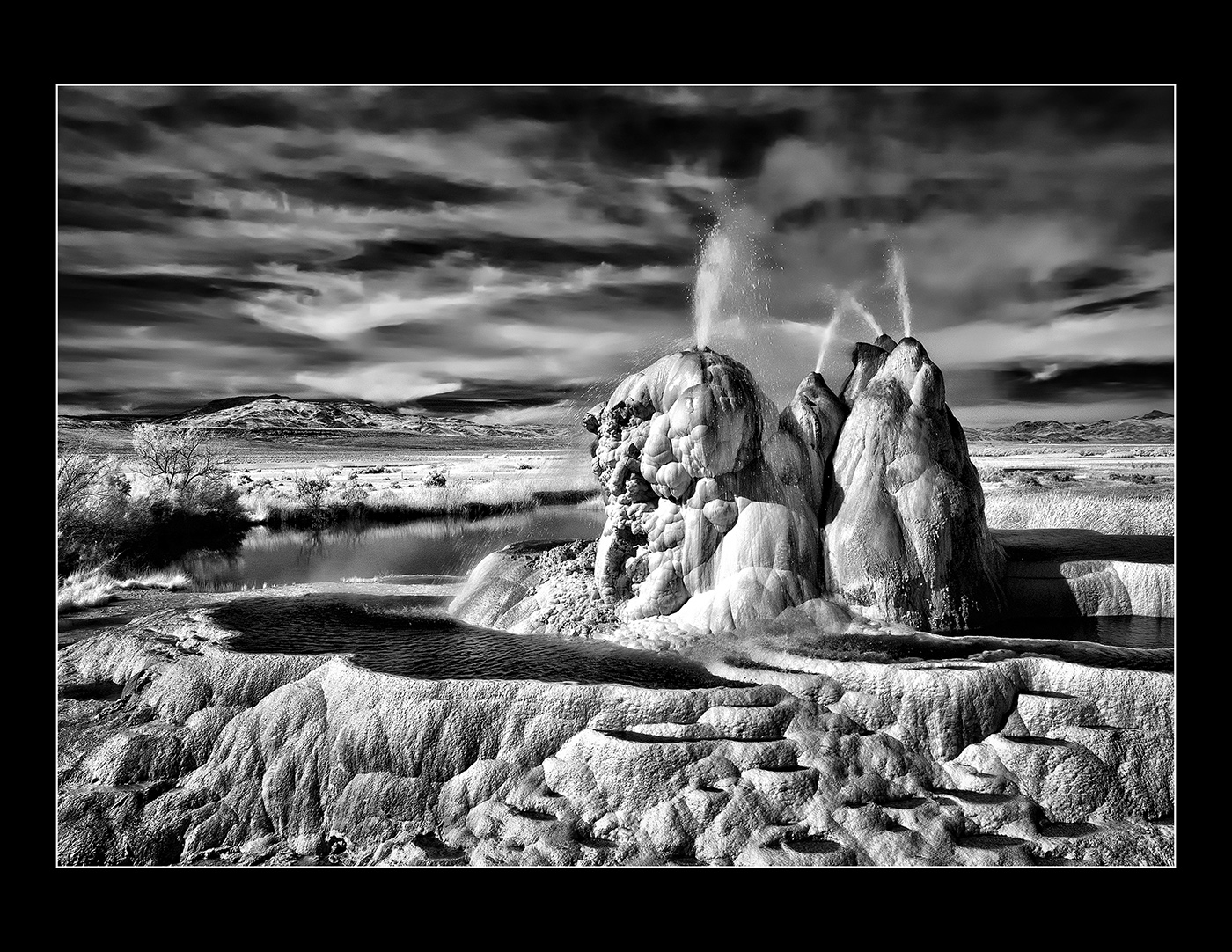 November 2020 - Fly Geyser
Original
About the Image(s)

Nikon D3, 20-35mm lens at 20mm. Exposure data unrecorded.
Converted to IR in Topaz BW using an IR preset filter.

This scene is hard to access, but worth all the effort. It sits on private land just north of the BLM land where the annual Burning Man Festival is held in far NW Nevada. The original this month is the color version, which I greatly like for the variety of colors from this nearly century old geyser. Still, I wanted to see what IR would do for it. It gives the scene a whole different emotional feeling to me. Other worldly is my sense. See what you think of the conversion. If you want the full story on Fly Geyser, Google it for multiple references.

---
This round's discussion is now closed!
6 comments posted
---
---
---
Palli Gajree
Hi Gary
"WOW" What a spectacular image you've given us to enjoy! Its perfect in every respect and is worthy of entering in exhibition. Even like the original. Well done!! &nbsp Posted: 11/06/2020 19:24:39
---
---
---
Jack Florence Jr
Wow was my first thought too, Gary!

And then my reaction was, it's a shame these fountains have ruined this natural landscape, till I read your description. That's amazing that these are geysers! Well done throughout, and nice contrast as usual.

The color version is a bit oversaturated to my taste (surprise), but certainly piques my interest. I travel to Nevada a lot and will have to visit this place some day. &nbsp Posted: 11/07/2020 14:14:17
---
---
---
John Erve
Gary, you created a very dramatic scene and I like the fact that I can still see some individual spray of water from the geyser which adds to the feeling of closeness. It was nice to have some clouds in the sky and they appear blurred to me which suggest a longer shutter speed. For me everything works well in this image. Thanks for sharing it. &nbsp Posted: 11/07/2020 15:56:16
---
---
---
Melanie Hurwitz
Gary, the black and white rendition is so well done, showing the full range of tones and gorgeous detail. Depth of field is perfect. &nbsp Posted: 11/08/2020 11:36:09
---
---
---
Emil Davidzuk
Gary

Top notch.

The texture and detail are exquisite.

Emil &nbsp Posted: 11/10/2020 11:28:01
---
---
---
Charles Walker
Gary, I like both the colorized and black & white versions of this image. However, the B&W image does indeed reap all the tonal level and textural details. Your adjustments of contrast and highlight settings are spot on. &nbsp Posted: 11/11/2020 12:29:41
---
---
---