Emil Davidzuk
---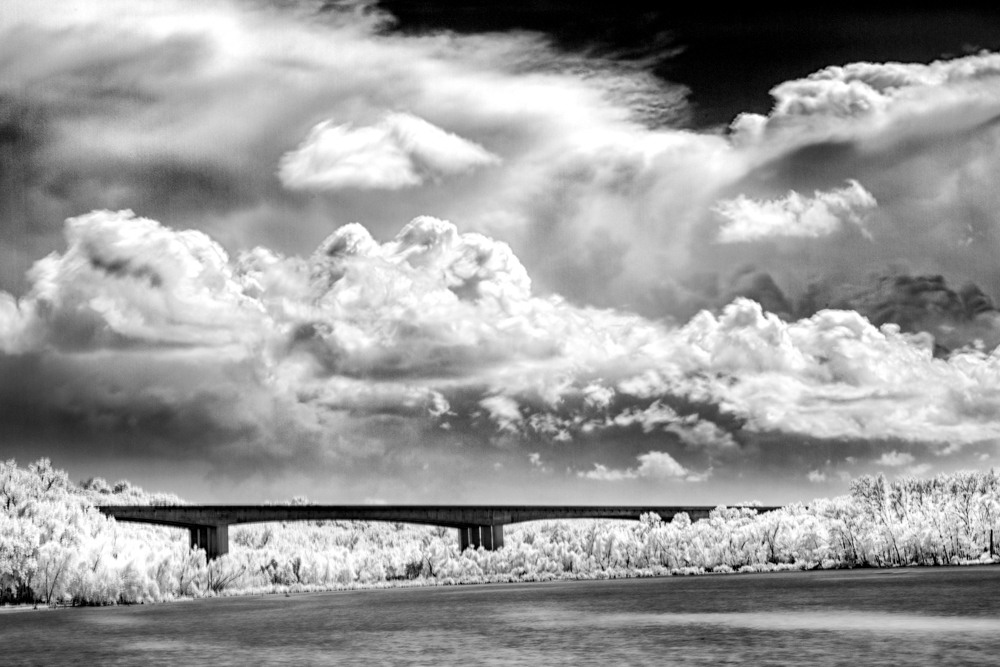 September 2020 - Storm Clouds over the Lake
Original
About the Image(s)
I like to take long exposure shots using my IR 9 stop ND filter. A storm was building that afternoon as luck would have it and the clouds had an interesting mix.

Workflow: I converted my raw image to BW using Topaz Studio 2, LR local adjustment filters/brush to adjust highlights and shadows. I did work on contrast,

Shot with Canon 5D, MK II 590nm at 50mm, 15 sec, f16, ISO 100, 0 EV.


---
7 comments posted
---
---
---
Gary Potts
Hi Emil,

I have never done long exposure with my IR camera and my ND filters. You've sure accomplished an artistic cloud formation. To my eye, everything from the roadway back to the camera looks 'soft' (on focus), and that distracts my eye greatly. I know you used a tripod for a 15 second exposure, but I would have thought that focusing on the road or just before it (perhaps in manual focus mode) would have given a sharper, cleaner foreground. &nbsp Posted: 09/02/2020 15:00:42
Emil Davidzuk
It is the price I paid for contending with a breeze that day.

I wanted to smooth out the water as well but it wasn't possible even at 15 seconds

I will take two shots on windy days henceforth when shooting clouds, one at short exposure and blend the two in PS &nbsp Posted: 09/02/2020 16:51:06
---
---
---
Palli Gajree
---
---
---
Jack Florence Jr
You often seem to find beautiful cloudscapes, Emil.

Good comments posted above. I think since you didn't get the effect you were after on the water, one possibility might be able to crop it out altogether, making the image about the bridge, and the sky. The way the shoreline seems to tilt downward unsettles me a bit, maybe that's just me. Interestingly, when you took the shot, you took the shoreline level and the bridge slanting, so maybe you were conflicted by this as well. &nbsp Posted: 09/05/2020 18:00:15
---
---
---
John Erve
Emil, The sky is an ideal subject for a long exposure but I have not tried it myself. You image will motivate me to try it soon. For me, the image seems to lack sufficient focus in the bridge and that is what I notice first. I think if the bridge was sharper, I would be able to appreciate better the long exposure of the moving clouds. Thanks for sharing. &nbsp Posted: 09/06/2020 16:08:53
---
---
---
Melanie Hurwitz
Hey Emil, Those clouds are just so gorgeous. How could you resist. The longish exposure has enhanced them Even so, I think a little more contrast(I would use curves) would be great. Like Jack I think having the shoreline straight is more important than having the bridge level. I cheated on your water by smoothing it out. Not sure you will be happy with my result &nbsp
Posted: 09/07/2020 11:59:32
---
---
---
Charles Walker
Emil, another powerful image of clouds and a dramatic stormy sky. I like the way the bridge is used to anchor the base of the image. Some of the foliage and trees are sharp and others less so (a consequence of the 15 sec exposure?). I wonder if processing that part of the image in a program like Topaz Sharpen might help? &nbsp Posted: 09/14/2020 09:04:18
---
---
---
Please log in to post a comment