Melanie Hurwitz
---
September 2020 - Boathouse
About the Image(s)
Last month I was looking at group 35, the original IR group, and saw that two of the members had red structures within their IR presentations. This sparked my interest and I tried it on this boathouse taken in Peggy's Cove. Looking at the red boathouse it seemed very garish and totally unnatural to the eyes. I changed it in color balance and toned it to what is to me a more pleasing rendition.(I have loaded the red version so that the difference can be seen).
converted using life pixel action. Photoshop camera raw to enhance including texture, hue and saturation, white and black point. After converting to lack and white, select color was used for toning. What do you think?
Canon Eos 20D, ISO 200, F11, 35mm lens.

---
10 comments posted
---
---
---
Palli Gajree
Hi Melanie
Your post processing is spot on, and so is the composition. I like the image immensely and can't add anything more to it. Well done! &nbsp Posted: 09/02/2020 03:28:47
---
---
---
Emil Davidzuk
Melanie

Nice composition to work your processing magic. I have not seen or failed to notice the red structures in IR images, so you have opened another door for us to consider artistically. I think your building color choices are perfect.

Top marks

Emil

&nbsp Posted: 09/02/2020 13:56:43
---
---
---
Gary Potts
Hi Melanie,

I'm a big fan of the 'partial coloring' of an IR image. I think the work you've done on this one is technically superb. For some reason, however, it looks out of place to my eye to be coloring the house in this particular composition. I'm not sure I'm feeling the value-added of the color, as superbly as you've accomplished it. &nbsp Posted: 09/02/2020 14:41:08
---
---
---
Jack Florence Jr
Melanie, I have to admit I'm feeling like Gary on this one, and to me, it's the bits of brown shades, as in the front of the house, the wood, the little shed, that don't quite work. For me, I'd like to see a touch of subtle red on the walls of the house, and everything else black and white. But that's my preference stylistically, strictly FWIW. I like the idea, and used to play around with it a lot, but found its very tricky to get just right! &nbsp Posted: 09/05/2020 17:30:27
---
---
---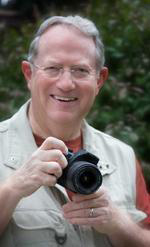 Jerry Hug

(Groups 39 & 51)
Hi Melanie and Group 66. I got the idea and started playing around with a Rad Drew concept of using my iPhone 11 Pro Mac with a 720nm filter attached to the camera. Shooting with an iPhone app called Camera+2 set in MANUAL move and coloring set to KELVIN.
If anyone is interested go to my website
jerryhug.com
and see a few of my crazy IR work with a lot in the Syracuse, IN and Lake Wawasee area where we have a condo to visit our grandchildren. If you what more information on what you need go to Ask Jerry and I will send the information to you or your group leader to pass on. Jerry APSA. &nbsp
Posted: 09/06/2020 16:08:46
Melanie Hurwitz
Thank you Jerry for taking the time to look at my image and for the information. I will certainly check it out your site. &nbsp Posted: 09/07/2020 10:59:23
---
---
---
John Erve
Melanie,
I think this is a very creative attempt to add a different mood to this image and for me it is successful. I often introduce selective colors like this too and the red house is a perfect subject. For me I would like to see a little more room to the left of the colored structures to provide a better balance: since the colors give the structures more visual weight, I feel that my eye is drawn more to the left side. If it was possible to make the foreground fir tree to stand out more that could help provide balance. Thanks for sharing this creative photo.
&nbsp Posted: 09/06/2020 19:02:33
---
---
---
Melanie Hurwitz
Thank you all for your always very valuable comments. This image has been in my file for a while and I have never been able to process it to my satisfaction. I think that the contrasting difference between the color and mono is too vast. I have toned it to be more in keeping with color portion and wonder if it is in any way more pleasing to your eyes. &nbsp
Posted: 09/07/2020 11:17:00
---
---
---
Charles Walker
Melanie, I like the idea of retaining color in an image. I think you dialed in the right level of red to make it interesting without making it garish. Very creative. It occurs to me that there are several ways to introduce color using layers, the History Brush, or painting. Again, you have inspired me. &nbsp Posted: 09/11/2020 16:41:58
Melanie Hurwitz
Thanks Chuck, you are always so generous with your comments. It seems to me that there are less and less boundaries with what we can achieve. The secret is to know when to stop! &nbsp Posted: 09/12/2020 11:14:40
---
---
---
Please log in to post a comment