Gary Potts, APSA, GMPSA, SPSA
---
September 2020 - Buck Creek Amish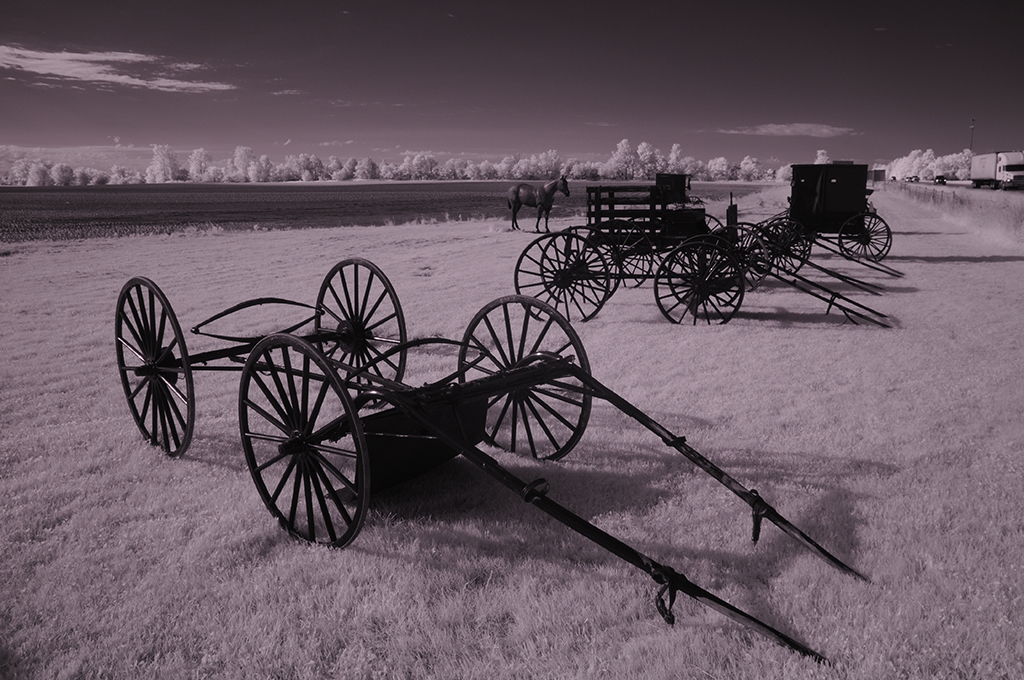 Original
About the Image(s)

Technical: Nikon D300 converted to Deep BW IR by LifePixel
18-70mm lens at 18mm (27mm in 35mm equivalent)
ISO 200, 1/60th second, f11.
Processed in DxO (NIK) Silver Efex Pro with Fine Art preset Red filter added in conversion in Silver Efex Hand held
These old buggies sit as a memory to earlier days with the Amish in this central part of Indiana. We still have a large area of Amish country north of this location that would still use these for their daily transportation. The area is only a few hundred yards off of US31 north, and if you look closely, you'll see a truck and cars far right side of the original. The 'creek' as it were was added for some sense of depth using the 'Flood' filter from Flaming Pear software. f11 provided a decent depth of field when using a focal length of 18mm on the D300.
---
5 comments posted
---
---
---
Charles Walker
We have several Amish areas in Western New York. Gary, your image is an inspiration to revisit them. The depth of field is certainly sufficient. All the buggies are sharp. I like what you did to replace the highway, it's seamless work. The flood filter adds interest. Did you have other choices in mind to enhance depth? My eye wants to relocate the horse, and reduce the number of buggies (more of an opinion than advice). &nbsp Posted: 09/02/2020 17:29:58
---
---
---
Palli Gajree
Hi Gary
Your work always inspires me, as does your approach to IR subjects. Love the mixture of the horse carts which are pin- sharp. The horse in the background is an added bonus. Well done! &nbsp Posted: 09/02/2020 20:29:04
---
---
---
Jack Florence Jr
I agree with both Charles' and Palli's comments Gary. I love the way you've rendered the carts. For me, the bottom have of the image is compelling enough to hold my interest on its own, even without the Flood filter, which I'm not a huge fan of. But I do enjoy the sharpness and black tones of the carts. &nbsp Posted: 09/05/2020 17:47:24
---
---
---
John Erve
Gary, For me this is a good choice for an IR image and the toning works well for the rural scene. The detail is brought out well and the depth of field helps me to see the IR effect of the distant trees. You did a good job of cloning out the traffic. Thank you for describing how you created the stream which I did not think of as a stream when I first saw the image but imagined it was a plowed field. The only critical comment is that, except for the foreground buggy, the distant ones are overlapping. I image the angle was a challenge to separate them and retain the horse. Thanks for sharing this image. &nbsp Posted: 09/06/2020 16:09:52
---
---
---
Melanie Hurwitz
Gary, Such an interesting and story telling picture. Well seen. There are certainly many more angles that could have been used, but I am not concerned with the overlapping buggies. I like the patterns that have emerged. I am a little bothered by the "water". My eye is not really buying the fact that someone would have place their vehicle so precariously. A little nitpick - would you consider cloning out the tree above the distant buggy?
&nbsp Posted: 09/07/2020 11:38:34
---
---
---
Please log in to post a comment