Gary Potts, APSA, GMPSA, SPSA
---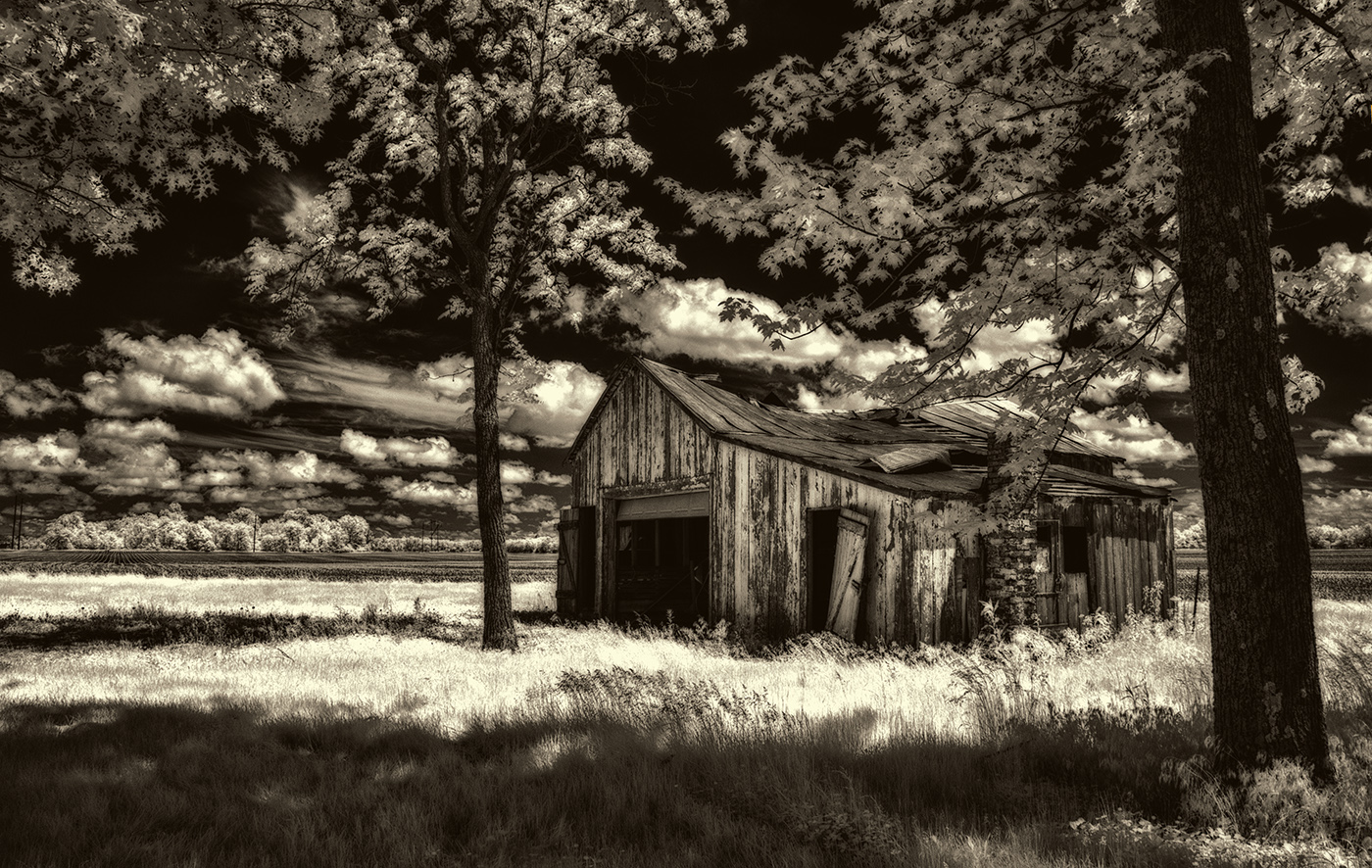 August 2020 - OLIO ROAD ABANDONED
Original
About the Image(s)
This old farm building sits right on the outskirts of 'urban sprawl' NE of Indianapolis, IN. The clouds were nice, the foliage was rich...what's not to like about a scene like this in IR?! I wondered, however, about the brightness...good for IR, but not as moody and somber as I typically like for my old buildings and barns. So, the original this month is actually a processed original as seen, but the one for the dialogue has been treated to sepia toning AND the midnight filter in Color Efex Pro. There's a built-in blurring effect in this plug-in I sometimes like, sometimes don't. As always, I'll appreciate your 'take' on how it comes across to you visually and photographically.


---
11 comments posted
Emil Davidzuk
Gary

I like composition very much. Finding old farm buildings near the big city is always a treat.

I have trouble accepting the dark building in the sun lit field, it defies my sense of sun position. I think it should be bright like the original.

Sepia tone is a good choice

Emil &nbsp Posted: 08/01/2020 12:23:40
Gary Potts
Thanks for the feedback, Emil...I went back to the original and reworked it. This is my compromise image of retaining some sunlight but reducing the contrast using a low-key filter in Silver Efex. I also changed the toning slightly. What's the verdict from your end? &nbsp
Posted: 08/08/2020 14:45:35
---
Jack Florence Jr
Lovely scene, Gary! Lucky you!

I love what you've done with it, but I think I could live without the blur. Emil's point about the darkness is well taken, but I think at the very least, the dark sky is ok, maybe the rest of the image could be a little closer to the original. Either way, I find it enjoyable, and well composed, with the placement of the two trees. The blowing grass is a bonus and I can just feel the wind swept day. &nbsp Posted: 08/02/2020 13:39:24
---
Palli Gajree
Hi Gary
I'm torn between the two images. Both equally nice, but I'm inclined to lean towards B&W image. Excellent piece of work though. Full marks! &nbsp Posted: 08/03/2020 03:21:09
Gary Potts
Palli Gajree
Thanks Gary, for showing us the re-worked sepia picture. And yes, I like it lots! &nbsp Posted: 08/08/2020 23:06:59
---
Charles Walker
Like Palli, I see value in both images. Yes the original, while crisp and nearly 3D, it lacks the somber tone you desire. However, my preference and eye is for an image that combines the best of both. Like the others who have commented, the final image seems a bit too dark. And I am not 100% supportive of the blurring effect. Is there a way to blur some of the image while keeping the details and depth of field in the rest? &nbsp Posted: 08/03/2020 21:45:38
Gary Potts
---
Melanie Hurwitz
Hi Gary,
I always feel a little jealous of your plethora of barns that you come across. Not too many to be found in Southern Florida. This truly a lovely scene with gorgeous sky and really well placed trees. I understand the problems in processing because of the very contrasting light. I think that the sepia tone is a little heavy and has created some muddiness. I worked only in your shadow areas, not wanting to loose detail in the brighter bits. What do you think? &nbsp
Posted: 08/08/2020 10:19:41
Gary Potts
You've got it Melanie, thank you!
Not seeing yours yet, I reprocessed the image to respond to all the comments. See it attached...they look a lot alike!
The "midnight" filter in Color Efex, used to make it look darker and moodier, did indeed muddy it up with the blurring built into the filter. I switched to Low Key and got something very close to what you did. &nbsp
Posted: 08/08/2020 14:39:52
---
Charles Walker
Everything is in the eye of the beholder, but my eye likes this revision much more. It's less muddy. &nbsp Posted: 08/11/2020 17:18:09
---
Please log in to post a comment