Emil Davidzuk
---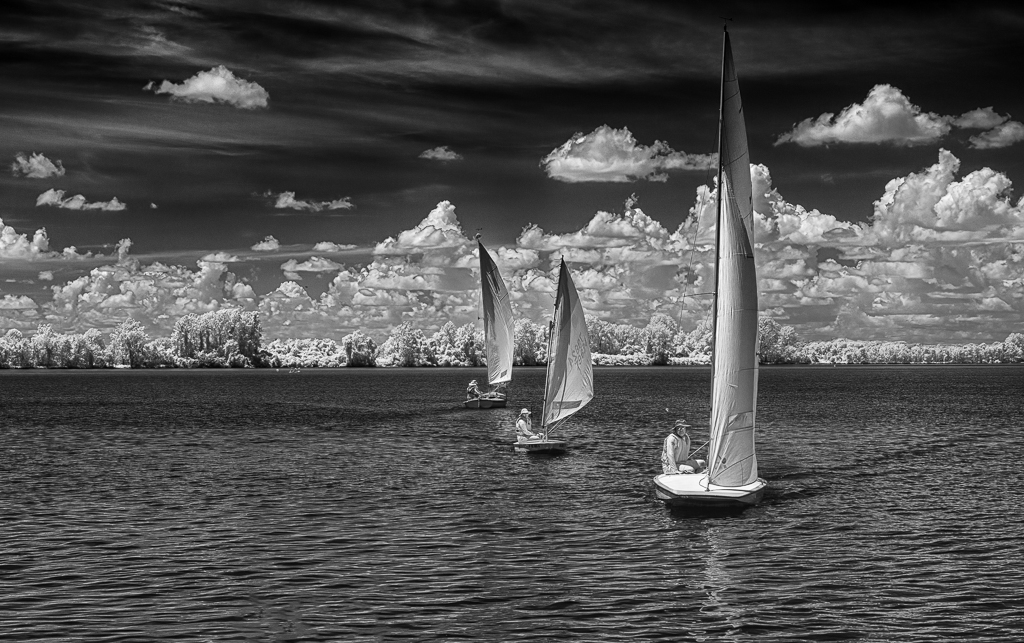 August 2020 - Sunday on the Lake Sailing
Original
About the Image(s)
I went to do long exposure cloud shots using an IR ND filter, then the sail boats started heading my way, changed gears ASAP to shoot the sailors and fortunately I was able to get this image.

Workflow: I converted my raw image to BW using Topaz Studio 2, LR local adjustment filters/brush to adjust highlights and shadows. I cropped the original on bottom and left side and removed the post on the dock.

Shot with Canon 5D, MK II 590nm at 38mm 1/100 sec f1, ISO 100, 1 EV.


---
6 comments posted
Gary Potts
Wow Emil!
I love this...how'd you manage 3 boats and all aligned like this?! I see why you 'changed gears ASAP'. Really, really nice. I am attaching a version in which I simply added the Darken/Lighten Center filter from ColorEfex Pro to essentially 'burn' the corners and add further emphasis to the three boats. See what you think of a little added contrast and tone. &nbsp
Posted: 08/01/2020 11:13:43
---
Emil Davidzuk
Gary

Concur with your update I will make a mod accordingly Thanks

Emil &nbsp Posted: 08/01/2020 12:15:29
---
Jack Florence Jr
Very nice, Emil. I love the use of lines and patterns in images, especially when do so well and with simplicity as you have here. The silver tones are also very nice, and seems to be your style, but I agree the sky does benefit with a bit of darkening.

And as you said on Charles' image, great social distancing! ;) &nbsp Posted: 08/02/2020 14:01:50
---
Palli Gajree
Emil Davidzuk
Palli

I like it Thanks

Emil

&nbsp Posted: 08/03/2020 11:10:46
---
Melanie Hurwitz
Hi Emil.
Great find! I love that the sailors are all facing us, seemingly to be looking right at us, and the line of the boats is perfect. You were blessed with a lovely sky which makes for a very interesting backdrop. I would not crop it, it is fine as it is, but I may consider adding canvas to the right and taking some away from the left to give the boats more space to move. &nbsp Posted: 08/08/2020 10:32:05
---
Please log in to post a comment