Charles Walker
---
December 2019 - Stream Along Forest Lawn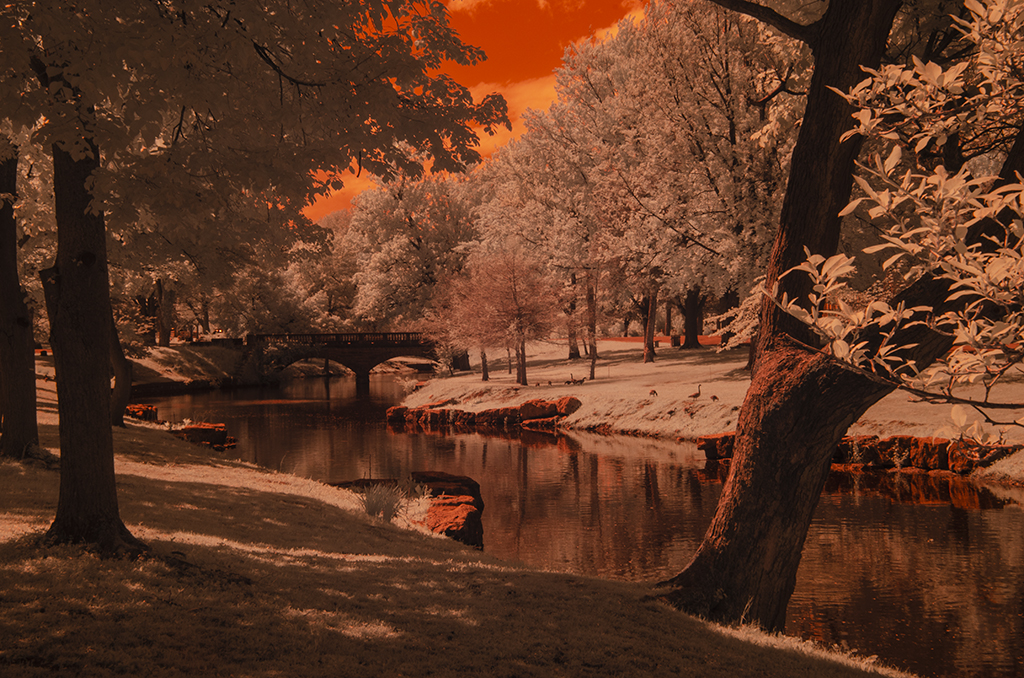 Original
About the Image(s)
This photograph of a stream running through Forest Lawn Park in Buffalo New York was taken late afternoon early this summer. I experimented with the channel mixer, not following the 100% switch rule in the red and blue channels. Instead, I switched at 50% setting the two remaining values at 25%. I discovered that to dial in purer whites in foliage you must tweak the green channel, also, doing this provides more options when subsequently using the color selection sliders. Then, employing the camera raw filter in PS CC 2019, I raised the highlights and dehazed it a notch. Finally, applying Topaz Sharpen AI, the trees in the distance were sharpened. Camera data: Nikon D7000 (590nm filter), f/18, 1/100th, 40mm, ISO=125.
---
This round's discussion is now closed!
7 comments posted
Jack Florence Jr
This reminded me a bit of your October image, Charles, looks like the same stream, but a different composition. Again here I like the way the stream provides a leading line, and the use of the blue, both in the sky and in the stream itself, is very effective. You've achieved beautiful whites on the leaves. &nbsp Posted: 12/10/2019 14:39:29
---
Melanie Hurwitz
Chuck, I really like your conversion. There is a delicacy, even though the blue is so deep. The detail in the trunk on the right is lovely. I believe you could find more detail for the one on the left - I am of mixed mind as to whether it should be cropped out or not. Would like the hear from others if the anchor it creates is needed. It really is a love scene and worthy of repeat photographs. &nbsp Posted: 12/15/2019 11:59:18
Charles Walker
A critique I frequently get from judges and Club members concerns details lost in shadows. The bridge and the tree to left could be lightened a bit. The luminosity of my monitor may contribute to this issue . . . but I do have preference for allowing shadows to be shadows. While this image is of the same stream and bridge, it is on the opposite side and opposite direction of that other image. &nbsp Posted: 12/16/2019 20:14:09
---
Emil Davidzuk
Charles, I like the composition your choice adding color to the sky and the white foliage. I feel the tree on the left and the bridge both need to come out of the shadows. I use the radial filter in LR to control shadows and highlights and I use that tool on every IR image i process. It allows you to affect only the areas you want to change. If you need a little tutorial check into it on Youtube.
Here is my update using the radial filter
Emil &nbsp
Posted: 12/17/2019 12:11:18
Charles Walker
Emil, I like what you did. Details in the shadows are important unless you are merely drawing attention to the shape of something, such as one might do in in sunset photo. Thank you. &nbsp Posted: 12/29/2019 23:18:49
---
Ernie Brana
Hi Charles, enjoying this image with the stream providing a leading line through the image showing us the way to the various items in the image. I find myself looking at the reflections and their play with the shadows. I am good with leaving shadows dark, actually my feedback is to tone down the brightness on the right side of the stream bank which seems to be the brightest part of the image. My other input was to trim the left side of the image to eliminate the partial trunk seen there. I very much like the details on the leaves on the left side of the image. I cant provide much input on the color treatment since I mainly go right to black and white with my IR. Cheers!
&nbsp Posted: 12/19/2019 08:55:28
Charles Walker
Ernie, interesting that you suggested the crop on the left side. I did this too tweaking it after submitting it. I agree the whites and highlights on the right side are a bit strong, which detracts from the mood generated by the stream. Thanks for the feedback. &nbsp Posted: 12/29/2019 23:22:47
---