Gary Potts, APSA, GMPSA, SPSA
---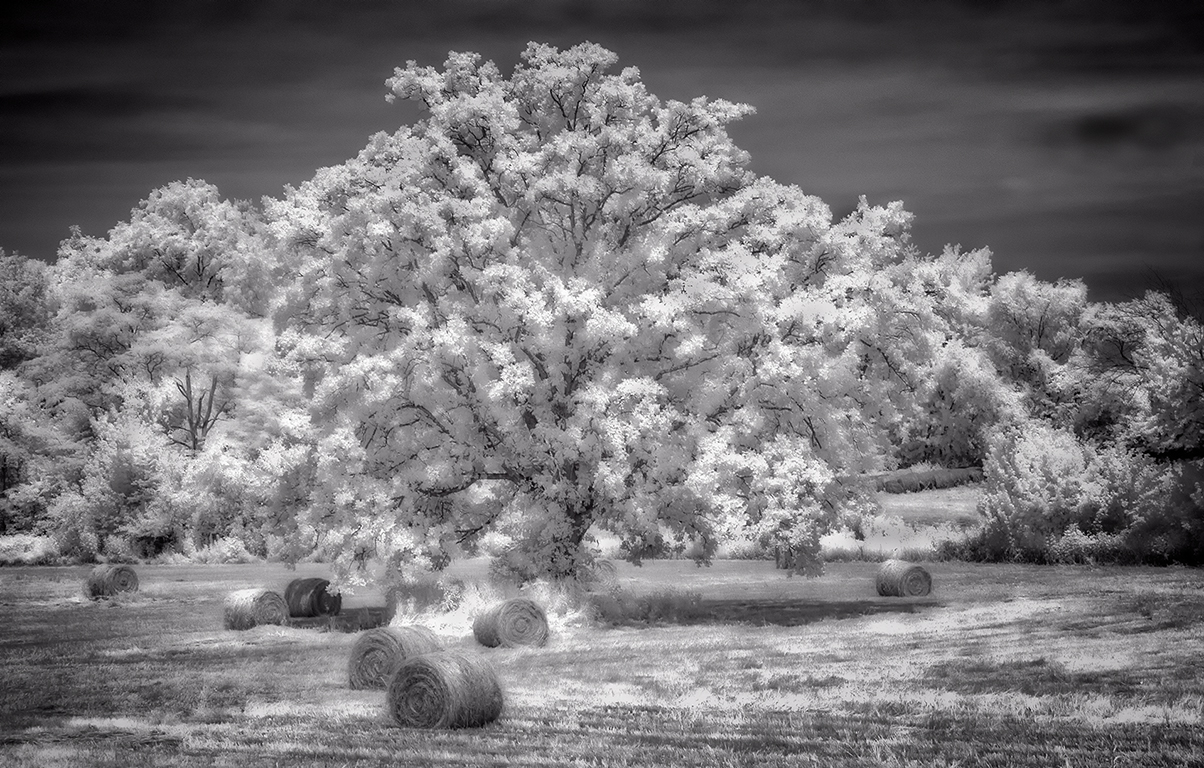 October 2019 - Hamilton County Hay Field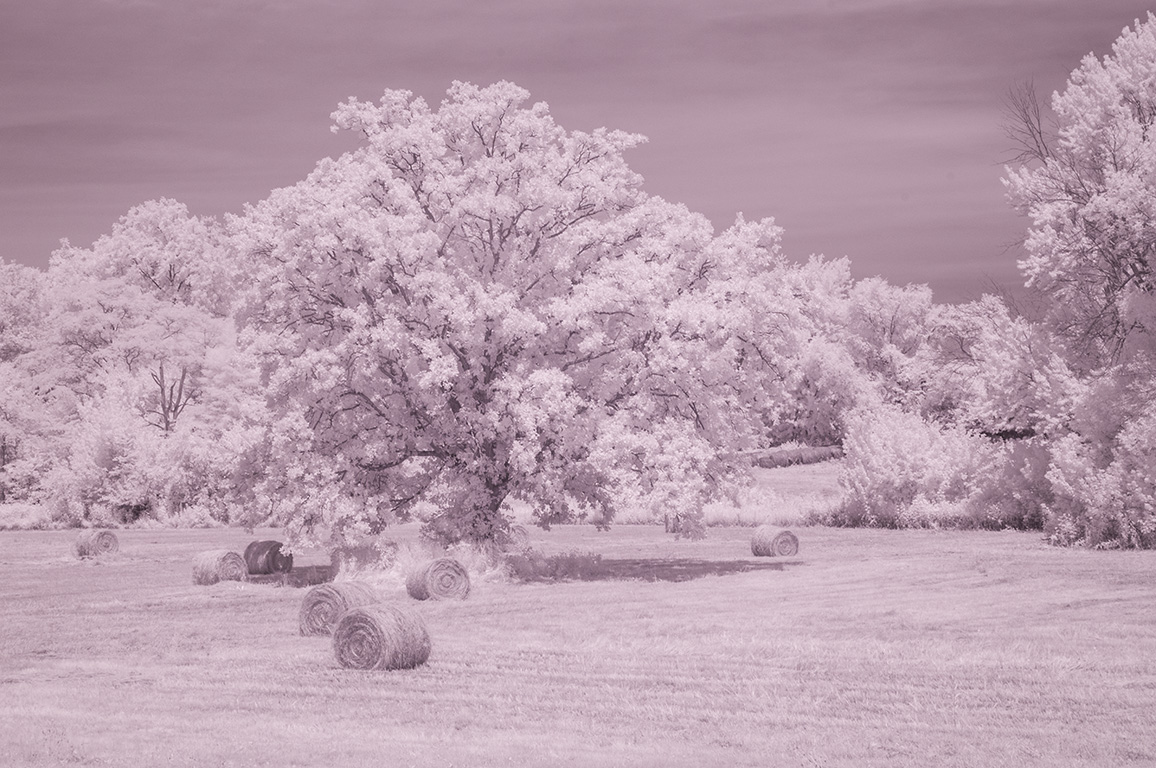 Original
About the Image(s)
Nikon D300 18-70mm lens at 52mm.
ISO 400, +2 EV, 1/90th second at f11

I wanted a tranquil feeling in this infrared image of a nearby field. Time of year was early Summer, so the trees were in full foliage. I simply used Color Efex Pro for Detail Extractor, Darken/Lighten Corners, and then did some selective burning and setting Levels before sharpening and noise reduction. Note I cropped off the foliage on the far right...for me, the composition is more balanced without it. I'll look forward to your valued comments as always.
---
6 comments posted
Jack Florence Jr
Wow, this is certainly "dreamy" Gary! You've taken a beautiful scene, and improved upon it in post processing. I would take the crop in even a little more on the right - though that might result in the tree being too centered. Mostly, I can't help from looking at the two hay bales on the ends as perfect bookends. But I'm also have this odd preference for original crops when possible (3:2 for full frame digital), and this feel's unnecessarily "stretched". A minor issue, to be sure.
The sky cooperated with the dreamy feel, but to me the hay bales make this special. &nbsp Posted: 10/06/2019 13:52:45
Gary Potts
Jack, as always...thanks very much for the comments. There is something to be said for 'squaring up' this one, and see if you find the attached version with additional cropping a bit more to your liking...it also allows those two hay rolls on each side to further 'anchor' the tree. Centering seems to work for the tree, but I'll value everyone's opinion on this. &nbsp
Posted: 10/07/2019 07:30:22
Jack Florence Jr
Yes, that's what I was after Gary.
I'll be curious to see what others think. &nbsp Posted: 10/07/2019 09:53:57
---
Melanie Hurwitz
Lovely Gary. A very inviting scene. The softness of the conversion is so in keeping with the subject matter. I am a fan of the square crop as it concentrates the eye on the triangle created by the hay stacks. Well done! &nbsp Posted: 10/07/2019 15:12:15
---
Palli Gajree
Hi Gary
As soon as I opened the image, I fell in love in what you've achieved. Not only has it the dreamy look, but the softness nature of the foliage and the clouds also helps. Great composition also. All in all worth entering in exhibitions. &nbsp Posted: 10/07/2019 18:49:12
---
Emil Davidzuk
Gary

Love the look you created Gary, pleasing to my eye with hay bails in front of the trees, more than one could ask for in a landscape. The cloud wisps make for a nice background. I vote for update with additional crop on the RHS and I would call it done and ready to print.

Emil &nbsp Posted: 10/13/2019 10:15:18
---
Please log in to post a comment