Melanie Hurwitz
---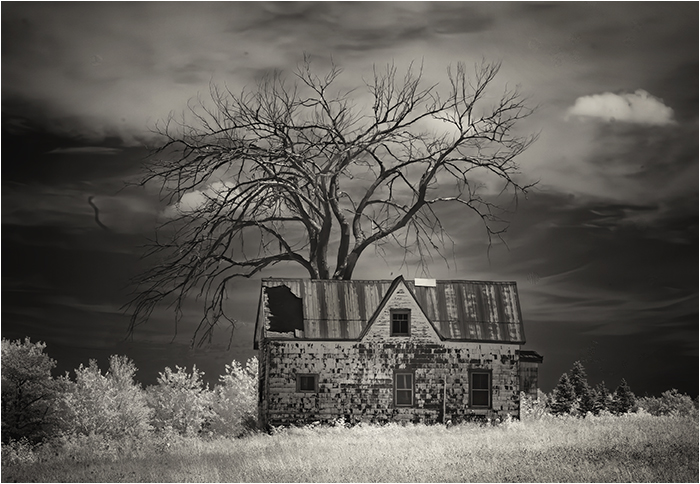 August 2019 - Abandoned
Original
About the Image(s)
What can be better than coming across a derelict building, framed by a huge dead tree. It just seemed made for infrared. I particularly like the way the tree is catching some light.
Canon 20 D, ISO 200, F 16, 75 mm
I used dehaze and added a little clarity. Converted in silver efex , using the sliders to control brightness and contrast. I thought that a sepia tone was in keeping with the subject. Looking for to hearing what you think.


---
This round's discussion is now closed!
5 comments posted
Gary Potts
Melanie,
As you might surmise, this is MY KIND of IR. Love it. Keeping the old building and tree in the center is a wonderful example of breaking the 'rules' for good reason! Here's a VERY modest adjustment...I set LEVELS to give a stronger white and black. See if you like the very subtle difference... &nbsp
Posted: 08/02/2019 10:20:28
---
Palli Gajree
Hi Melaine
What a lovely scene you've given us to enjoy! Both composition and post just right for me. 10/10!! &nbsp Posted: 08/06/2019 00:45:04
---
Charles Walker
Living near places with abandoned barns, sheds, and shacks can be depressing, but it is uplifting for IR photographers. I have plenty of such structures near me. The placement of the dead tree behind the abandoned house adds just the right amount of asymmetry. Highlights in the foreground build the composition. My eye thinks the cloud in the upper right of the frame might be reduced in luminosity, or maybe deleted? But not sure about this. &nbsp Posted: 08/06/2019 17:26:32
---
Jack Florence Jr
We were thinking along the same lines this month! Lovely scene, Iespecially like the hole in the roof. I prefer your version to Garys, partly because the center lighting / vignette seems a little strong, and gets even stronger and more noticeable in Gary's version (Charles picks up on this indirectly with his comment about the cloud). But overall, very enjoyable Melanie and a great choice for IR. &nbsp Posted: 08/16/2019 15:40:42
---
Emil Davidzuk
Melanie

We have a nice run on old buildings this month, each photographer bringing a different touch for us to see. I like the tree behind the old structure, the composition would not be as strong without it. Nice tones. My only thought is to clone out the small cloud in the upper right. &nbsp Posted: 08/19/2019 10:35:51
---