Charles Ginsburgh
---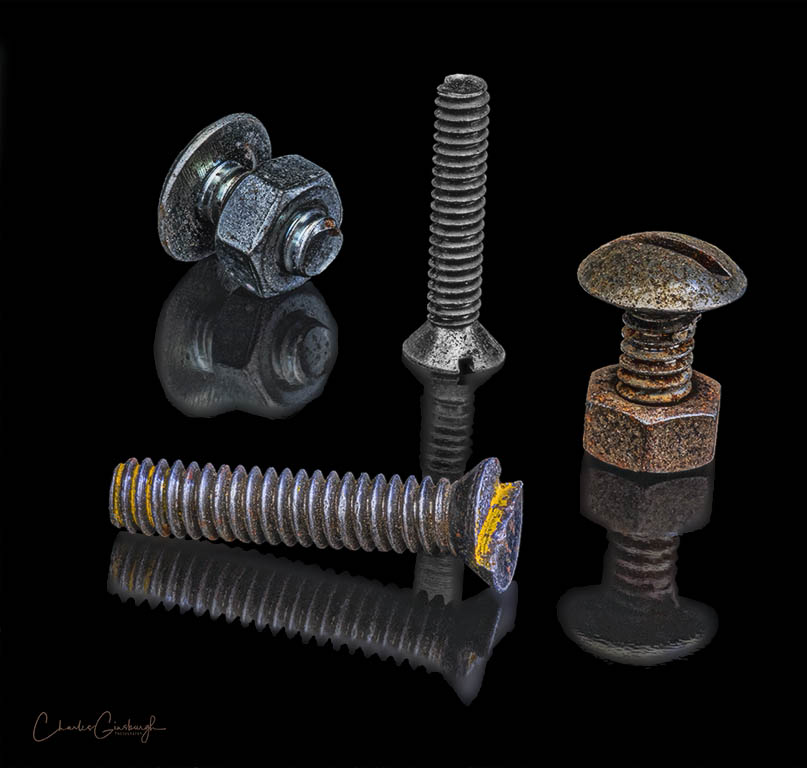 November 2020 - Loose Bolts
About the Image(s)
Here is another staged image highlighting a few commonplace items, some old bolts that I found in my hardware collection. I love trying to make the common place, uncommon, and this is such an effort. As is my bent, I often shoot these types of subjects on black glass to enhance the contrast and reflections. Here the challenge was to stage the subjects such that there was no overlap between the subjects and their reflections. In addition, the placement as well as the orientation of the subjects was considered.

Here I used my trusty (but not rusty) Canon 5d mark IV camera with a 100 mm f/2.8L macro lens. This was taken in my personal studio (read living room) as a focus stack of 19 images (f/9, 0.6 sec, ISO 500) using a tripod and natural ambient light. I stacked the slices using Zerene Stacker (my personal choice in stacking applications) processed the image in Photoshop.

Let me know what you all think.
---
This round's discussion is now closed!
8 comments posted
---
---
---
Peter Newman
Charles,
I like your image. Your semi-circular arrangement anchored by the largest bolt, all of which supported and mimicked by their reflections, creates a unique and interesting composition. Yur image is simple and interesting.

BTW: After your posting last month I wanted to try shooting reflections through a black mirror. I could not find one that's 8x10 at a reasonable price. &nbsp Posted: 11/13/2020 18:09:23
Lynne Hollingsworth
Peter - I hear that plain glass which is then spray painted black on one side will provide a reflective surface once turned over. Trying it this weekend and will let you know if it works. &nbsp Posted: 11/14/2020 08:08:33
Peter Newman
Thanks Lynne, I never thought of spray painting. I taped a black matboard under a glass table. Although I got a black reflection, the board under the glass did not keep its black due to ambient light. I think that the thick table glass lets in too much through the edge. Therefore a light blocker around the edge of the glass should solve the problem. That would not work for me because it is my living room coffee table.

In my darkroom days I used to enlarge through glass. I learned the hard way that the glass should be polished around the edges, and be about about 1/4" thick to it has some strngth. &nbsp Posted: 11/14/2020 10:52:43
Charles Ginsburgh
The glass I use is called Black Solid Opalescent "Art" Glass by Spectrum. This is glass produced for stained glass work and you may be able to order from Spectrum or through another Stained glass supplier. One 12 x 12-inch square should be sufficient for most uses. The spectrum product number is 1009S. This is the standard glass.

Note: You do not need the Fusible "System 96" glass (1009SF) which is a glass designed to melt at a lower temperature for specialty "fusion" work and is generally more expensive.

This glass is a solid color and you can't see through it. It has a shinny smooth finish so you should your subject's reflections but not a lot of distracting artifacts some glass finishes can yield.

I will send out a E-mail to you all regarding this.
&nbsp Posted: 11/19/2020 11:37:44
Peter Newman
Thank you very much. I will be ordering one . &nbsp Posted: 11/19/2020 16:01:08
---
---
---
Lynne Hollingsworth
This is well done in your composition goal of no overlapping reflections. The old rusty bolts are always (in my opinion) a crowd pleaser. Simple and subtle as Peter mentions makes this a great image, but is it really simple? Each component of the image carries its own element of interest which helps to make this so successful. Great job. &nbsp Posted: 11/14/2020 08:05:51
---
---
---
Nancy Rich
This is an image that I could stare at for a long time. The texture, colors, and reflections are eye-catching. The little bit of yellow adds nice contrast. &nbsp Posted: 11/17/2020 13:24:21
---
---
---
Jeff Fleisher
This is a very interesting image to look at because of the textures, reflections and colors. The eye stops and looks at each element and each object is very unique. The downside of this, to my eye, is that their is no main subject...basically, each object is interesting on it's own merits but not tied together.

I will have to get some of the glass you mentioned because I do really like the reflections that it gives. The lighting is excellent and was surprised that it was just ambient lighting. &nbsp Posted: 11/26/2020 12:29:24
---
---
---