Peter Newman
---
June 2020 - Tulip
Original
About the Image(s)
Shot Nikon D800, with 105 micro @ f13, ISO 650. I wanted the Sun to beam straight into the tulip, to get the ntural translucency of the petals.
The original was resized and some minor adjustments made in ACR. I did not like anything I could do with the existing background, so I made my own. I selected one flower and placed it on a separate layer; mushed in a clone to the background and applied an average blur; switched to LAB and adjusted the color with curves; back to RGB where I added fibers; played around to change the blend ode to opacity and played with several applications of contrast, and a high pass filter, until the background started to look like a putting green.

I then played with the tulip, by adjusting HSL, an adding some grain & color noise, until the image told me to stop and combine the tulip with the background. No,very little god was done on my first attempt, except for me learning what not to do. Including, but not limited to that a yellow turned blue by uing HSL is still treated as a yellow, or orange by HSL.

---
This round's discussion is now closed!
9 comments posted
Charles Ginsburgh
There are times when we get the urge to really "create an image", and it sounds as though this was the case with you. The result is a really interesting piece of art. Presenting this image as a piece of art means that we have a bit of latitude in presenting the image as realistic rendition, and this is not a bad thing. I am enjoying the colors and textures you have worked so hard to bring forth, both in the flower and in the background. Personally I like the original background, but what you have given us is also quite noteworthy. If this were mine I would be tempted to darken (or perhaps lighten) the stem thereby allowing it to stand out a bit more from the background. Since it currently blends in so well with the background, the flower appears to be floating in the midst of nothing, and it lacks some grounding to it's environment. While that is not a requirement in one's artistic rendition, I do feel a bit of tension here in that the bloom in not connected to it's surrounding. I am not sure you intended this tension. Other than those minor points, nice image. &nbsp Posted: 06/15/2020 12:28:11
Peter Newman
Charles, Thanks for your thoughtful reply. I completely agree about the stem. That is the result of not sure which way to present the image, and one of my early attempts to make a multi use background. So far, I can use the basic technique to make a night sky, what you see above. and backgrounds with subtle contours that compliment the subject. When I smooth out some more of the wrinkles, I will be happy to make the technique available to all.

To respond to your last point, I intended to create tension, which is why I didn't simply blur the background and adjust the color. &nbsp Posted: 06/16/2020 21:38:12
---
Vinod Kulkarni
In fact a very beautiful art Peter, as I see it more, I like it more! With what I am reading, there is a lot of hard work gone in making this possible and the results is definitely different and unique. The only thing which to me, is not blending well is the stem, I feel it needs a bit of 3D effect to be able to look like its attached to the flower. Right now, i only see the flower popping out of the background. Its like the 3D image where you have 2 photos in it and when you tilt it you will see the 2nd image.

&nbsp Posted: 06/16/2020 09:30:26
Peter Newman
Vinod, Thank you for taking the time to make comments. I agree with both you and Charles about the stem looking out of whack. Even after working with PS since version 4, I think there must be tons of things I don't know. I have some more stem playing to do.

&nbsp Posted: 06/16/2020 21:52:55
---
Angela Chan
Starting with a nice image you have created a nice piece of Art .
I agree with the final orientation of the bloom as a flower arranger. It is better to have a higher left curving to lower right.
Personally I would leave the same amount of space between the upper and right petal to the margins.
Interested to find out what you think you gained in LAB that cannot be achieved in RGB ? I had played with LAB before when I tried to change colors.....White cannot be change in RBG but LAB will get the job done.
Besides the nit picking, I really enjoy your work of art . &nbsp Posted: 06/23/2020 09:16:08
Peter Newman
Angela, thank you for your kind remarks. I lightened the stem and blended it into the flower.
While in theory I can get most of the color effects using RGB, in the newer versions of PS, it is much easier for me in LAB. One example is something like the sand abstract below, where I did not do anything but play with luminescence and tonal variations. Because of the way the LAB color space is structured, by using LAB it was easier for me to get the look I wanted. For a more detailed explanation, see "Canyons and Conundrums" by Dan Margulies.
&nbsp
Posted: 06/27/2020 16:15:37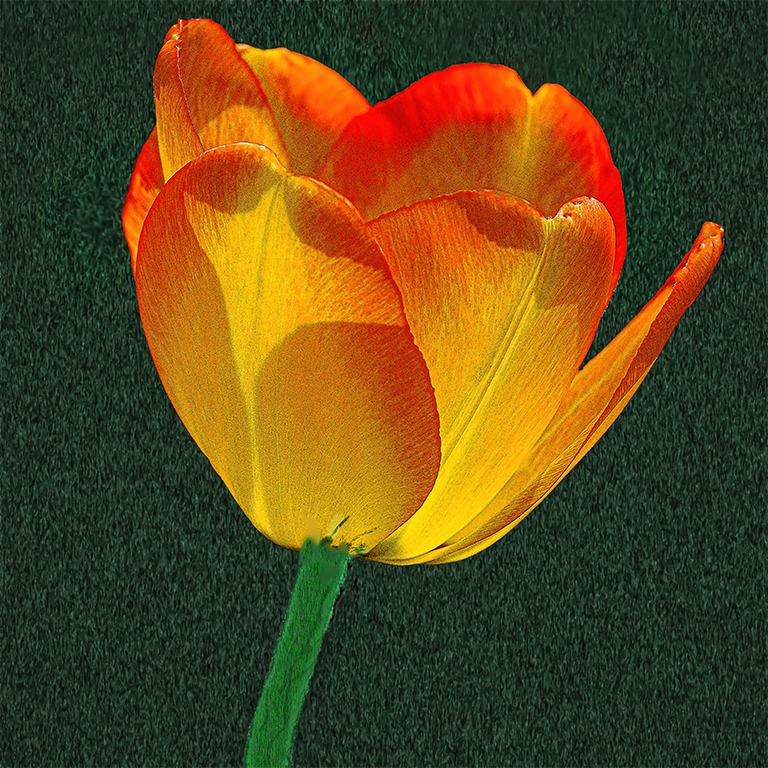 Peter Newman
In the newer versions of CC, most of the color work in LAB can be done in RGB. I find that I get more control in LAB and for color control and sharpening, I am used to working in that space. Having said that: I don't think I could get the subtle tonal variations in RGB as in LAB. As an example, in the image below, except for the usual adjustments, by using I was able to show tonal variations simply by applying a curve layer to the individual channels. For a detailed explanation of the theory and why see: Margulies, "Canyons and Conundrums." It clearly explains wat to do, and for those interested, why it works.
&nbsp
Posted: 06/27/2020 22:11:25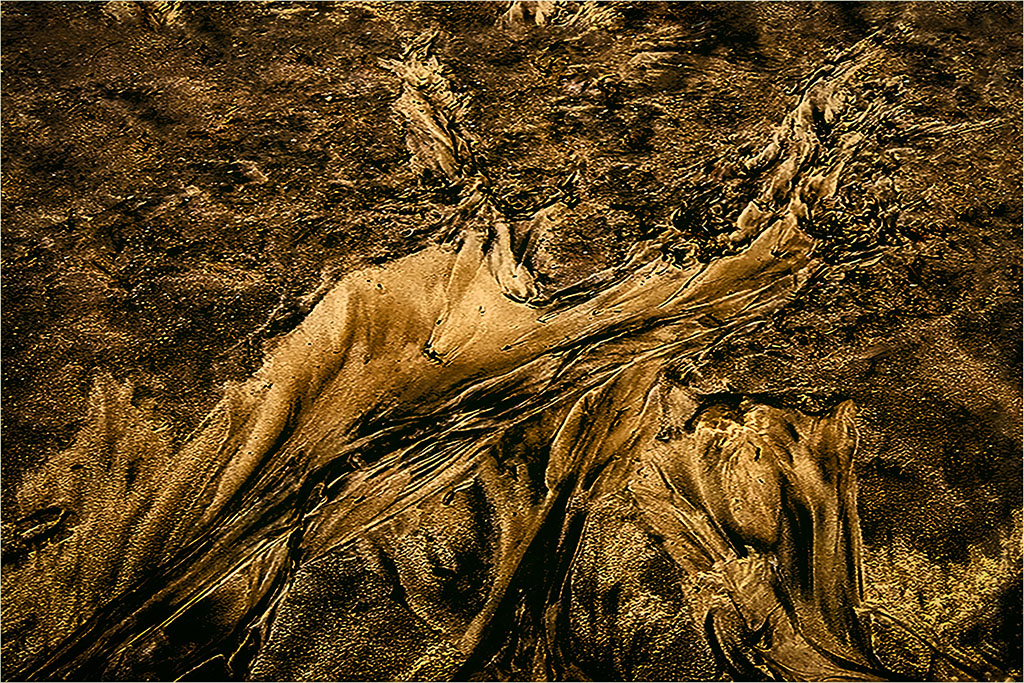 ---
Lynne Hollingsworth
I'm not sure how I feel about this image. The tulips in their natural surroundings are so pretty, yet I can understand the need to create your own piece of art. As said before, the stem could probably be more delineated from the background.

If it were mine I think I would have chosen a background that was less grainy so as not to compete with the petals' texture.

&nbsp Posted: 06/27/2020 13:19:40
Peter Newman
Lynn, thanks for your comment. I completely agree about the stem. As for the background, not every unconventional treatment works for everybody. I did not want the more traditional look. And I am still uncertain about what I did. That's why I posted the image. &nbsp Posted: 06/27/2020 16:23:54
---