Charles Ginsburgh
---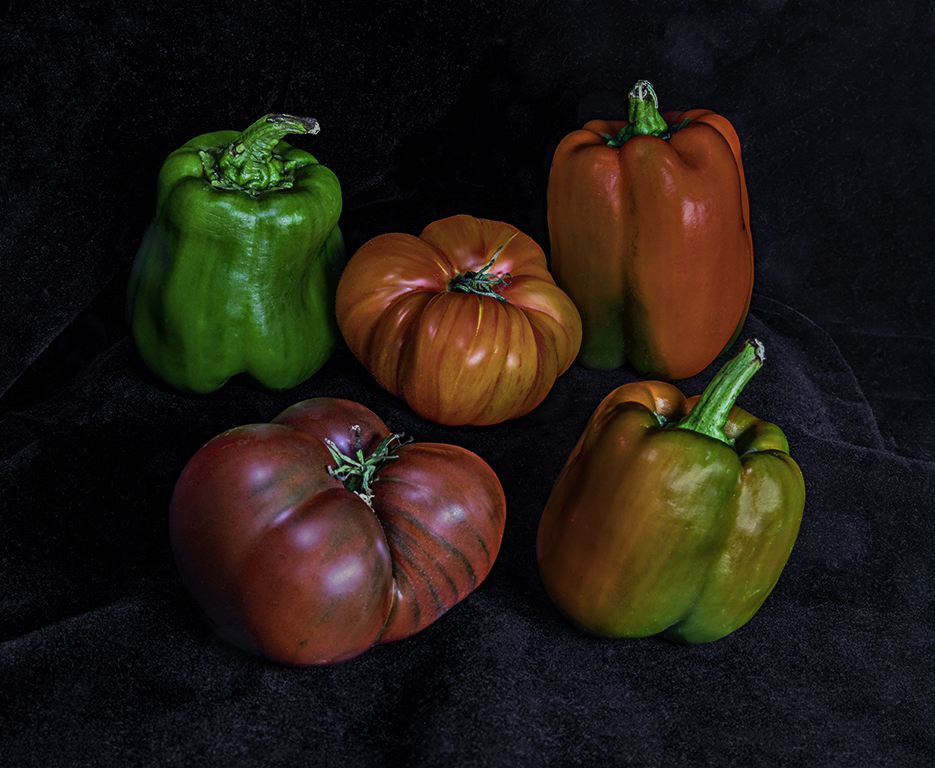 September 2019 - Summer's Bounty
Original
About the Image(s)
It's late summer / early fall and the crops are beginning to come in. Lots of fresh corn, squash, peppers and tomatoes. I was recently at a Farmers' Market, and quickly became enamored with all of the colorful vegetables. Needless to say I quickly found myself buying items for their photogenic qualities rather than if I wanted to eat them or not. After my market trip, and a day's effort in shooting and editing I came up with a few still life shots that I liked, and this is one of them. This still life is really closer to a "close-up" image rather than a macro image, but both of these are fair game within this study group.

In this image was challenge was the lighting (as it always seems to be). I wanted to light the subjects while retaining the shadows and shading, while avoiding the bright reflections of the lights on the vegetables. I was only marginally successful in avoiding the bright reflections in the final "in-the-camera" image and needed a fair amount of post processing to reign these hotspots under control. I have include the in-the-camera" image so you can see the post processing required to yield my final image.

Here I used my trusty Canon 5d mark IV with a 24-70 mm f/2.8 lens. This was taken as a single shot, and as such I was concerned to get the greatest depth-of-field, so I used a rather small aperture (f/18) with a 4 second exposure at ISO 400 at 57 mm. To minimize the reflections I used a rather low setting with my LED light panel inside of a black velvet covered product box (to allow control of the lighting) and a longer shutter speed to compensate. The product I use is the "Fotodiox Pro LED 28x28 Studio-in-a-Box for Table Top Photography", in which I drape black velvet inside to create a dark, light adsorbent, light controllable environment, and I love it.

Let me know what you all think. Hungry yet ?

---
This round's discussion is now closed!
3 comments posted
Oscar Pung
You've certainly provided an appetizing spread here Charlie. Beautiful colors and lighting. Please send me some of those tomatoes!
Thanks for including the before photo. Interesting to see your processing and how you've handled the reflections.
I've got a couple of minor suggestions. What do you think about a slightly tighter crop to fill the frame with more of the veggies and less of the black background cloth? There is plenty of space at the margins to do so. Also, I might lighten the cloth in front of and to the left of that gorgeous center tomato. In your after photo it appears, to my eye, to be levitating. In the before image it is better anchored to the surface.

On another note. I take most of my macro photos indoors in indirect window light. Can you recommend a pocketbook friendly, variable intensity LED that I could use as a supplement?

&nbsp Posted: 09/19/2019 11:05:48
Charles Ginsburgh

In terms of a variable intensity LED light, I have used the...

Neewer Super Slim Bi-Color Dimmable LED Video Light with LCD Display, 2600mAh Li-ion Battery and Charger - Ultra High Power LED Panel, 3200K-5600K for Camera Photo Studio Portrait Video Photography

which runs around $ 50 on Amazon. It runs off of a rechargeable battery or on household power. You do need a stand (mini-tripod) for it but perhaps you already have one. &nbsp Posted: 09/24/2019 13:17:20
---
Angela Chan
Very interesting image. The look reminds me of what I call a still life-light painting. We would turn all the light off and illuminate one part of the image at one time with a flash light. The one directional light create lots of contrast of light and shadow. A lot of fun . &nbsp Posted: 09/29/2019 03:19:37
---