Don York
---
November 2020 - Untitled
About the Image(s)
This image was shot late at night, by moving the camera vertical with a long exposure, while being hand held.

It is an image of a building illuminated with Christmas lights. I have no meta data as it wasn't recorded, but everything was on manual.

It was a true experiment with no idea what I would obtain!!
---
9 comments posted
---
---
---
Jerry Snyder
This looks familiar. Intriguing abstract. &nbsp Posted: 11/06/2020 06:54:29
---
---
---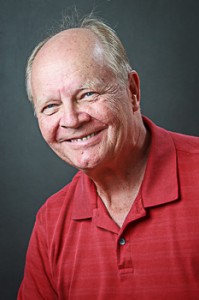 Jerry Funk
The additional on the left does add interest to me vs. your Dec 2019 version. &nbsp Posted: 11/08/2020 17:01:16
---
---
---
Stuart Ord
John Roach
I would argue that it is not monochrome because it's not variations of color within the same manner that black and white is or a brown tones as in sepia is for various tonal variations and shared tone qualities of a red or a blue. This seems set apart very contrastingly with another color which in this case you've got red contrasting very dramatically with black. &nbsp Posted: 11/09/2020 13:05:22
Stuart Ord
The contrast in the original is very high, so I was surprised that it gave anything apart from colour and black. Working just from a screenshot, the resolution is quite low. Zooming in on detail in Affinity, I can see some shades of red - so it is black, shades of red, white. Or do you think that "colour monos" should be dark colour, shades of colour, light colour?
Sorry, I'm wandering off topic again. Deviation closed! &nbsp Posted: 11/09/2020 13:58:43
Stan Bormann
Stuart, if this is just one tone, yes it is still a mono, which just means one tone. My experience with these in competitions is that extreme tones do not judge very well. If that equates with peoples opinions that probably means not a great idea. I would not even think of this as a mono and I like what you did. I would not submit it as a mono however. &nbsp Posted: 11/18/2020 10:54:28
---
---
---
John Roach
There is a wonderful abstract geometry in the image. I like the repeating shapes and patterns here because my eyes can peacefully as well playfully stay wandering with in this image. &nbsp Posted: 11/09/2020 13:01:28
---
---
---
Helen Sweet
Recenly I had commented that with millions of people doing photography, everything has been done. But this particular result from camera motion is unique and pleasing. Each pattern is slightly different. I especially like the interplay of lines on the top portion. Pleasing result from a technique which never works for me. &nbsp Posted: 11/11/2020 23:52:45
---
---
---
Stan Bormann
I was thinking about do the pixels on the left add or are they a distraction and read Jerry's comments that he likes them. I am not sure. You did an amazing job of creating motion that is very pleasing. Well done. &nbsp Posted: 11/18/2020 10:57:16
---
---
---
Please log in to post a comment