Jerry Funk
---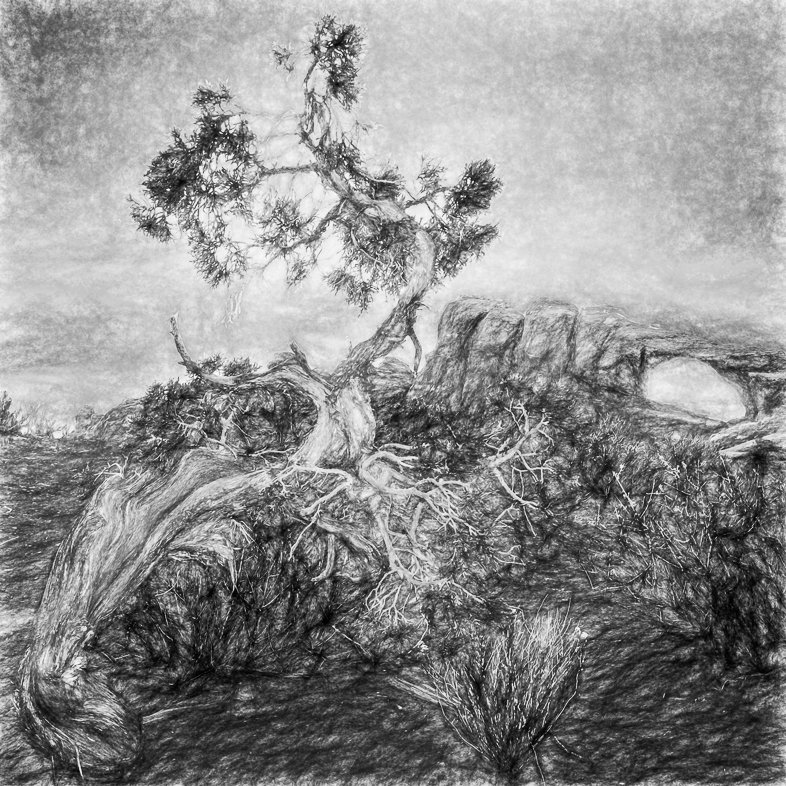 August 2019 - Arch w/tree
Original
About the Image(s)
Captured with Nikon D800, Nikon 18-35 at 32 mm, f 11, mistakenly @ 1/60 sec. hand held and ISO 3200 with pop-up flash just before sunset.

I made multiple and extensive local edits in Lightroom to overcome the obvious exposure problems to my satisfaction.

The monochrome filter was a Topaz texture. It required additional local edits in Lightroom.
---
This round's discussion is now closed!
6 comments posted
Don York
A very interesting, almost abstract composition in the mid tones. I prefer the original color version. &nbsp Posted: 08/04/2019 19:51:14
---
Jerry Snyder
The pencil-sketch appearance is very nice and fits with the subject well. The grass on the ground is a nice addition. Well done. &nbsp Posted: 08/09/2019 10:22:18
---
Stuart Ord
I like this! It reminds me of some fine art composites I've seen with this sort of background. The stone arch has been diminished in impact with the conversion, so the tree stands out which I think is the rightful subject. The trunk is a nice diagonal lead-in. The foreground bush might be said to be distracting, but without it the foreground would be a bit dull, so altogether I think it goes well. I like the sky, too! It just seems to be lacking a bit of punch for me, maybe a midground figure would have been good. &nbsp Posted: 08/09/2019 11:15:10
---
John Roach
Artful and delightful. &nbsp Posted: 08/13/2019 18:15:13
---
Ian Ledgard

(Group 18)
You have taken a pleasing colour shot and created an marvellous piece of art. All your work with the edits has paid off and I wouldn't change a thing. &nbsp Posted: 08/17/2019 04:48:12
---
Abhijeet Banerjee
I liked both the versions, the colored as well as this artistic one in mono. Background comes out well with the tree trunk acting as the leading line. Great work. &nbsp Posted: 08/29/2019 04:25:44
---