Neal R. Thompson, M.D.
---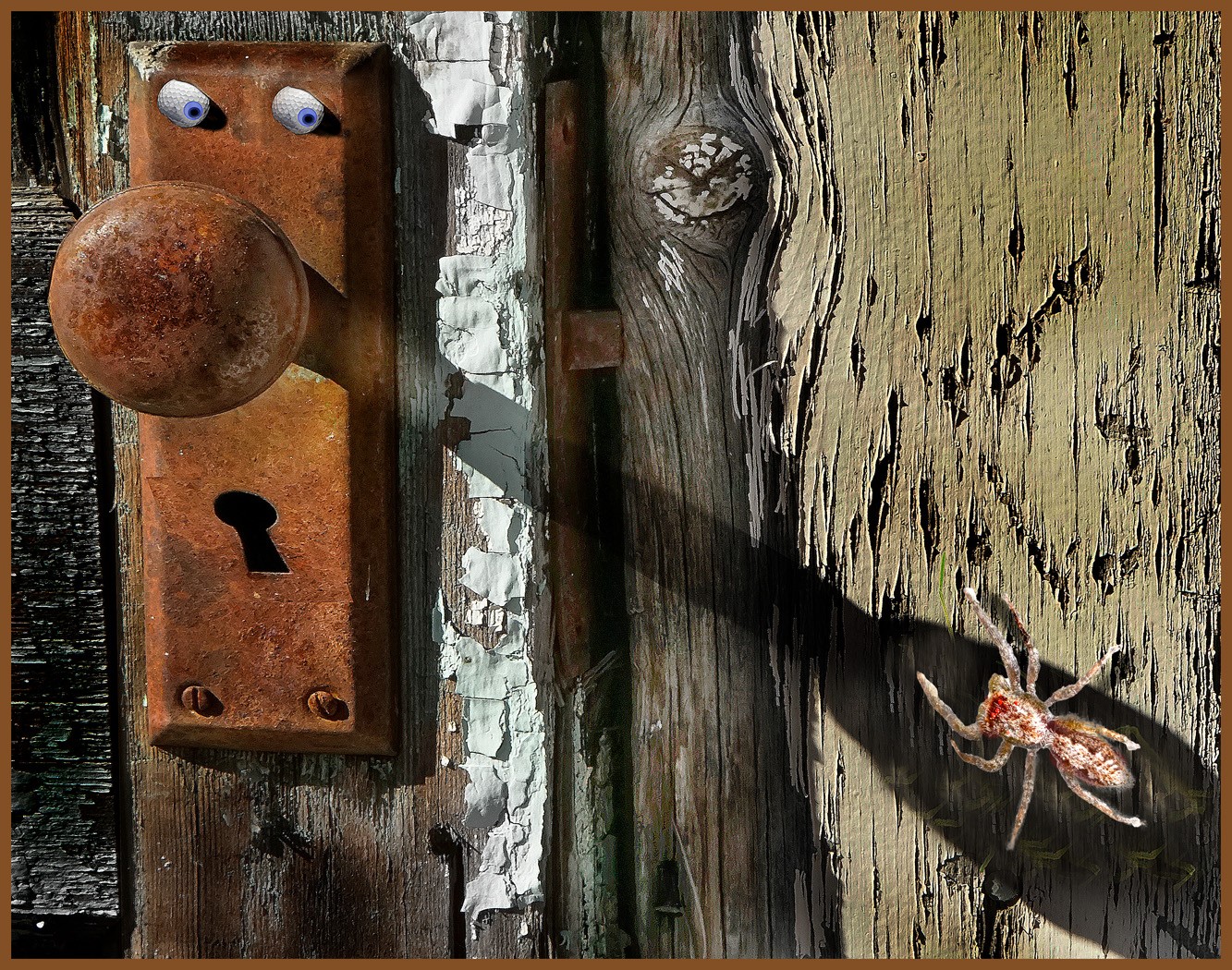 March 2023 - Doorknob and Spider
About the Image(s)
The door on an old shed near our home has been for the last 20 years a favorite photo site. Three things were done with this image. Golf ball eyes, the spider and the movement of the key slot diagonally. It was a fun project.
---
This round's discussion is now closed!
8 comments posted
---
---
---
Murphy Hektner
Hi Neal: Have always liked to photograph old weathered wood, and also old pealing paint. You have added some interesting creative touches which removes this picture from the ordinary into a picture more on the creative side.
The side lighting adds impact and enhances the detail of the weather wood and pealing paint, very sharp image. Good Work!
&nbsp Posted: 03/08/2023 11:39:44
Neal R. Thompson, M.D.
Last night I presented this image along with others at camera club. I was surprised that the humor of the image was not once mentioned. I think the strength of the image is the message; a doorknob, now alive, frighted by a spider. &nbsp Posted: 03/08/2023 11:52:47
Murphy Hektner
If that old rusted door knob could talk, bet it would have some interesting stories. &nbsp Posted: 03/14/2023 11:31:32
---
---
---
Charles Ginsburgh
What a fun image. I did get the humor right away, but perhaps that is because you mentioned the addition of the "golf eyes" in your description. Titles are so important in directing the viewer to see the image as we wish. If one were not so directed, there is a lot of wonderful detail here and the "eyes" might be missed at first glance. If one were to miss the "eyes", how then might the image be viewed. I am wondering if this might of occurred at your club ? &nbsp Posted: 03/08/2023 12:00:46
---
---
---
Barbara Asacker
Hi Neal,
This image made me smile. I see the eyes wide open staring at the spider, the keyhole looks like an open mouth, and lastly a big doorknob nose. So cute! The shadow leads me to the spider. Most importantly, you captured sharp details throughout. Well done. &nbsp Posted: 03/11/2023 09:05:39
---
---
---
Priscilla Farrell
Greetings Neal, A humorous image for sure. And you were able to include one of your favorites; a spider. Good creative work.
&nbsp Posted: 03/17/2023 12:55:05
---
---
---
Barbara Hunley
Neal...I like the whimsy you have included in your picture and the leading line of the spider to the doorknob. That gives the eye a direction to follow. The different textures of weathered wood included with the rusty doorknob are a nice combination for the viewer to ponder. &nbsp Posted: 03/23/2023 23:31:05
---
---
---
Alane Shoemaker
Neal, I love the textures of the weathered wood with the peeling paint. With the addition of the spider and the eyes, this image would be a great entry for the PSA Individual Creative Competition. &nbsp Posted: 03/28/2023 09:13:39
---
---
---