Neal R. Thompson, M.D.
---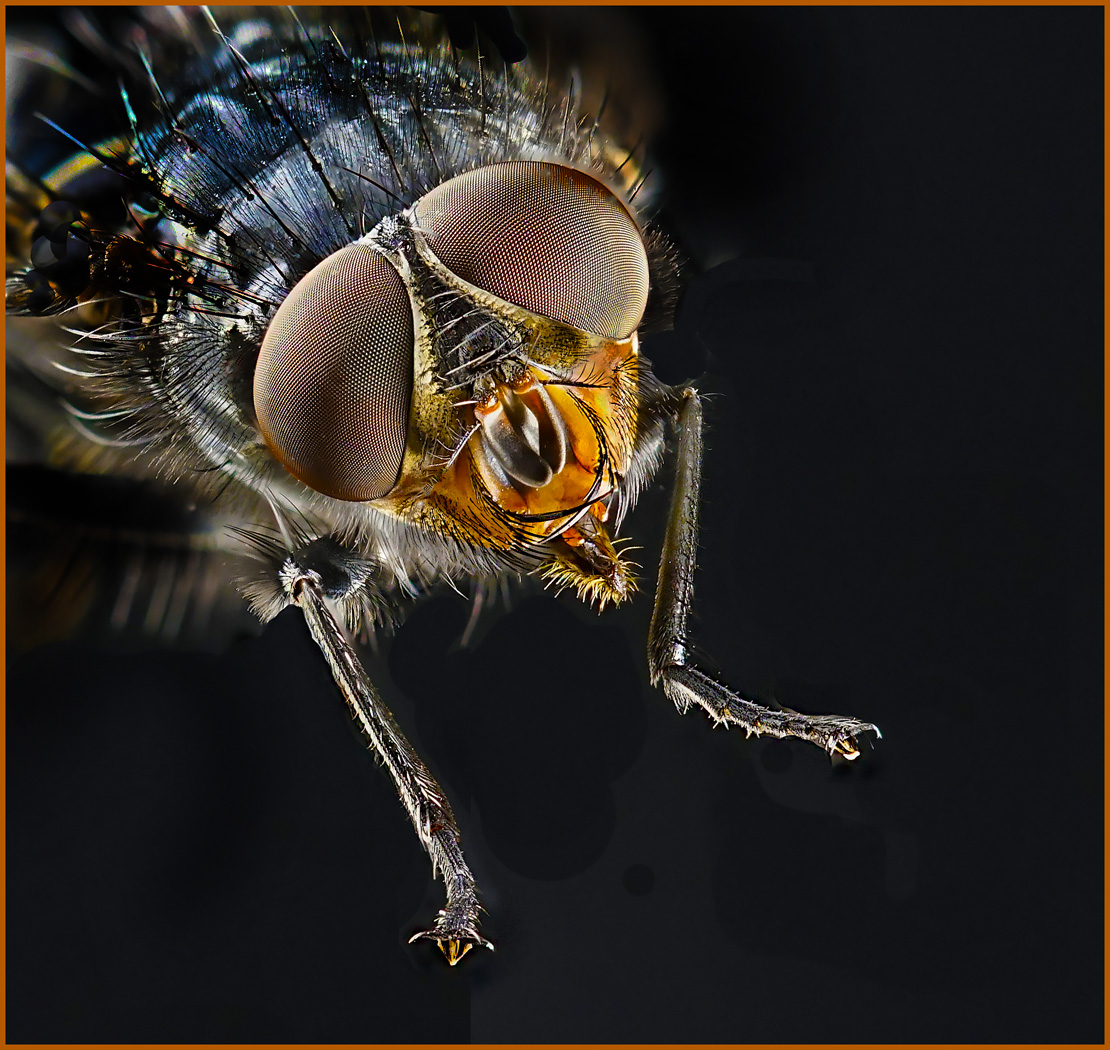 April 2021 - House Fly
About the Image(s)
Sony 6300 with adapted
100 mm Canon Macro on a WeMacro rail
with about 40 images
f/5.0
0.4sec
ISO 640
My wife was about to terminate this house fly when I trapped it.
Photoshop was used to clean the image; Stroke was used for frame.
This was about the true color of the fly.
Some color dodging and burning was done.
---
6 comments posted
---
---
---
Richard Story
NEAL
REALLY NICE MACRO ...
THAK YOUR WIFE FOR NOT TERMINATING (SMASHING) IT, THUS GIVING US A CHANCE TO SEE WHAT YOU COULD DO WITH IT....
COLORS ARE GREAT..DETAILS EXCELLENT...COMP SUPREME ... AND I LIKE THE STROKE...good color choice...
NIT PICKING...THE OUT OF FOCUS BACKGROUND, IS VERY DIFFCULT TO CLEAN UP, BUT A LITTLE BIT I THINK HELPS.
STILL OVERALL GREAAAT SHOT
THANKS
&nbsp
Posted: 04/01/2021 08:42:48
---
---
---
Murphy Hektner
Hello Neal: A very common "bug" that we all are familiar with. We do not look as closely as you do with your extreme magnifications of the insects you have shared with us over the years. You always capture amazing details and patterns with fine composition and tremendous sharpness and attention to detail. Then your studio lighting set-up creates very dramatic lighting to enhance the colors of your subjects. The slight fall off in sharpness at the upper left is dark in tone, therefore not a distraction. Your choice of border color is always well chosen to blend in with the insect colors. &nbsp Posted: 04/03/2021 10:09:07
---
---
---
Barbara Asacker
Hi Neal,
You managed to capture the finest details in this little pest. I never realized flies had so many colors. I like your composition having him fly out of the upper corner. It provides a little action. Well done. &nbsp Posted: 04/04/2021 09:50:01
---
---
---
Gary Hook
Ew. :-D

The detail is fantastic, and the light and color excellent. Really well done, IMO.

The tricky part when doing shots like this is deciding how to handle the background when it's out of focus. For me, since those body parts are quite close, the blur is a bit odd. Since you got so much of the insect in 40 shots, one wonders what 80 slices would have done?

That said, the background is not, for me, distracting. I think the image draws focus precisely where it needs to be: the eyes, "face", and legs. &nbsp Posted: 04/10/2021 13:39:49
---
---
---
Alane Shoemaker
Neal, I, too, am surprised by all the colors and textures in a fly. I shall look at the next fly I see in person from a more informed perspective. &nbsp Posted: 04/13/2021 22:48:12
---
---
---
Priscilla Farrell
Hi Neal, I like your composition with the house fly arriving from the corner of the frame. It's a bit unusual and that's why I like it. You have included the most interesting part of the fly's anatomy, it's head. The other day, while opening a window I found a dead fly between the two panes of glass and I thought of your photography. Amazing what you can produce with your photographic talents and a focusing rail. &nbsp Posted: 04/19/2021 14:31:34
---
---
---
Please log in to post a comment