Neal R. Thompson, M.D.
---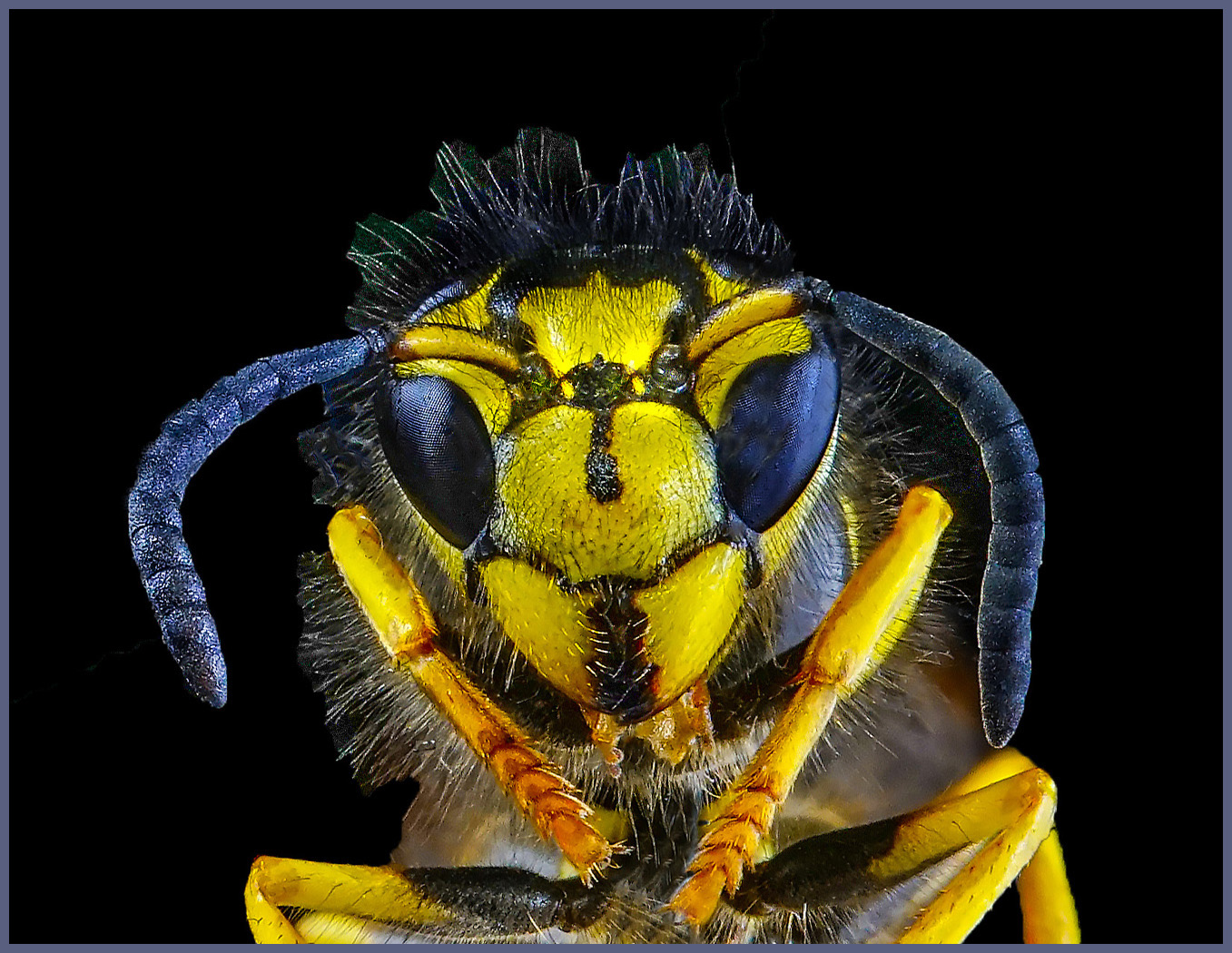 November 2020 - Wasp #2
About the Image(s)
Sony 6300
Canon 100 mm Macro adapted.
f/9
ISO 800
50 or so images combined in Helicon focus.

There are several recurrent problems with capturing and processing this type of mounted specimen. Insects
are dirty and have a lot of dust and hair attached. It takes a long time to remove these. Using an inexpensive
ultrasound cleaner and then gently blow drying works quite well.
A second problem is the background, especially
around the hairs. It's hard to separate the black from the white of the hair. Using clarity in PS's camera raw filter
helps some.
---
This round's discussion is now closed!
6 comments posted
---
---
---
Barbara Asacker
Hi Neal,
This image is incredible. It's sharp. The lighting is perfect and the colors are complementary. You managed to make this little critter look friendly with a smile on his face. All your images are tack sharp.
Barbara😊 &nbsp Posted: 11/07/2020 07:54:44
---
---
---
Murphy Hektner
Hi Neal: From a photography standpoint this is technical excellence, it does not get any better than this. The colors in this picture are amazing, your choice of border color is an exact match to the blueish-purple color on the "bug". Thanks for explaining all of the processes necessary to achieve the letter perfect final result. This picture should do very well in any competition you would choose to enter it in. &nbsp Posted: 11/07/2020 09:41:27
---
---
---
Priscilla Farrell
Hi Neal....After reading your explanation of the additional processes involved in photographing your insects, I have even more respect for your work. As usual, focus is sharp, colors are complementary, lighting perfect and all contained in a matching border. &nbsp Posted: 11/14/2020 09:26:50
---
---
---
Richard Story
NEAL,

ANOTHER SCI-FI STAR.
THE COLORS ARE POWERFUL.
RIGHT IN YOUR FACE STARE.
THE ANTENAS TO RHE EYE VERY SHARP, EVER LITTLE HAIR ON THE FACEAND LEGS SHARP.

ONE QUESTION WHY THE HALO AROUND THE HAIR ON THE EDGES?
SEEM A LITTLE DISTRACTING. &nbsp Posted: 11/25/2020 18:36:36
Neal R. Thompson, M.D.
Hi Richard,
You picked out one of the trouble areas. I had trouble
separating the background from the hairs on the head. Only by selecting that area, increasing the contrast, and then blackening the background was I able to show the hair. Unfortunately, it did not turn out as well as I would have liked it. &nbsp Posted: 11/26/2020 13:21:38
Richard Story
no matter what your work is always good and i like what you do..by the way just got my R5 this week and it has focus stacking in camera that i look forward to work with.. &nbsp Posted: 11/26/2020 14:52:56
---
---
---