Murphy Hektner, APSA
---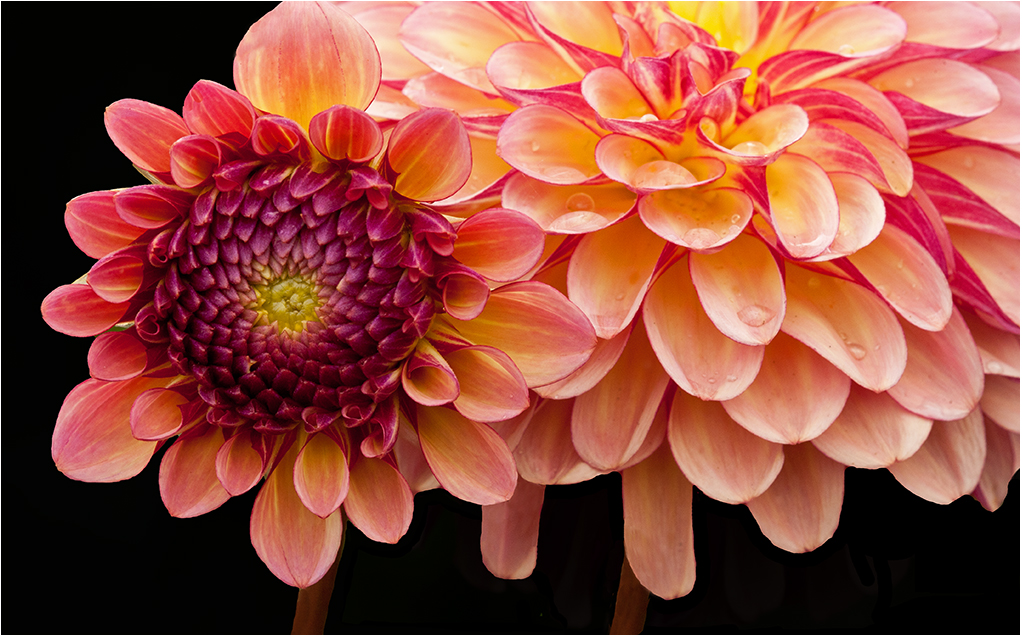 September 2020 - Dahlia
About the Image(s)
Nikon D700 with
200 mm macro on tripod ---
1/160
f/18
ISO 1000
on tripod--raining --- no wind.
Photoflex soft-gold reflector.

MAKER'S AIM AND COMMENTS:
Adding to my collection of Dahlia flowers.
They come in so many different colors, flower sizes, flower shapes and also the height of the bushes. There were unavoidable distractions in the background, so blacked it out.



---
6 comments posted
---
---
---
Priscilla Farrell
Hi Murphy, Very, very nice image. I, too, like dahlias; they are impressive and come in so many sizes and colors as you mentioned. I like the color combination in this image. Lighting is right on and the raindrops are a nice addition. Interesting composition with the larger of the two filling the top of the frame and the entire smaller dahlia along the left side. Personally, I like a black background as it gives an appearance of formality or dignity. The narrow stroke holds everything together nicely. &nbsp Posted: 09/05/2020 18:39:12
---
---
---
Barbara Asacker
Hi Murphy,
Beautiful image. The colors against the black background create more impact. It's incredibly sharp. Well done.
Barbara &nbsp Posted: 09/05/2020 19:42:51
---
---
---
Lou Karcher
Hello Murphy! I agree with everything Priscilla and Barbara have said; beautiful. Adding my two cents, suggest blackening out the two stems at the very bottom; they distract a tad from your main subject. The top of your image appears a bit overexposed. Would changing the angle of the reflector be useful? On the other hand, it does help emphasize the budding flower on the left, &nbsp Posted: 09/09/2020 19:26:54
---
---
---
Richard Story
MURPHY,
VERY NICE!! LOOKS LIKE A FINE PAINTING.
I'VE SEEN WATERCOLORS DON'T LOOK THIS GOOD,
SO YOU GOT THE MAIN THINGS GOING ON HERE,GREAT FOCUS THE F/18 KEPT EVERYTHING SHARP. THE COLOR CARRYING ALL THE WAY THRU THE IMAGE BLENDING AND COMPLIMENTING ONE ANOTHER.
NICE POSITING OF THE MAIN FLOWER IN THE BOTTOM THIRD OF THE FRAME, AND THE REST OF THE PEDALS MAKING A NICE DIAGONAL LINE GOING TO THE UPPER LEFT. EVEN WITH THAT MY EYE ALWAYS TRAVELS BACK TO THE MAIN SUBJECT.
LOU BROUGHT OUT TWO THINGS, ONE WAS THE STEMS UNDER THE FLOWER, THOUGH A LITTLE NOTICEABLE THEY DON'T REALLY TAKE AWAY FROM THE IMAGE AS THEY DO REALLY BELONG.
SECOND, ON THE UPPER PORTION BEING A LITTLE BRIGHT, YES A LITTLE BIT..
HOPE YOU DON'T MIND I TRIED CLONING OUT THE STEMS,NOT IMPRESSED THAT WAY, AND USING A GRAD FILTER I DECREASED THE HIGHLIGHTS AND ABOUT A 1/2 STOP.
REALLY HATE MISSING WITH SOMETHING REALLY NICE BUT WAS JUST CURIOUS, &nbsp
Posted: 09/11/2020 17:36:58
Murphy Hektner
Hi Richard: Do not mind you messing with one of my images in the least, if there is something I missed and could improve on, I want to know what it is.
The top was a tad bright. In my humble opinion the two stems anchored the flowers to the base, at least to me without the stems the flowers seem to float in space, guess that is okay too. &nbsp Posted: 09/11/2020 22:10:25
Priscilla Farrell
Murphy, I am in agreement with the idea of leaving the stems in the photograph. To me, without them the flowers seem to be floating in the air and need an anchor. Differing opinions make for good discussions. &nbsp Posted: 09/18/2020 12:43:51
---
---
---
Please log in to post a comment