Lou Karcher
---
September 2020 - Mason Wasp
About the Image(s)

Nikkor 55-300 lens
280 mm
1/3000
f 5.6
ISO 1400
Shot handheld and manually focused at a distance of 30 inches.
Maneuvered position often to capture blue luminescence of wing (and stay off its radar).
Straightened and cropped.
Reduced noise, sharpened radius, and enhanced detail.
---
6 comments posted
---
---
---
Barbara Asacker
Hi Lou,
I like it. The little critter really stands out against the background. The colors work great with each other.
Barbara &nbsp Posted: 09/05/2020 19:49:26
---
---
---
Murphy Hektner
Hi Lou: Interesting Wasp, far different than the variety we have in our region. The blue wing adds a lot of interest. Your image seems to have a lot of digital noise, needs a lot more noise removal. The wasp and plant the wasp is perched on are not sharp in detail, in fact quite soft. Your Nikon 55-300 lens is not a macro lens, it is not corrected for close in focusing distances, It is a general purpose lens and will do well if used for that purpose. &nbsp Posted: 09/06/2020 14:44:27
---
---
---
Richard Story
LOU,
LIKE MURPHY SAYS,THAT GUYS NOT IN MY NEIGHBORHOOD.
LOVE THAT STARK BLUE AND BLACK COLOR. HE'S RIGHT ABOUT THE NOISE THOUGH, ITS A LITTLE MUCH I DID A LITTLE MORE CROP AND GOT IT OUT THE CENTER OF THE FRAME, THEN REDUCED THE NOISE MORE. JUST CLEANED UP SOME SMALL BROWN DEAD SPOTS.
YOU COULD OF SLOWED DOWN THE SHUTTER MAYBE 1/1500, AND THEN IT WOULD LET YOU CUT BACK ON ISO 700 OR MAYBE LESS.
&nbsp
Posted: 09/09/2020 21:59:59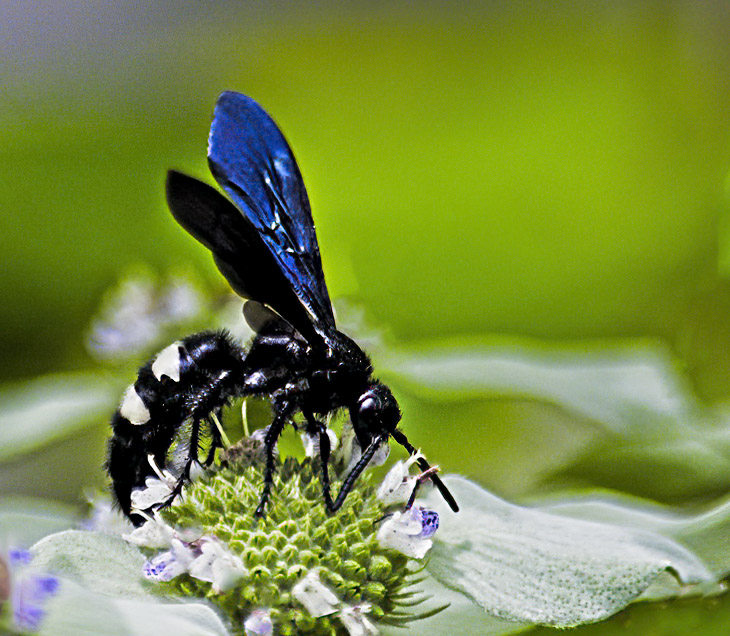 Lou Karcher
GREATLY APPRECIATE YOUR 'DEAD SPOT-ON' SUGGESTIONS AND THE TIME YOU TOOK FOR THE RE-POST. AND, MURPHY'S RIGHT ABOUT THE LENS. HAD NO INTENTION OF DOING MACRO THAT DAY AND WAS USING EQUIPMENT I KEEP IN THE CAR AT ALL TIMES. IT'S NOT THE BEST BUT IT'S ALWAYS AVAILABLE AND IT'S NO BIG LOSS IF IT GETS STOLEN. I'M A BROOKLYN NY BOY AND THAT TYPE OF THINKING IS PART OF MY DNA.

THANKS GUYS, STAY WELL! &nbsp Posted: 09/10/2020 09:31:48
Murphy Hektner
Hi Lou: I hear you about the possibility of equipment being stolen, am mindful of that myself and never leave any valuable lenses in the car while I am off shooting. Just the times in which we live I guess, we just have to be extra careful. &nbsp Posted: 09/10/2020 23:28:44
---
---
---
Bob Crocker

(Group 57)
Nice capture Lou, I can appreciate the difficulty of trying to capture these guys as they move around the garden I like how the wasp curved body is in concern to the roundness of the flowers center. Richards point is well taken; if this guy was not moving to much, you could have gotten away with a slower shutter speed. After doing a lot of reading and viewing of others work, I'm try to use a flash on a bracket for outside shots like this. It's been awkward for dealing with that extra weight but it does help with freezing motion (using high speed sync) and filling in the dark shadows. Are you still working with ON1 software? &nbsp Posted: 09/18/2020 09:00:19
---
---
---
Please log in to post a comment