Neal R. Thompson, M.D.
---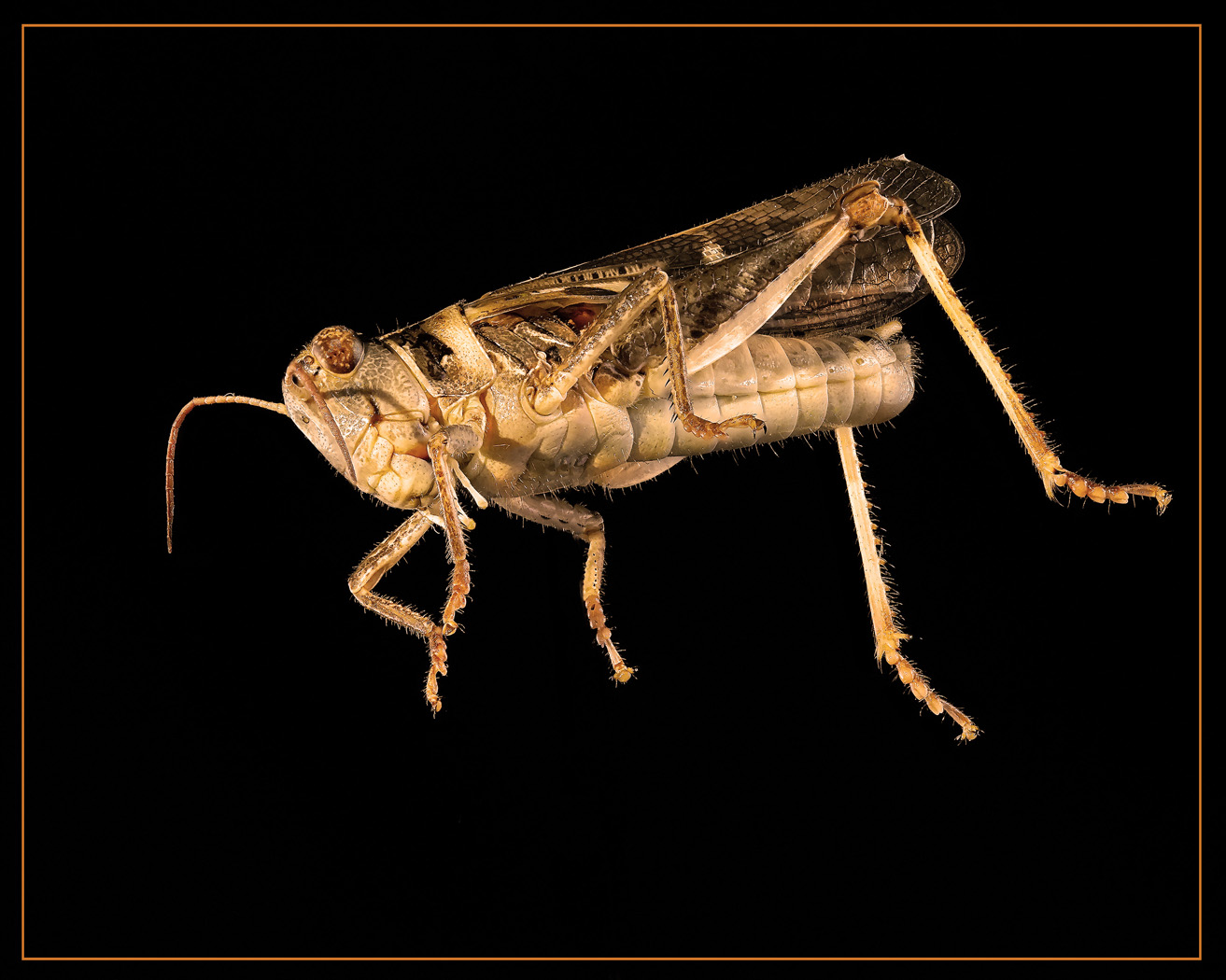 August 2020 - GRASSHOPPER
About the Image(s)
Sony 6300 with adapted Canon 100 mm macro lens; 1/15 sec; f/7.1, iso 1250; studio lighting; 60 images
combined with Helicon focus; This fellow, one inch in length was outside my digital darkroom and
succumbed to ethyl acetate, mounted on a needle, cleaned and positioned. Photoshop used to remove
some dust, color dodging and burning slightly and sharpened. Background with a black velvet. Should I
have removed the antennae shadow across the face? .
---
4 comments posted
Richard Story
ANOTHER GREAT STACK JOB. EXPOSURE RIGHT ON, LIGHTING SPOT ON,FOCUS TACK SHARP, DIDN'T MISS A HAIR ON THE BODY
ANYWHERE.YOU
DID EVERYTHING VERY GOOD. HERE'S THE "BUT", WISH THAT D FELLA HAD MORE COLOR, HE'S A DULL BOY, I KNOW THAT WHAT NATURE GIVES US TO WORK WITH, BY THE WAY THE SHADOW SHOULD GO.
I STILL LOVE IT. &nbsp
Posted: 08/03/2020 21:26:00
---
Lou Karcher
DITTO RICHARD'S COMMENTS. ALSO, TRY CHANGING YOUR ASPECT RATIO TO 16:9, STRAIGHTEN THE IMAGE, THEN MOVE IT TO THE TOP OF THE FRAME SO THE ENTIRE IMAGE CAN FIT. THE EYE SOCKET IS TOO EYE-CATCHING; TRY FILLING IT (2 OR 3 SMALL CUT & PASTES FROM THE END OF THE UPPER WING?). SURE GRABBED MY ATTENTION! &nbsp Posted: 08/03/2020 23:48:44
Neal R. Thompson, M.D.
Lou, I appreciated your comments. A different format does seem to be warranted. &nbsp Posted: 08/07/2020 12:29:37
---
Murphy Hektner
Hi Neal: Just another fine example of your focus stacking expertise you have shared with us on occasion. Super sharpness on the entire grasshopper, every hair stands out well from the black background and your use of studio lighting is well handled as the subject is perfectly lit. The small shadows on the body of the subject certainly do not take anything away from your picture in my opinion, but if they bother you they would be easy to clone out. Your choice of border color fits the subject well. KUDOS. &nbsp Posted: 08/04/2020 12:06:25
---
Please log in to post a comment