Murphy Hektner, APSA
---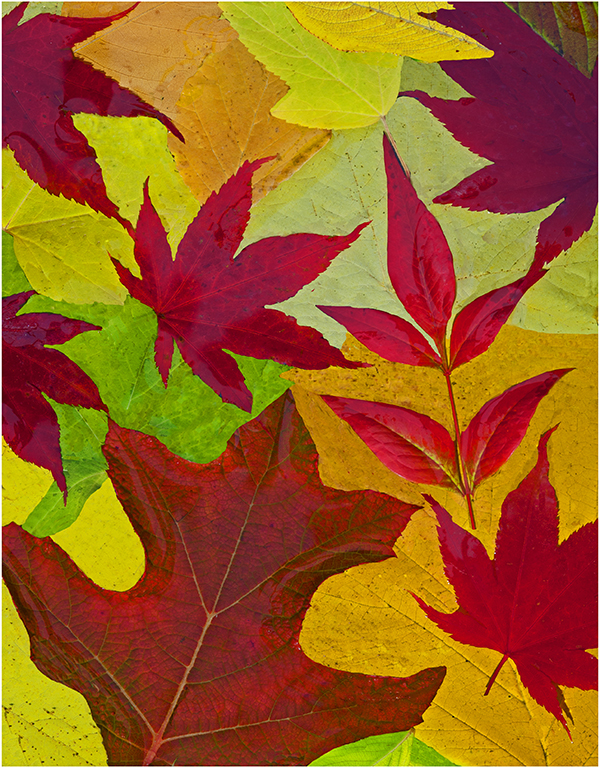 December 2019 - Autumn Motif
Original
About the Image(s)
DATA; Nikon D700 with Nikon 105D macro lens on tripod.
ISO 200 --- 1/3 second @ f/11 --- cloudy.

Maker's Aims and Comments:
Photographed on the back deck at home. Gathered various fall color leaves from around our landscaping, placed them in a shallow container and filled container with water. The leaves are under water. Had problems with the gray cloudy sky reflecting in the water and the polarizing filter did not help. I used a high intensity LED flashlight held at about a 45 degree angle to light the leaves, this eliminated the gray sky reflection. The original has some black areas between several of the leaves, while the finished version does not. Which version do you prefer ?? Post processed in Elements.
---
This round's discussion is now closed!
5 comments posted
Neal R. Thompson, M.D.
I much prefer your worked image. There is good definition in individual leaves and the color contrast adds a lot. &nbsp Posted: 12/10/2019 17:05:35
---
Priscilla Farrell
Hi Murphy, My preference is the Original photo. It gives my eye places to rest and the black areas accent the brilliantly colored leaves. I will make a suggestion.....I would fill in the original colors in the black area on the upper left of the frame. Several of the leaves are imperfect (broken) and to me they are too much of a contrast with the perfection of the accompanying leaves. Just my opinion.....either way a nice fall image. &nbsp Posted: 12/10/2019 21:03:04
---
Murphy Hektner
Hi Priscilla: Thanks for the advise on cloning in the black area at the upper left of the frame. Had not especially noticed the broken leaves myself, and it will help to fill that area with leaf color. &nbsp Posted: 12/10/2019 22:50:14
---
Patrick Lynch
Hello Murphy, this looks like a print to me very interesting college. I'm ok with the final photo. The colors work well together and the focus is great. Nice photo. &nbsp Posted: 12/14/2019 06:56:39
---
Hi Murphy, beautiful arrangement, patterns and color range. I like the finished version better than the original. Nice job having the leaves under water and controlling reflections! &nbsp Posted: 12/15/2019 14:45:22
---