Norman Reid
---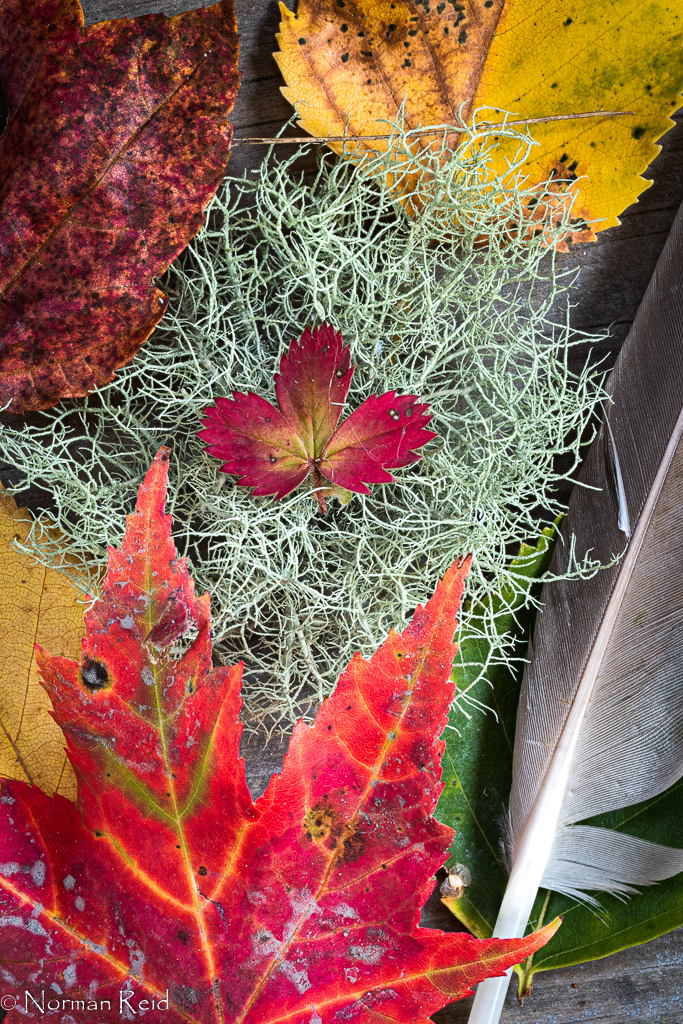 November 2019 - Main Collage
About the Image(s)
I made this collage using a Nikon D850 and a Sigma 150mm macro lens with a tripod. It is a photo stack of 15 images, processed in Helicon Focus, probably rendered via the Pyramid method (I forget now). It was shot at 1 second, f/11, ISO 100, aperture priority with 1 step exposure increase. I don't recall what post-processing I did, but most likely it was all done in Adobe Lightroom.

My intent was to portray a diverse array of colorful found objects from a recent vacation in Maine. I'm disappointed in this jpg rendering of the image, because the stacked tif version is razor sharp and all the tiny veins in the leaves are clearly visible. In this jpg they are fuzzy and I think the result lacks the clarity I wanted for it. So, I offer it for comment on color and composition; please ignore the out-of-focus appearance. I tried several times to get better quality, but I think reducing it to 72 dpi may be the culprit.
---
3 comments posted
Murphy Hektner
Hi Norman: Welcome to Macro/Close-up Group #63.
Like your nature oriented collage with the colorful autumn leaves, gray lichen and the addition of the feather. The feather is well placed on the right as it tends to keep your eye in the picture area. The large red Maple leaf at the bottom creates a nice base for this pleasant image. &nbsp Posted: 11/03/2019 21:51:46
---
Neal R. Thompson, M.D.
It is sharp and as a collection is disparate elements is quite colorful. I wonder if it might look better horizontal? &nbsp Posted: 11/09/2019 17:21:01
---
Priscilla Farrell
Greetings Norman and welcome to this Macro Group. You have presented a colorful collage of fall colors. I like the addition of lichen and a feather to the bright fall colors. I particularly like the red leaf against the gray lichen. I see it as a center of interest. The yellow color in its center also accents the two yellow leaves on either side of it. A creative composition. &nbsp Posted: 11/11/2019 09:32:31
---
Please log in to post a comment