Mark Braun
---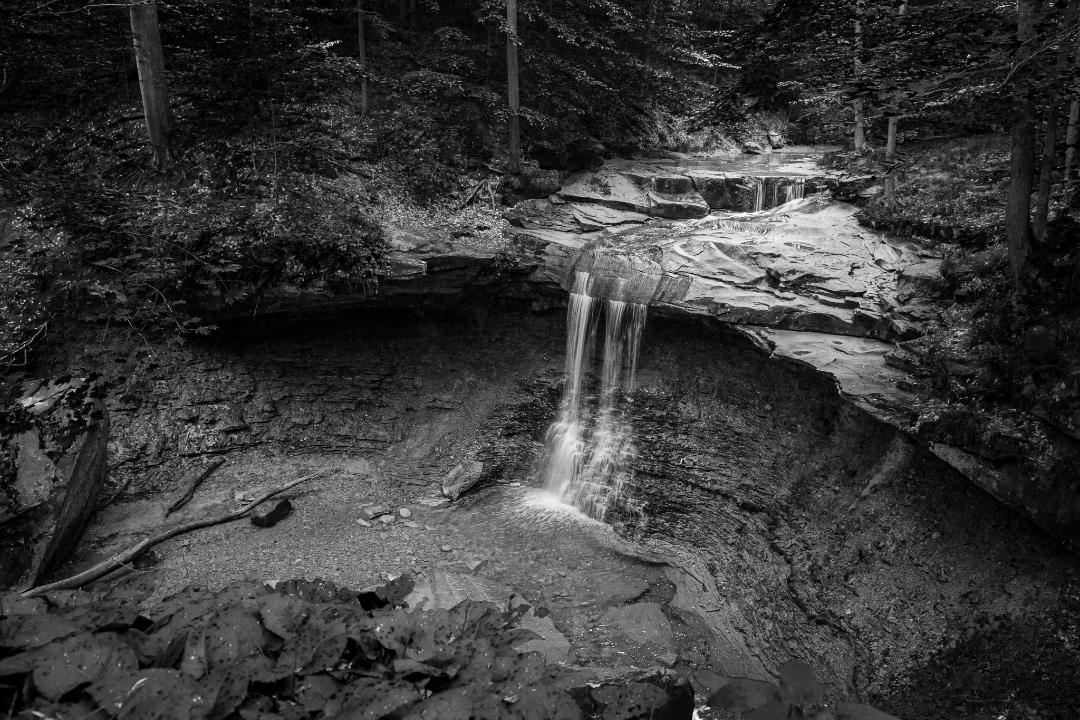 March 2023 - Blue Hen Falls
Original
About the Image(s)
This is an image of Blue Hen Falls in the Cuyahoga Valley National Park outside of Cleveland, OH. I grew up within 5 miles of this falls but didn't know it existed until I saw it in one of the photography magazines. Now it's on my go to list whenever I return to the area. Today, it's about a 2 mile trail hike from the parking lot but it's well worth it as you can get into the Gorge below the falls and shoot up at it too.

I ran it through Topaz AI in RAW then did some editing with LR Brushes/Masks to arrive at the mood I was looking for in the monochrome version. Would love any suggestions.
---
12 comments posted
---
---
---
Oliver Morton
What a lovely (and photographic) location. And the fact that it's 2 miles from the parking lot means that you'll often have it all to yourself.
Mark, the perspective and cropping that you used is excellent. It highlights the stream and falls and gives good context for the area. I couldn't resist playing with the lighting a bit, though it really didn't need it. My edits are very minimal. Nonetheless, what do you think?
&nbsp
Posted: 03/02/2023 14:49:02
Mark Braun
I love what you did. It really opens up more details in the falls, upper middle and lower. But also looks like you did a bit of sharpening? No matter, thank you for your complement and comments. Now I have to go back to the original and work on it some more. :) &nbsp Posted: 03/02/2023 15:12:27
Oliver Morton
I'm glad you like it, Mark! I didn't intentionally add sharpening; however, I did add a bit of texture and clarity to some of the areas. Those modifications often look like sharpening.

I also did my usual transition from the low-res jpegs into Photoshop. First I change the image from 8 bits to 16 bits. Then I use Topaz Gigapixel AI to increase the size by a factor of four. This lets me play with the image without worrying about pixelization. After any mods, I resize it back to something close to the original. Some of these gyrations may do something to the sharpening.

&nbsp Posted: 03/02/2023 15:25:45
Mark Braun
Thank you. I'm finding that I need to get critiques from this group prior to presenting my images for shows etc because your comments always result in a better image. &nbsp Posted: 03/02/2023 15:29:29
Bob Legg
Hi Mark. I'll try to add my two cents. We recently had a Zoom with Tony Sweet and his message was "Simplify and Isolate your subject". The subject here being the waterfalls and the trees and vegetation on both sides of the water falls can easily be cropped. without taking anything away from the subject. You didn't indicate your lens so I can't judge whether you needed to do this in cam or post. I also find Pete's edits to the glare on the surrounding rocks give them more contrast and interest. Another suggestion to perhaps plan your next hike to go after a rain when perhaps there is more water. Your composition would be excellent for a calendar or printed image, and even shows, but the flowing water folks, and or judge, would want to see the simplified subject. Show your Intention! &nbsp Posted: 03/02/2023 20:25:47
Mark Braun
I can see how cropping would isolate the subject better. Re my settings:
Camera - Canon EOS 5D Mark II
Lens - Canon EF 24-105mm f/4L IS USM
Focal Length - 28.0 mm (27.3 mm in 35mm)
Aperture - f/8
Exposure Time -
0.16667s
(1/6)
ISO - 800
So I could easily have cropped tighter and will explore how it looks cropped tighter. Thank you. &nbsp
Posted: 03/03/2023 09:28:39
Bob Legg
Mark, exposure time was perfect in my mind. I generally like to have detail in the foreground to give depth, but the leaves in your foreground do not. Perhaps they lack detail that could come selective editing of that green so they are lighter and provide detail. Or, depending on your cropping desires, just crop them out. &nbsp Posted: 03/03/2023 10:04:08
---
---
---
Bunny Laden
Hi Mark, I love the mood of this image. I suggest that if you go back to this area, that you use f/16 or higher. I see this as a "story telling" image which, to me, means that the foreground through to the background would benefit by being sharp. Oliver's treatment inadvertently added some sharpening, which I think improved the image. An alternative would be to crop out the foreground and focus on the falls themselves. The fact there are two falls, a mini and a taller one, is quite interesting in and of itself. &nbsp Posted: 03/04/2023 21:41:28
Mark Braun
I will give that a shot. I usually shoot at f8 but will strech my skill set and see what happens. Not sure when I'll get back there but I won't forget. &nbsp Posted: 03/07/2023 19:29:53
Bunny Laden
Last year I took Bryan Peterson's Understanding Exposure course. I thought I understood exposure, but after taking that (which included weekly assignments and critiques) I feel more fluent in when to use which f-stop for which situations.
He also has a book, but I enjoyed watching his critiques of my images and those of the students.
https://bpsop.com/understanding-exposure-and-your-dslr/
&nbsp
Posted: 03/07/2023 20:09:43
---
---
---
Emil Davidzuk
Mark,

I like your perspective of Blue Hen Falls. Your wide angle shot shows the power of the falls after countless heavy rains eroded a fairly large area of the basin. I think opening up the basin area like Pete's example will add visual impact to a very nice shot

Regards

Emil &nbsp Posted: 03/07/2023 14:05:59
Mark Braun
I agree, I like the feeling Pete's adjustments enhanced. &nbsp Posted: 03/07/2023 19:30:51
---
---
---
Please log in to post a comment