Leah Konicki
---
April 2021 - Abandoned
Original
About the Image(s)
I took this image several years ago when I stumbled upon an old abandoned barn, which was falling into ruin and was overgrown with weeds and left behind pieces and parts, including an old pick-up. I spent some time wandering around the site quite enjoyably - although at times my avid mystery reading caused hairs to raise on the back of my neck - couldn't decide if I was about to stumble upon a body or to meet up with a madman. Anyway, I digress. I had quite forgotten about the photos, but then stumbled upon them in my files, and decided this image - where three different structures come together, and cropped from a larger image - might work in black and white. I converted it in ON1Raw, and played around with various looks. I brought out the texture of the materials (the day was cloudy and overcast, so the light was undramatic). I was technically on the job and using an unfamiliar camera, a Nikon something or other, rather than my preferred Lumix Micro 4/3rds mirrorless.

---
11 comments posted
---
---
---
Emil Davidzuk
Leah,
Great texture and lines in your abandoned farm scene.
I decided to go step further into the macabre/Twilight Zone with your April submission. In LR I cropped and rotated the scene, darkened the bottom and the upper area on the right which is the shadow below the roof line so only the bold would venture in.
Emil &nbsp
Posted: 04/07/2021 10:58:35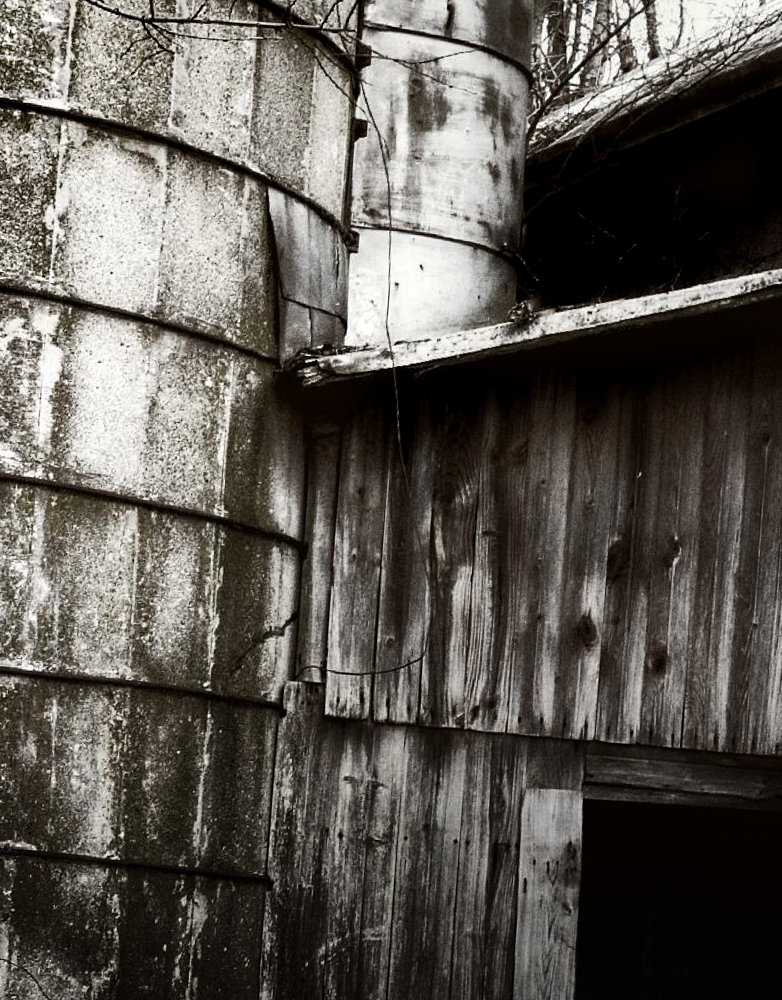 Leah Konicki
Thanks, Emil, for getting in the spirit and enhancing the menace inherent in the image. I was just chatting with a colleague about straight lines in photos earlier today - sometimes, crooked lines work! I think the crop is also helpful to focus on the dark places. &nbsp Posted: 04/07/2021 17:28:45
LuAnn Thatcher
I really like Emil's edit here; it is unique and brings originality to the photo's impact.

Emil is a trendsetter!

LuAnn &nbsp Posted: 04/09/2021 15:15:47
---
---
---
Oliver Morton
Leah and Emil, you guys are amazing. I love using post processing to change the mood of an image and you're both really skilled at that. I like the original concept of a menacing photograph and I think that slanting the image definitely adds to that feeling. So, I took a stab at it myself. However, I decided to highlight the metal chimney(?), to go really dark (for mood), and to slant to the left.
&nbsp
Posted: 04/07/2021 17:49:28
Leah Konicki
Oooohhh cool. I like that, too. Definitely more sinister. Fun. It's come a long way from the image as rediscovered in my archives! Thanks, Oliver! &nbsp Posted: 04/07/2021 17:52:37
Emil Davidzuk
Leah,

Your image has a great deal of space for interpretation as witnessed by the two offshoots Oliver and I offered here. That is a good thing and it makes it challenging to decide where the end state should be (or not)

Regards

Emil &nbsp Posted: 04/08/2021 10:29:13
LuAnn Thatcher
Isn't that amazing, Emil? You are right; both edits are great options and very different. We need to find more menacing buildings to work with. Great ideas, everyone!!

Leah, I think the men in the group have this image covered; I have nothing to add!

LuAnn &nbsp Posted: 04/09/2021 15:21:19
LuAnn Thatcher
Oliver,

An excellent option here to Leah's sinister abandoned building! How did you do your edits? Artisan Pro, maybe? You are really advancing in the editing department.

Best regards,

LuAnn &nbsp Posted: 04/09/2021 15:18:10
Oliver Morton
LuAnn, somehow I previously missed your post. Sorry!

I've played with Artisan Pro, but frankly, I find it more complicated than I'm willing to do. So, I revert to good old Adobe Camera Raw. I find that combinations of the adjustment brush and the radial filter work wonders.
&nbsp Posted: 04/22/2021 20:43:08
Bunny Laden
What a sinister treatment! I love it. &nbsp Posted: 04/11/2021 22:59:26
---
---
---
Bunny Laden
Hi Leah,
I am inspired by your choice of subject. I think it is a talent to be able to look at something in the real world and envision how the shapes and textures could be enhanced in the monochrome world. You did a great job.
This group seems to have gotten into the spirit of making this image sinister. You suggested a madman or wondering whether you'd stumble on a body. Lately I have been watching reruns of Rod Serling's Twilight Zone. Very often when things are amiss, the camera is tilted at an odd angle. So in the spirit of this sinister group, I rotated Oliver's treatment to a Rod Serling extreme. Think of this as the view from the body you didn't run into!
Seriously, I enjoy your treatment. It's an image that has many possibilities. &nbsp
Posted: 04/11/2021 23:09:19
---
---
---
Please log in to post a comment