LuAnn Thatcher
---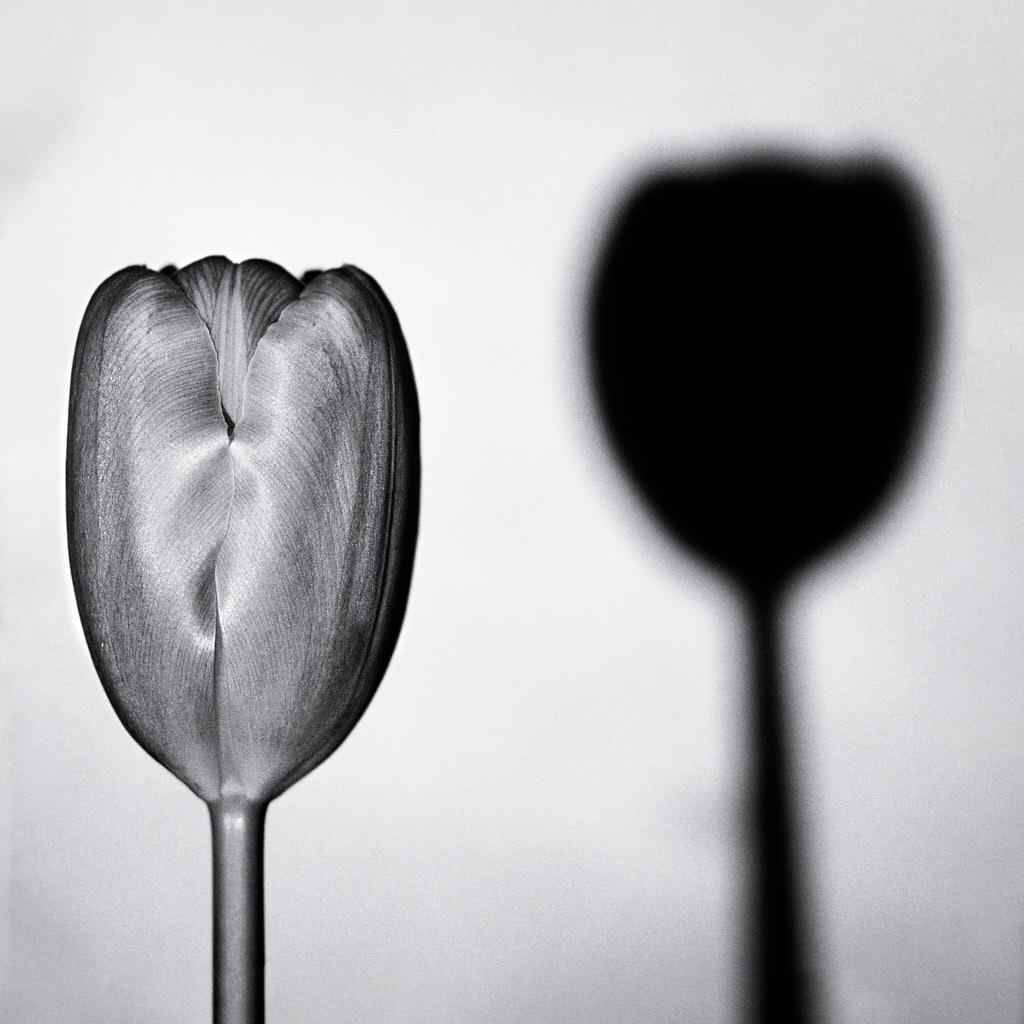 April 2021 - Tulip Shadow
Original
About the Image(s)
I made this photo for the PSA Still Life class I am taking. I was supposed to use a mirror and reflect light on a subject. Things unfolded unplanned as I setup and took the image. The sun was at my left shoulder and I was in the stairway of my house. I had a vase on a small table next to a neutral gray wall. I used a tilting make-up mirror to reflect the sun on the front of the tulip. I did not realize I would get such a nice and mysterious shadow. So, I cropped the original image and edited in Capture One Pro 2021. I lowered the highlights, raised whites to 100, and raised saturation to 100 before converting in Nik Silver Efex. In Nik I applied a Film Noir 3 style and tweaked the settings; there is a grain effect added.

Camera settings: Fuji XT4, 80mm macro lens f/2.8, ISO 160, aperture 2.8, shutter 1/2000s, manual, center-weighted average metering.


---
15 comments posted
---
---
---
Oliver Morton
Such an amazing image! I like both the color and the monochrome. However, the monochrome is much more original which really appeals to me. The positioning of the bulb and its shadow is excellent, though I might suggest a bit more space between them and the edge of the image.

The only thing that concerns me is the noise in the photograph. It's a bit more noticeable than usual, especially toward the bottom of the frame. Nonetheless, an excellent and imaginative image.

&nbsp Posted: 04/05/2021 20:00:21
LuAnn Thatcher
Thanks for your comments, Oliver. Sorry, you don't like the noise. I added it because the background had no texture; it was too smooth for me and uninteresting.

I find this image interesting because the tulip in front is straight as an arrow, but the shadow is not. The height of the tulip shadow is also a different size and shape. But I do like the texture of the tulip in front. I see the shimmer in the petals from the moisture they hold, and the veining has such fine detailing.

Have a good day, Oliver.

Best regards,
LuAnn &nbsp Posted: 04/06/2021 12:35:38
---
---
---
Emil Davidzuk
LuAnn

Wonderful concept. The tulip has the texture captures your eye and then you move to its taller shadow suggesting an angle to the light source. I understand your desire to add noise and it works for me. I concur with Oliver to add a touch more space on the edges but it is not a show stopper by any means

Emil

&nbsp Posted: 04/07/2021 11:10:29
LuAnn Thatcher
Thanks for your comment, Emil. I agree a little more space on the sides would be good. An easy fix in PS!

LuAnn &nbsp Posted: 04/10/2021 13:58:04
---
---
---
Leah Konicki
LuAnn,
this image captured my eye in the thumbnails, it is very dramatic. I love those happy accidents, as you have described with this image. To me that is part of the magic that keeps me behind the camera. &nbsp Posted: 04/10/2021 09:27:01
LuAnn Thatcher
Thank you, Leah, I am glad you like my image! Yes, I too love happy accidents what a great way to put it.

Have a great day,

LuAnn &nbsp Posted: 04/10/2021 13:54:47
---
---
---
Bunny Laden
Hi LuAnn,
Your setup resulted in a great capture. Nice job!
Your treatment gives the tulip a very interesting look-so smooth with barely any transition between stem and petal. The extra reflection you add brings out the fine lines of the petals in a way that I would not have otherwise noticed. Shadow images are wonderful. This shadow is interesting because it doesn't quite jibe with the crisp edges of the tulip. It's as if the shadow is taking on a life of its own.
It reminds me of an image that Eric Gray, in the Los Gatos-Saratoga Camera Club, submitted to one of our recent competitions, which I include here for your inspiration. It's not monochrome, but I like his "shadow." &nbsp
Posted: 04/11/2021 23:28:39
LuAnn Thatcher
Eric's photo, Bunny, is a great piece of inspiration! Thank you for sharing. These are the types of images that show originality in a photo and help photographers stand out in the competition. Did his image place in the competition? I'm curious what the judge had to say.

Best regards,

LT &nbsp Posted: 04/12/2021 08:06:37
Bunny Laden
Oh yes it did! We have people in our club who have the skill to do very complex and detailed set ups for Creative. This one, such a simple idea,shows incredible creativity. It made me think of a world in which a shadow reflects somethinginner about the thing (or person) that cast it. &nbsp Posted: 04/12/2021 09:07:48
Israel Yosef
Hi Bunny,

I wonder how he did it?
I would be glad to receive information.
Thank you very much.

All the best and health.

Israel &nbsp Posted: 04/14/2021 11:20:13
Bunny Laden
Eric says: "This was a single light, setup very low to cast a long shadow from the egg on to a light grey paper background. I then started working the image in Photoshop- dodging, burning and erasing the shadow area to eventually come up with the chick shape. I used a printed picture of a chick for reference." &nbsp Posted: 04/14/2021 13:47:54
Israel Yosef
Hi Bunny,

Thank you very much.

All the best and health.

Israel &nbsp Posted: 04/14/2021 14:22:07
LuAnn Thatcher
That is so cool!

LT &nbsp Posted: 04/14/2021 15:46:55
---
---
---
Bob Legg
Very well done LuAnn. Maybe not as planned, but the resulting BW image has so much more detail in the petals & veins that get lost in the color version. Well done. &nbsp Posted: 04/17/2021 17:36:11
LuAnn Thatcher
Thank you, Bob, for your comment!

Not every photo has to be a winner. Often times it is fun to just talk about them with friends.

Best regards,
LuAnn &nbsp Posted: 04/17/2021 19:18:31
---
---
---
Please log in to post a comment