LuAnn Thatcher
---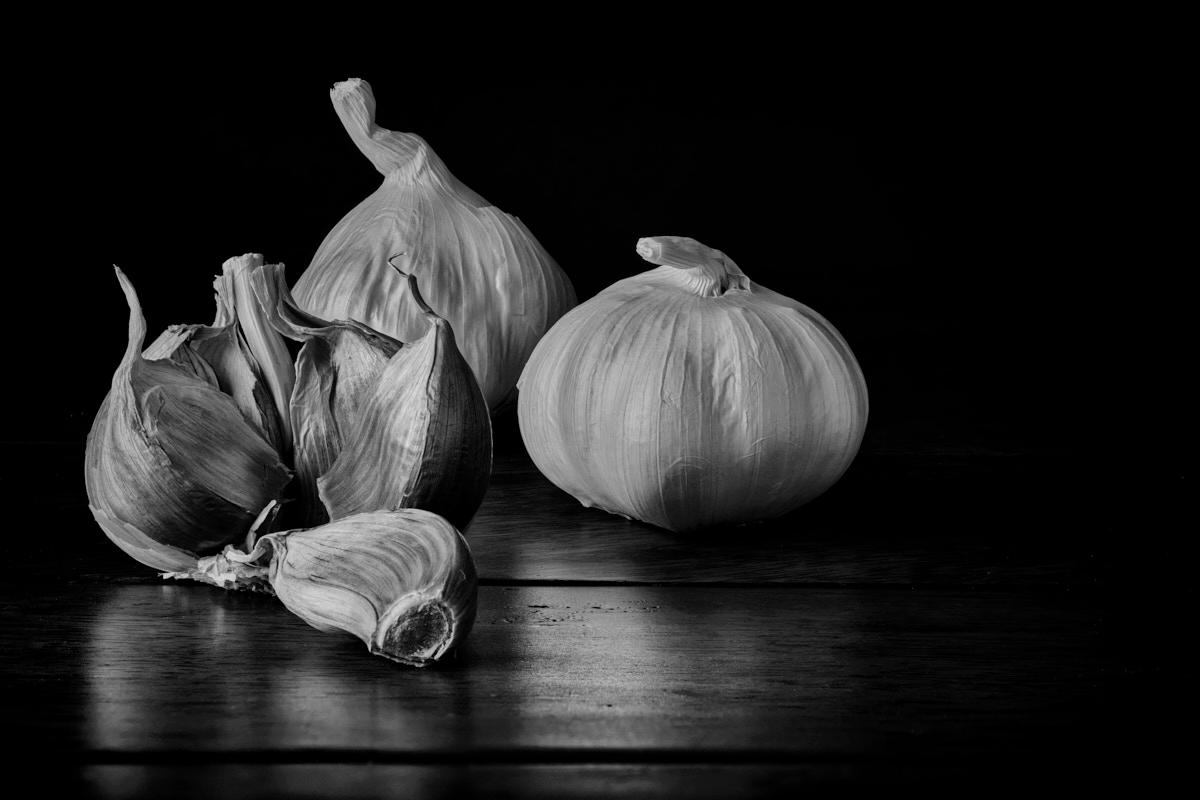 February 2021 - Garlic
Original
About the Image(s)
My photograph this month is a garlic still life. I have never been able to create a still life, so this is a perfect year to sit in my office and figure this out. My biggest struggle was composition and perspective-angle.

I used focus bracketing on my camera and took 31 images and photo stacked them in Helicon Focus using the mapping for depth option. Then I ran the image through Topaz DeNoise, Nik Silver Efex Pro 2, Photoshop to remove spots and lint, and edited was done in Capture One Pro 21.

Camera settings: Fuji XT4, Macro lens 80mm f/2.8, aperture f/11, shutter speed 1/250s, ISO 160 on a tripod.

I used a Godox speedlight with the standard head in a 2' x 3' Rapid Box softbox set close at 90.° I setup next to a north facing window on the right with a white honeycomb shade pulled down at around 5:00 pm.

I used a black trifold foam core board for background and left-over wood plank flooring for base. I tried the planks in a vertical layout but the vertical line where they fit together did not seem to work so I switched to a horizontal layout. The front garlic is purple and the two in back were white.

I look forward to your critiques and helpful information so I can see what I need to improve on.
---
This round's discussion is now closed!
16 comments posted
---
---
---
Israel Yosef
Hi LuAnn,

Wow, Wow, Wow ....

I have no words.
Professional still life.
In my opinion, lighten the right garlic at the bottom a little.
What do you think?
All the time I dreamed of taking a still life.
You inspired me.
I would be glad to receive a photo of your composition,
where there were flashes, lamps, background ...
You described everything in detail, but to see the whole composition in the photo would help me a lot.

All the best,
Israel &nbsp Posted: 02/02/2021 11:03:26
LuAnn Thatcher
Thank you, Israel, for your comment! I will think about lightening those shadows some, good tip.

I will work on getting a photo of my setup for you. I watch a lot of YouTube videos trying to figure out still life composition. The balance and perspective is the hardest thing for me to understand. In this shot, I tried to put the camera at eye level with the subject instead of being higher.

I signed up for the PSA Still Life course, so hopefully, this will be one of my subjects for my next photo zine this summer; still life's and macro photography!

Best regards,
LuAnn &nbsp Posted: 02/02/2021 12:31:04
LuAnn Thatcher
Israel,
Here is a quick shot of my setup for taking still life as you requested. I am sure there are many different ways to set up a table for this work; it all depends on your intent and subject.
I have a tri-fold black foam core background, on a folding table. I have leftover plank flooring I used for the brown wood base. The garlic cloves are sitting on top of the flooring. To the left is a 2' x 3' Rapid Box softbox with a Godox AD200 speedlight. My camera sits in front of the table at eye level.
Hope it helps you.
LT &nbsp
Posted: 02/03/2021 09:42:47
Israel Yosef
Hi LuAnn,
What's in the background?
Are there other light sources?

Thank you very much.
All the best.

Israel &nbsp Posted: 02/03/2021 11:28:14
LuAnn Thatcher
There is a north facing window with a white honeycomb blind pulled down but it is not a light source because the black tri-fold foam core board is blocking that light. I only use one softbox light source.

LT &nbsp Posted: 02/03/2021 11:40:54
Israel Yosef
Thank you very much. &nbsp Posted: 02/03/2021 11:45:09
---
---
---
Emil Davidzuk
LuAnn

The work you put into this image paid huge dividends for me. Love the light, the detail, you name it

Frame it

Emil &nbsp Posted: 02/03/2021 15:11:36
LuAnn Thatcher
Thanks, Emil, I appreciate your comments!

LuAnn &nbsp Posted: 02/03/2021 15:15:45
Bob Legg
Well LuAnn. I'm not remotely in your league considering this was done as you are starting to do still life. I can never compose items, background and lighting to make something realistic. You have accomplished that in my view. I probably would of composed the garlic pieces so that at least 1 was leading my eye into the frame, but then again that's why I leave composition up to nature and I just find them to photograph. I can appreciate all the work you put into this project. WELL DONE. &nbsp Posted: 02/05/2021 14:11:57
LuAnn Thatcher
Hi Bob,

Thank you kindly for your thoughts and comments. I am humbled to hear I am in a 'league' now; I used to be in a bowling league!

I am no expert at still life, just trying to find my way. I am very determined to figure this out, so every day, I work on something. My goal is to do dark field photography. This is where you shoot a bottle or subject of some kind and highlight only the glass's edges with light. I have never heard of this style before (it may be part of product photography) till I found it on the internet. I love dark and moody images, so that is probably what caught my eye.

Have a great day, my friend!

LuAnn &nbsp Posted: 02/05/2021 14:23:16
---
---
---
Bob Legg
LuAnn, we all have our areas of interest and that is what makes this group special, and maybe you aren't in a league, so how about the head of the class. Sorry, dark photography would be boring for me, but capturing a lightning bolt or fireworks or a scene with moon those get me excited. I bet that you will do an excellent job with that and still life's because you take the time to figure it out and pay attention to the details. Go for it. &nbsp Posted: 02/05/2021 14:39:24
LuAnn Thatcher
Hi Bob,

I am glad to hear you like photographing lightning bolts. I just bought a Miops Smart trigger to give this style of photography a try. Some day you will have to share a photo where you have captured lightning.

Best regards,

LuAnn &nbsp Posted: 02/17/2021 09:06:40
---
---
---
Bunny Laden
Wonderful job on the lighting and the way you arranged the garlic. I am enjoying the reflection in the wood. I can't suggest anything more. It is a great image, and you used all the post processing tools to get the most from the image. I agree with Emil--Frame it! &nbsp Posted: 02/15/2021 17:44:24
LuAnn Thatcher
Thanks, Bunny, for your comments! I am glad this image turned out so well.

Best regards,

LuAnn &nbsp Posted: 02/17/2021 09:08:05
---
---
---
Oliver Morton
What a magnificent still life! LuAnn, you really nailed this one! To me, the things that "put you into a new league" were the reflection and the wooden table. Both of these attributes give the sense that I'm not just looking at a perfect photograph of garlic, but that this is a scene from the old kitchen of a wonderful chef.

Beautifully done!

&nbsp Posted: 02/17/2021 07:56:01
LuAnn Thatcher
Hello Oliver,

It really is fun when things turn out when you least expect it. I tried still life photography a few years and failed. I recently found the photos I used for the PSA Still Life course and had to laugh at how horrible they were. But, with the right lens and shot at a low level to the subject things start to take shape.

Best regards,

LuAnn &nbsp Posted: 02/17/2021 09:10:39
---
---
---