LuAnn Thatcher
---
January 2021 - Car in Woods
Original
About the Image(s)
My image was taken while I was on a photography workshop in northern Minnesota. We were looking for stones on the beach and happened upon a bigger find, this abandoned car from the logging days (1950ish). I find it an ironic juxtaposition to find a tree rooted in a car on the shores of Lake Superior.

Camera settings: Fuji X-T2, 23mm lens, 1/160, f/8, ISO 25,600. Image was taken in July 2019. Edited with LRc and Silver Efex Pro 2. In Nik I added the Rollei Retro 100 tonal film simulation and tried to use a subtle border (I love borders). I like antiques so I love grain, texture, structure, and dark contrast.


---
11 comments posted
---
---
---
Emil Davidzuk
LuAnn
A decent sized tree growing up from the floorboards of a car tells you this vehicle has sat untouched for a very long time. They are fun to shoot and provide ample opportunity in the digital darkroom which I believe you had.
I couldn't pass up taking a turn. I used Antique Plate 1 in Silver Efex. Cropped it a little and darken the foreground.
Thanks for sharing with me
Emil
&nbsp
Posted: 01/02/2021 10:13:32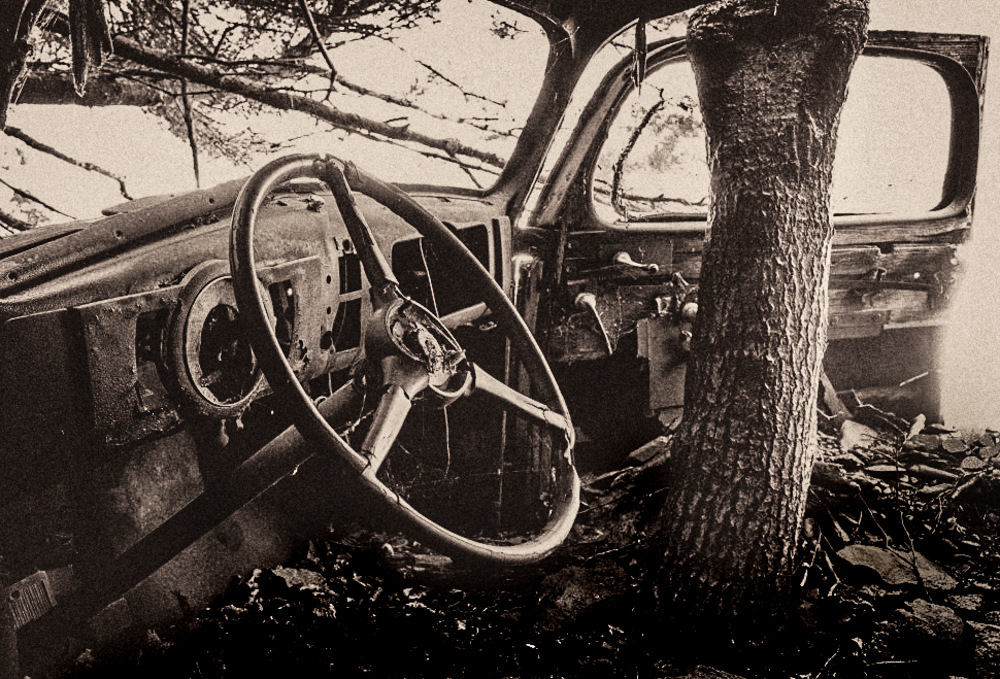 LuAnn Thatcher
Hi Emil,

I like your edit and the Antique plate choice in Silver Efex. Great option!

LT &nbsp Posted: 01/02/2021 15:07:32
---
---
---
Oliver Morton
Wonderful find! It's said that images should tell a story and this one definitely does!
Like Emil, I wanted to play with the image. But, instead of using Silver Efex, I used Photoshop to make a few selections and chose Camera Raw to play with the lighting and add a bit of toning and grain.
A great image! I could see this being hung on the wall. Nicely done!
&nbsp
Posted: 01/02/2021 11:50:57
---
---
---
LuAnn Thatcher
I like your edit as well, Oliver! It is fun to have an image that is so versatile. This is another one of those images; when I first looked at it in my editing software, I almost deleted it. It really does pay off to hang onto photos you don't think are quite right because software changes and advancements could one day make it into a better image.

I had originally thought the blown highlights ruined the photo. But now I see the light is not distracting but keeps the focus on the tree and car.

Thanks!

LT &nbsp Posted: 01/02/2021 15:15:05
---
---
---
Bob Legg
A great job with this find LuAnn. I'm an antique but I don't recommend grain, so I can't comment on that. I like your original version of blacks and whites. I might of opened the shadows on the floor area of the car a little bit more. Well done. &nbsp Posted: 01/06/2021 21:11:24
LuAnn Thatcher
Why don't you like grain, Bob? &nbsp Posted: 01/07/2021 09:06:04
Bob Legg
Because it reminds me of my earlier digital cameras and those images aren't worth keeping. (Other than family and historical events). Maybe it's just part of my Yankee upbringing, but of all my 40k plus images I have not added grain to a single one and can't see the reason why. BTW, I don't watch BW movies with my wife either. &nbsp Posted: 01/07/2021 09:23:43
LuAnn Thatcher
You're funny, Bob. You have experienced B&W with grain, and now you are done with it; I understand where you are coming from. I have never experienced using much grain in my images, so I am attracted to it. Over time, we all get tired of things and need to move onto something new and different. You moved away from the old to the new, and I am moving away from the new to the old. Funny how this all plays out.

Have a great day, my friend.

LT &nbsp Posted: 01/07/2021 10:19:31
Bob Legg
Yes, you have me figured out. From 2003 onward using my Nikon D100 6 MP I never loaded anymore film in my camera again. I even kept my Nikon F5 sitting on the shelf and never used it and finally traded in for small dollars. I do have Lots of film and slides from the 80-90's waiting for me to look, digitize (see the grain of the 400iso) or just trash? I've been procrastinating on that project for 5+ years.
Have a great day. &nbsp Posted: 01/07/2021 10:32:23
---
---
---
Bunny Laden
What a find! A tree through a car. When I first looked at the image (without reading your description), I recall my parents saying that "so and so got into an accident and wrapped himself around a tree." I never quite understood it, but the person to whom they referred either ended up seriously injured or dead. This image reminds me of that. It is a good motivation to wear a seat belt and stay sober! I like that the image is so evocative. My only suggestion is to tone down the overly bright sections just a bit. Although I agree that these blown out areas serve to put the viewer's focus on the other parts of the image, just a tad toned down would help. &nbsp Posted: 01/06/2021 22:44:39
LuAnn Thatcher
Thanks, Bunny!
&nbsp Posted: 01/07/2021 09:07:03
---
---
---
Please log in to post a comment