Oliver Morton
---
February 2021 - Another Alley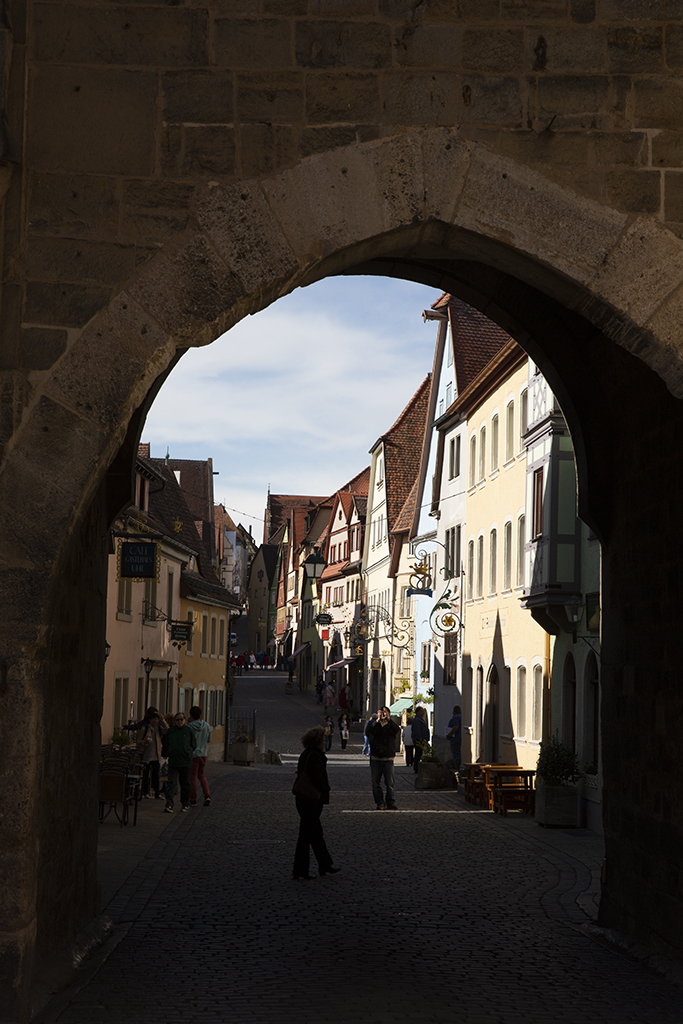 Original
About the Image(s)
This image was made 6 or 7 years ago while I was on a river cruise. Unfortunately, I don't know the exact location, but it was a village just off the rivers between Amsterdam and Budapest.

The original image didn't work for me. The contrast was far too great, and nothing pulled my eye deeper into the photograph. I also found that the woman dressed in dark colors blocked my interest in the rest of the image.

I decided to see if I could make this into an acceptable monochrome photograph. After cropping and removing one or two of the people that I found distracting, I used Silver Efex Pro to convert to B&W. Then, I did fairly extensive work in Camera Raw to adjust the light, especially on the alley. The sky also required a lot of attention since I wanted it to complement the light on the road and buildings, but not dominate the photograph.

Data: Canon 5D3; 24-70mm lens @ 70mm; 1/800 sec; f/14/ ISO 640.

---
4 comments posted
---
---
---
Emil Davidzuk
Pete
Framing the village through the archway works great in color or BW
I am glad you sat down and took the time to render this image the way you wanted it to be. love the detail and light on the buildings My eye goes right up the cobblestone path.
My only though is the sky and clouds that you worked hard on. I am wondering if just a wisps of clouds would work better. My eye is drawn to the them and away from the buildings at first.
I brought the whites in the clouds on left down, added a little white to the clouds on the right for balance. I added a couple radial gradients to lighten the path just inside the archway, and I lightened the arch Food for thought
Regards
Emil &nbsp
Posted: 02/03/2021 15:08:27
---
---
---
Bob Legg
A beautiful village scene beyond the photogenic arch. I like everything you have done with this image. Simply amazing how our images have improved with better software. You solved issues from last month by finding an image that had people in the street and they enhance this image immensely. I wouldn't switch the clouds, I primarily use skies where there is no detail present. An excellent image rescue. &nbsp Posted: 02/05/2021 15:28:37
---
---
---
Bunny Laden
What really captivates me about this scene is the framing of the arch. I feel as if I am looking into another world. What a great idea to remove the woman; you a good job deleting her. The sky, to me, looks magical. It complements but does not overpower, so I think that you achieved your goal. The lighting on the right side and then the splotches of life on the cobbled streets bring life to the image.

I have not yet tried Silver Effects Pro, but your results make me want to try it out.

Great job! &nbsp Posted: 02/06/2021 20:52:54
---
---
---
LuAnn Thatcher
Hello Oliver,

Stunning monochrome photo, Oliver! The photograph is quite impressive, reminiscent of a scene from a Disney movie!

I see your editing skills improve with every image you submit. The details are prominent throughout. Starting at the stone arch opening, the light on the stones brings out the rough texture and geometric shape. Followed by patterns in the cobblestone street, texture and geometry on the building-fronts, and the people's movement on the road, to name a few. A viewer will undoubtedly stop and investigate every detail.


I agree with Bunny; removing the lady was essential and skillfully done.

My question for you relates to the brightness of the light compared to the dark clouds. It is my opinion if you like the brightness on the street, I recommend lightening the cloud's a touch. But, if you love the dark clouds, then tone down the building's brightness a touch. As the image is now, the dark sky seems too dark compared to the buildings' light.

I hope this is helpful, my friend!

I hope you are recovering well. Our winter in Minnesota has taken us into a deep freeze. Temperatures have been around -26 degrees bitter and cold. My horse requested a second blanket to enjoy the sun in her pasture; she is 26 years old, and the cold affects her more now.

Best regards,

LuAnn &nbsp Posted: 02/17/2021 10:23:17
---
---
---
Please log in to post a comment