Gary Stiger
---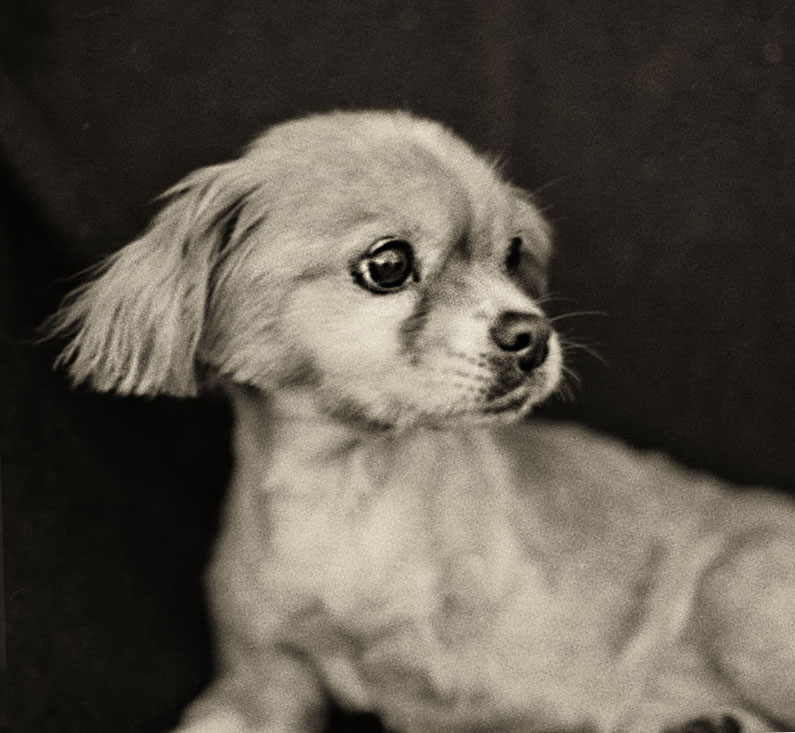 September 2020 - Nellie
About the Image(s)
So here is a little pup my daughter rescued. Her name was Nellie, and she limped around on three legs for most of her life we guess. She was missing her left front leg when she was found, and we don't know the details of her early life or her accident. My daughter took very good care of her, and she was able to play with the other three dogs that my daughter and grandson have. Nellie was highly traumatized and I think that may have led to her early demise. Still, I loved her photogenic face. I used a Mamiya 645 AFD II, developed the roll of film and took a digital shot of Nellie's negative while mounted to a light board. I generally use a 60mm macro lens to get a RAW image. I bring that image up in PS and invert it – Wala, a black and white positive. I often do this rather than print up a contact sheet, but admittedly there isn't much advantage; the images are generally somewhat grainy or soft. However, I can use the NIK filters to get ideas for vignetting or dodging and burning, and it often gives me some thoughts on what I might want to do with a darkroom print. This one is not meant to inspire or amaze: just food for thought, and if you're in fogeyville like I am, you may have some negs to play with.
---
3 comments posted
---
---
---
Oliver Morton
Gary, I love your description of the photograph AND of Nellie! Only after reading about her did I notice that your image shows where the leg is missing.
The intensity of Nellie's gaze is wonderful.
It't impressive that you're using the Mamiya 645 camera. That's one of the classics! The 6 x
4.5cm
format should be great for scanning.
I really don't have any suggestions for improving the delightful image. But, the next time I'm in Fogeyville, I'll bring one of my old film cameras.
&nbsp
Posted: 09/09/2020 15:44:36
---
---
---
LuAnn Thatcher
Hey Gary, wonderful image!!

I want a Mamiya camera now. I agree with Oliver that this is a delightful image, and I would not change anything. This photo is a classic that needs no modern-day correction in my humble opinion.

I love the grain, the color is you, Gary, and seeing her missing leg brings tears to one's eyes, so you have an emotional impact. She had a great spirit to pose for you-what a beautiful dog. Do you have more images of her?

Best regards,
LuAnn &nbsp Posted: 09/11/2020 16:50:10
---
---
---
Bob Legg
A great story Gary about your family and family pet. A very nice pose. I've never shot 645 or processed 35mm negs after my college course in 1966. Keep the art alive Gary. &nbsp Posted: 09/13/2020 20:50:24
---
---
---
Please log in to post a comment