Emil Davidzuk
---
August 2020 - The Majestic Sunflower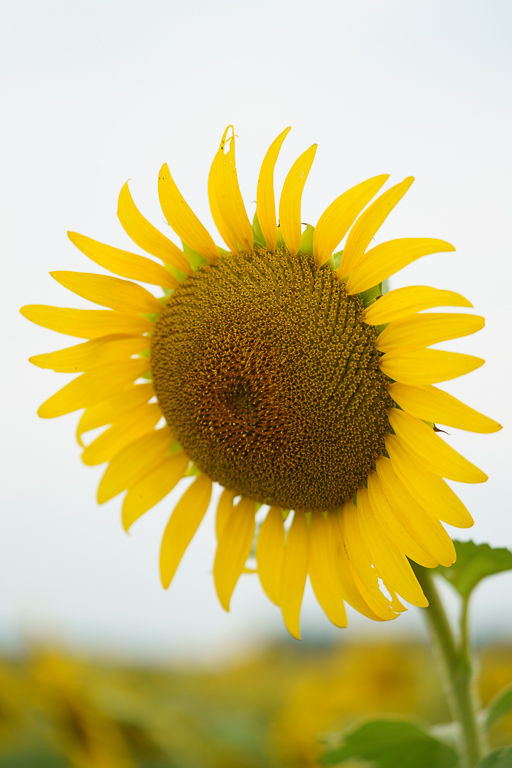 Original
About the Image(s)
The Missouri Department of Conservation owns property close to the Big River. It allows farmers to grow sunflowers, corn, and wheat there. There are atleast 5 separate areas with flowers that measure in acres. Last year was a "wash out" due to spring rain but this year was a banner year.

Workflow: I used Nik Silver Efex to convert BW. I replaced the bland sky and used LR to do dodging and burning.

Shot with Sony A7Riii, 90mm Macro, 1/2000 sec f2.8 ISO 250, 0 EV.
---
5 comments posted
LuAnn Thatcher
Hello Emil,

You are a sky lover like Bob, and you have an excellent sky replacement in this image. You have good tonality in the black and white tones. The center of the flower is sharp and detailed very nicely. I even see a face in the sky behind the flower in the top right corner.

The only thing that is standing out for me is the lower section of the flower under the petals. The foreground area seems too blurry. With the sky replacement, the foreground blur doesn't match the background that is in sharper focus. I am sure this will be an easy fix for you to blend them.

Hope this helps.

LuAnn &nbsp Posted: 08/06/2020 09:58:52
---
Leah Konicki
Emil, not too much to add, but it's interesting to me how a B&W image of a sunflower can allow the viewer to see the flower in a totally different way, concentrating on the textures without being "distracted" by the colors. The sky in B&W is much more dramatic, and I agree with LuAnn's observation about blending a bit in the lower right. I would be curious to see the image in B&W with a less dramatic sky - the sky does begin to compete a bit with the flower. &nbsp Posted: 08/08/2020 17:19:31
LuAnn Thatcher
I agree with you, Leah, this is a beautiful black and white conversion of a sunflower. Emil has done an excellent job with the details and as you said, allow the viewer to see the flower in a totally different way.

LuAnn &nbsp Posted: 08/09/2020 15:37:06
---
Gary Stiger
Great image Emil. There is a translucence in the petals in the B&W that I don't see in the color shot. That really enhances the detail, and certainly makes the center pop. If you wanted to play around with the original some more, try using the Darken/ Center Filter and perhaps the Vignette Filter. Silver Efex Pro also has some color filters (just like you would attach to a lens in the field) to bring out the details and enhance colors/contrast. A green filter seems to be a good one for this image. Just for fun I tried all of the above, but your presentation works the best; still fun to play. &nbsp Posted: 08/10/2020 13:43:48
---
Bob Legg
A great image Emil. I really like that you turned the black center into a light gray but with lots of texture. Also a beautiful job of making the yellow pedals transparent. I think you did excellent with the sky. You had no sky to start with and I can't think of a less dramatic sky than what you picked. A blue sky with no clouds would be less dramatic and a lot more common. You did fantastic. &nbsp Posted: 08/10/2020 15:57:17
---
Please log in to post a comment