Israel Yosef
---
June 2020 - Rays of the Sun Through a Sunny Sunflower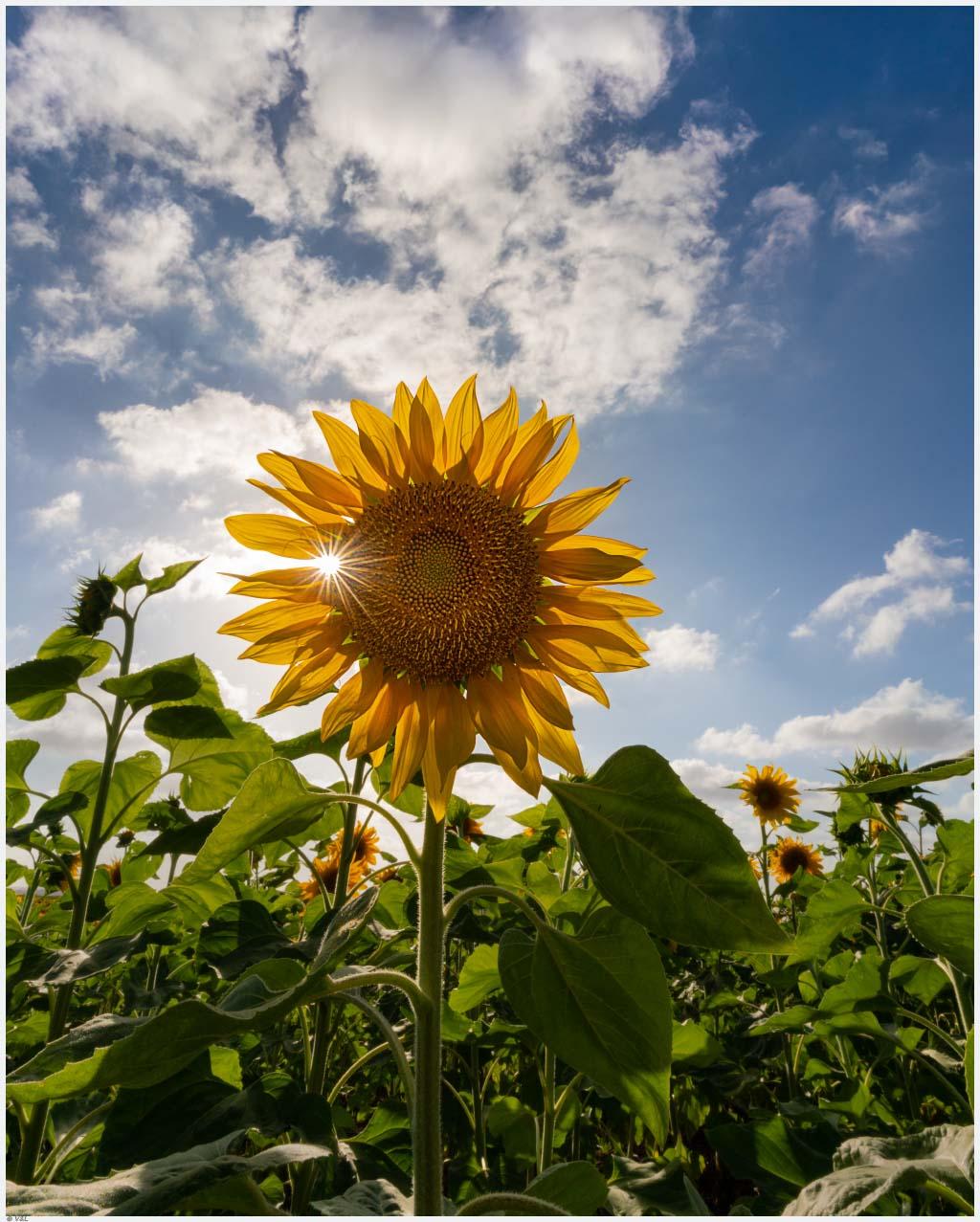 Original
About the Image(s)
In Israel, the flowering period of sunflowers is now.I have long dreamed of photographing a sunflower against a blue sky with clouds and so that the rays of the sun pass through the petals of a sunflower and an asterisk appears.I think I did it.

Your opinions?

I shoot in RAW format and process with Lightroom: basic adjustment, detail, texture, etc. Then I convert to B&W in Lightroom.Camera settings: Sony a7r III. ISO 320, 1/160s, f/22, 18mm, lens: ZEISS Batis 18mm f/2.8
---
This round's discussion is now closed!
12 comments posted
Emil Davidzuk
Yosef,

Timing (and patience) is everything in your shot. Well done. My suggestion is to lighten some of the dark Sunflower leaves in the foreground so the texture can just be seen.

Regards

Emil &nbsp Posted: 06/03/2020 10:02:16
---
Israel Yosef
Hi Emil,
Thank you for your advice and compliment.
Only a professional knows how much patience and perseverance is needed to catch the sun's rays like an asterisk.
I edited the photo as you advised, lightened the leaves in the foreground and showed the texture of the leaves.
Your opinion?
Israel &nbsp
Posted: 06/03/2020 11:23:54
---
Leah Konicki
I am a sucker for a sunflower photo - and I admire the patience that it took to get the rays of the sun just so - well done, and kudos. An added bonus to me is the backlighting of the flower and the translucent quality it gives to the petals, which is more pronounced in the black and white version. I do prefer the revised edit with the lightened leaves. Thanks for sharing this image, Yosef. &nbsp Posted: 06/06/2020 07:33:19
Israel Yosef
Hi Leah,
I really took more than one photo while I got the result I wanted.

Thank you
Israel &nbsp Posted: 06/06/2020 08:17:25
---
LuAnn Thatcher
Excellent once again, Israel!

I too like your second edit. What a beautiful sun star and nice texture on the face of the sunflower. Brightening up the leaves, as Emil suggested, was a great idea. I also like your clouds in your image they really are important in this setting as a black and white.

Best regards,
LuAnn &nbsp Posted: 06/06/2020 11:04:56
Israel Yosef
Hi LuAnn,
I spent a lot of time to have an asterisk and clouds behind a sunflower.
I'm very glad that I succeeded.
I agree with you that Emil's idea greatly improved the photo.

Thank you very much,
Israel &nbsp Posted: 06/07/2020 12:44:18
---
Oliver Morton
Israel, I find both your original submission and your edited version to be wonderfully done! This image successfully breaks one of the "standard rules" of photography in that you didn't use the rule-of-thirds to accentuate your primary focus. And, your cropping decision was perfect! (I think the "rules" should be broken!)

The wide angle lens and small aperture really did well for the sun burst (asterisk). Your photography is truly becoming professional.

There's really nothing that I can suggest for improving your photograph. Very well done!

&nbsp Posted: 06/07/2020 13:06:45
Israel Yosef
Oliver, I always look forward to your ideas how to improve a photo, but if you say that you have no idea to improve a photo, then this is the best praise for me.

Best regards,
Israel &nbsp Posted: 06/07/2020 13:34:46
---
Bob Legg
Israel, another beautiful image that you created. A perfect match of detail in the flower, leaves, sunburst and the clouds. That's a home run. &nbsp Posted: 06/09/2020 21:30:40
Israel Yosef
Hi Bob,
Thank you very much.

Best regards,
Israel &nbsp Posted: 06/10/2020 00:16:06
---
Gary Stiger
Israel - what can I say that hasn't already been said? I really enjoy your sunflower proving to me that you don't always get the most meaningful image in the first attempt. Really good work. &nbsp Posted: 06/10/2020 07:51:27
Israel Yosef
Hi Gary,

Yes, I tinkered a lot with this sunflower while I achieved what I wanted.
Perseverance is rewarded.
Thank you very much.

Best regards,
Israel &nbsp Posted: 06/10/2020 08:59:54
---